Active filters:
Clear all filters

Wild Casino
Bonus Offer:
$5,000 Welcome Bonus
More Info
Available Games
Slots
Blackjack
Roulette
Live Dealer
Baccarat
Features
Great selection of slots
High-quality live dealer games
Excellent welcome bonus
Crypto-friendly

Ignition Casino
Bonus Offer:
$3,000 Welcome Bonus
More Info
Available Games
Slots
Blackjack
Roulette
Live Dealer
Baccarat
Features
300+ games
Crypto-friendly casino
Live dealer jackpot
Bonus galore for different verticals

Cafe Casino
Bonus Offer:
350% up to $2500
More Info
Available Games
Slots
Blackjack
Roulette
Live Dealer
Baccarat
Features
Accepts cryptocurrencies
Generous welcome bonus
Loyalty program
Kahnawake Licence
39

casinos found based on your search.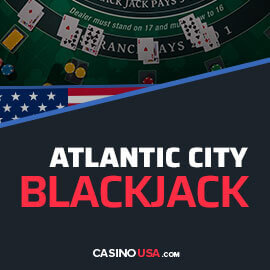 The game became increasingly popular due to its low house edge. If players apply basic strategy correctly, this variation gives them moderately good chances of winning. Aside from being enticing and challenging, it is available in many land-based casinos and online gambling platforms.
In addition to covering its basics and the rules, we'll also reveal where you can play this blackjack variant and your odds of winning.
Atlantic City Blackjack Basics
In terms of basic rules and principles, Atlantic City blackjack is no different than its classic counterpart. The game's goal is the same — reaching as close to 21 as possible without exceeding it. Otherwise, you'll go bust and automatically lose.
Cards are valued in the same way: all cards are at face value, while the King, Queen, and Jack count as ten. The ace remains the most powerful card in the deck and is valued at either 11 or one.
However, this blackjack variation has subtleties and liberal rules that continue to attract players. To begin with, since hole carding is allowed, a dealer can peek for blackjack. They can look at both aces and ten-valued cards. In the case of blackjack, the dealer must expose the value of their hole card.
Unless players have a natural hand to push with the dealer's blackjack, they will lose their wagers. Since you lose only your initial wager when trying to split or double down, the peek rule is definitely in the player's favor.
Other special rules of Atlantic City blackjack that set it apart from the standard version are:
A dealer stands on all hands whose sum is 17, including soft 17. This reduces the house edge and works to the players' advantage.
When you receive two cards with equal values, you can split them up to three times.
A late surrender is an option in cases where the dealer has peeked at their hole card for blackjack and has an ace or ten face-up. Furthermore, you can surrender any two-card combination regardless of the dealer's up-card.
A player can split a pair of aces only once and receive one additional card for each ace upon splitting. In other cases, a player can split up to three times.
You can double down on any hand, even after splitting, which significantly favors the player.
The insurance bet is available, but taking it would be ill-advised.
How to Play Atlantic City Blackjack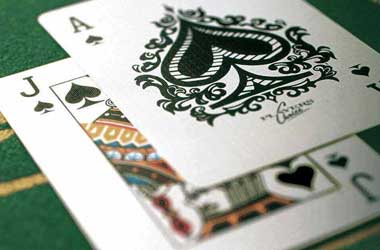 Let's focus on the gameplay now.
The game features eight decks of cards placed in a shoe. After joining the real or virtual table at the casino, you'll be prompted to place your bet. You will get two cards face-down, and the dealer will receive two cards, one face-up and one face-down (hole card).
As we already mentioned, the aim is to get as close as possible to 21 without going over.
The best possible starting hand is to get a natural blackjack, made up of a 10-point card and an ace. The paying odds in this situation are 3:2 unless the dealer also has a natural 21. The two hands will then push, which means that neither side will win or lose.
A dealer with an ace or a 10-point card will peek to check if they have a blackjack before playing the hand. They will first ask you to place an insurance bet if you have an ace.
When the dealer reveals a ten-point card, this bet pays 2:1 and costs half of your original wager. In this scenario, the player loses their hand wager but wins the insurance bet, resulting in a break-even outcome. The offer is known as "even money" when it is made to players with a blackjack.
The dealer will expose their cards once players decide whether to opt for insurance. If the dealer has a natural 21, all players will lose, except for those who also have blackjacks (those hands push).
Other than that, the participants will have the opportunity to play their hands. They can choose among many available options, with some only available in specific situations. With each turn, players have the following options:
Stand — A player is happy with their hand and won't take any additional cards.
Hit — A player will receive another card and make a new decision.
Split — A player can split their cards into two unique hands once they receive two cards of the same rank or any two 10-point cards.
Double down — A player can double their bet and receive one more card. Then, they must stand. It is worth noting that players can only use this option on their initial two-card hand.
Surrender — A player can stop playing immediately, losing half of their stake.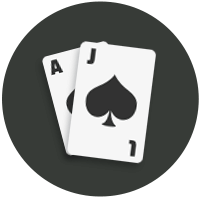 Once all the players have played their hands, the dealer will expose their card by revealing the down card first. The dealer must follow a set of rules and make a move according to that. They must hit if they have a hand total of 16 or lower. Otherwise, they must stand.
All player bets are paid out at even money if the dealer busts. If the dealer stands, players' hands are compared to theirs. Players whose hands are higher than the dealer's win even money, but if the dealer beats them, the player loses their stake.
Lastly, if the two hands tie, all wagers on the hand are considered pushes.
Odds and House Edge of Atlantic City Blackjack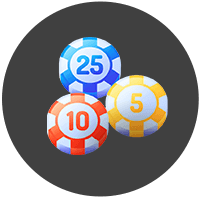 House edge is probably one of the biggest advantages of this game, as it is around 0.39%. This means that the RTP of this blackjack variation is 99.64%. For instance, if your wager is 100$, the casino will pay you $99.64.
As mentioned earlier, multiple rules of this game favor the player and reduce the house edge. Thus, a dealer standing on soft 17 lowers the house advantage by 0.22%. The opportunity to double down regardless of the player's hand total gives them an edge of around 0.25% and doubling after splitting increases their advantage by approximately 0.14%.
With proper use, the late surrender option can reduce the house edge by 0.07%. Gambling enthusiasts can also re-split aces, lowering the house edge by 0.08%.
If the players stick to the following rules, the house edge for the Atlantic City blackjack variation will be around 0.39%.
Other things that also affect the house edge are payouts. If the payout ratio is 6:5, the house edge will jump significantly. In case the casino offers a 6:5 payout instead of 3:2, this is a red flag of a lower profit margin.
Obviously, this isn't always the case, as casino rules might vary slightly, so players should double-check all the peculiarities before placing real-money bets. The good news is that Atlantic City blackjack, available in most online and brick-and-mortar casinos, pays at the odds of 3:2.
To familiarize yourself further with blackjack odds and probabilities, look at the tables below. You will have a better understanding of the factors that affect the game, such as card combinations, dealer's final and up hand, and various hand values.
| Dealer's up card | Dealer's bust % | Player's advantage |
| --- | --- | --- |
| 2 | 35.30% | 9.8% |
| 3 | 37.56% | 13.4% |
| 4 | 40.28% | 18.0% |
| 5 | 42.89% | 23.2% |
| 6 | 42.08% | 23.9% |
| 7 | 25.99% | 14.3% |
| 8 | 23.86% | 5.4% |
| 9 | 23.34% | -4.3% |
| 10 | 21.43% | -16.9% |
| J | 21.43% | -16.9% |
| Q | 21.43% | -16.9% |
| K | 21.43% | -16.9% |
| A | 11.65% | -16.0% |
| Card Combination | Frequency | Explanation |
| --- | --- | --- |
| Natural 21 | 4.8% | An ace and a ten, King, Queen, or Jack |
| Hard standing (17–20) | 30.0% | A pair of cards that sum 17-20, but neither is an ace |
| Decision hands (2–16) | 38.7% | Any hard hand with the sum of 16 or lower and any soft hand |
| No bust | 26.5% | Any soft hand or hard hand with a sum less than 11 |
| Total (all two-card hands) | 100% | / |
| Dealer's final hand | Probability of getting final hand |
| --- | --- |
| Natural blackjack | 4.82% |
| 21 (more than 2 cards) | 7.36% |
| 20 | 17.58% |
| 19 | 13.48% |
| 18 | 13.81% |
| 17 | 14.58% |
| Non-bust (less than 21) | 71.63% |
| Bust (more than 21) | 28.37% |
| Hand value | Busting chances if hit |
| --- | --- |
| 21 | 100% |
| 20 | 92% |
| 19 | 85% |
| 18 | 77% |
| 17 | 69% |
| 16 | 62% |
| 15 | 58% |
| 14 | 56% |
| 13 | 39% |
| 12 | 31% |
| 11 or less | 0% |
Conclusion
Aside from being exciting and challenging, Atlantic City blackjack boasts an exceptionally low house edge. Thus, it is no wonder this casino staple variant is a real attention-grabber at land-based casinos and online gambling platforms worldwide. However, the game rules can vary from place to place, so it's best to double-check them before playing.
FAQ
How is Atlantic City blackjack different from standard blackjack?
Compared to its classic counterpart, this blackjack variation allows you to choose the late surrender option and split your 10-valued cards.
Which casino game developers have created Atlantic City blackjack online?
Microgaming and Cryptologic developed this online blackjack variation. Many Cryptologic and Microgaming casinos offer this variant online.
What are the Atlantic City blackjack table minimums?
Casinos in Atlantic City usually have different minimum table requirements. Finding casinos with $5 table minimums is challenging, except in the morning. On the other hand, you'll probably come across $15 and $25 tables at Tropicana, Snowboat, and Bally's Casino in the evening.
Are there any notable Atlantic City blackjack tournaments?
Atlantic City is probably the second city after Las Vegas to offer an abundance of tournaments all year round. As you may have already guessed, the rules in most Atlantic City blackjack tournaments adhere to the city's own blackjack variation. We recommend keeping an eye on the events occurring in Atlantic City so you can find a tournament to participate in.
About the Author