Baccarat is one of the oldest casino card games. Many are of the notion that baccarat is exclusively for high rollers. However, that is far from the truth.
At CasinoUSA.com we will steer you to the best online baccarat destinations meant for players of every budget. If you are new to the game, fear not. Here's a small guide to help you get off to a great start with James Bond's favourite game.
Otherwise if you are looking to play Real Money Baccarat jump straight to our expert guide from here to find the top online casinos in the US for Real Money.
Behind its elegant veneer, Baccarat is an easy game to play and offers some of the best odds.
To begin with, you ought to remember that it is a game of luck although a bit of skill does make one a better player. It's like betting on a colour in roulette or spinning the reel in a slot or even getting to 21 in blackjack but if you bet consistently and evenly, you can expect to stretch your bankroll.
Top US Baccarat Casinos
| Casino | Offer | Devices | Play Now / Review |
| --- | --- | --- | --- |
| | $5,000 Welcome Bonus | | Play! |
| | 350% up to $5000 | | Play! |
| | First 3 Deposits, Get Up To $6000 | | Play! |
| | 350% Match up to $3500 | | Play! |
| | First 3 Deposits, Get Up To $3000 | | Play! |
| | $5500 Welcome Bonus | | Play! |
| | $5000 Welcome Bonus | | Play! |
| | 255% Bonus up to $2555 | | Play! |
| | First 3 Deposits, Get Up To $6000 | | Play! |
| | $3,000 | | Play! |
Before we begin with the basics, it is important to be aware that Baccarat offers the best odds in the house and an equal chance of winning. It's a simple card game with a low house edge, which makes it one of the easiest games to rake in a tidy sum.
Online Baccarat Basics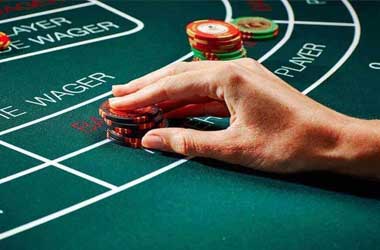 Baccarat involves a dealer or banker, and two 'punters' or players. A game has three possible outcomes, either the player wins, the banker wins, or the game is a tie. The objective is bet on which of the two hands will come closest to or equal to 9. You will need to beat the banker's hand to win the jackpot.
Play begins by deciding on which hand to bet on – the player, banker or a tie. After you place a bet the cards are dealt. The player is the first to be dealt a card followed by the banker. Depending on the starting total the player or banker will need to draw one more card. The card that comes closest to 9 wins.
For example, if a 5 and 7 is drawn, 7 wins. Face cards such as Jacks, Queens and Kings, and 10s are worth zero. Aces are worth 1. If the addition of the two cards is double digits then the first digit is dropped. For example, if two 8s are drawn equalling 16, then the 1 is dropped for a total of six.
Grosvenor Casinos
Players or bankers may draw a third card in certain situations. A player may draw a third card if the total of is zero-five. The banker pays out the winnings to those who bet on the winning hand, which attracts a 5% commission.
Our experts suggest that you remember these points to improve your chances of winning in online baccarat.
A player's and banker's hand is dealt.
Each hand has two cards.
The hand closest to 9 wins.
Cards 2 to 9 are known as pip cards and are worth their face value
Aces count as 1
10s and kings, queens, and jacks along with the suits (spades, clubs, hearts, diamonds) are not worth anything
Betting on the banker's hand offers the best odds of 1.06%.
The chance of a tie in baccarat is rare. The odds against one of the players winning are much higher so you would only be wasting your money of a tie.
Begin betting with small amounts and if luck is on your side you could gradually increase the amount.
Online Baccarat Strategy
The double down strategy is one of the most popular winning strategies that have stood the test of time. Make sure to pick the player hand and double your last best if you lose and the banker wins.
For example, if you bet $20 on the player hand and lose, then your next bet should be $40. The objective behind this is to make sure you get $40 if you win plus your $40 bet. Effectively, you have lost $20 in the first hand and won $20 on the second hand, which puts you $20 in the green. You can use this same strategy for a while. If you lose $20 on the first hand and $40 on the second hand, make sure to bet double on the next hand. The law of averages will finally catch up and you can cover your losses and win some as well.
Make sure to keep a close eye on table limits since some casinos put a limit on the maximum bet. There are several online baccarat casinos that don't have any restrictions on the maximum bet. In addition, only use the double down strategy if you have the bankroll.
Now that you are acquainted with the game it's probably time to head straight to one of the casinos listed right here at CasinoUSA.com.
Online Baccarat FAQ
If you're new to Baccarat yourself and are in need of some help, check out the following answers to the most common questions about this classic card game: