Active filters:
Clear all filters

Wild Casino
Bonus Offer:
$5,000 Welcome Bonus
More Info
Available Games
Slots
Blackjack
Roulette
Live Dealer
Baccarat
Features
Great selection of slots
High-quality live dealer games
Excellent welcome bonus
Crypto-friendly

Ignition Casino
Bonus Offer:
$3,000 Welcome Bonus
More Info
Available Games
Slots
Blackjack
Roulette
Live Dealer
Baccarat
Features
300+ games
Crypto-friendly casino
Live dealer jackpot
Bonus galore for different verticals

Cafe Casino
Bonus Offer:
350% up to $2500
More Info
Available Games
Slots
Blackjack
Roulette
Live Dealer
Baccarat
Features
Accepts cryptocurrencies
Generous welcome bonus
Loyalty program
Kahnawake Licence
25

casinos found based on your search.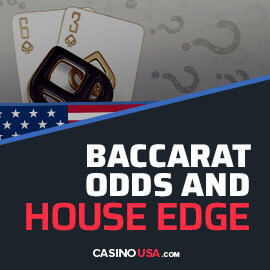 If you want to play baccarat but don't understand its payouts and odds, you've come to the right place. We'll explain how baccarat odds work and give you a couple of tips on which bets come with the most advantageous house edge.
Let's dive in.
Baccarat Odds
Like in any other casino game, baccarat odds vary based on your bet. The basic gameplay has three wagers:
The premise is simple — before the cards are dealt, bet on the hand you think will win. 
If you believe the player's hand has a chance of prevailing, then bet on it. If that's not the case, go for the banker. Of course, you can always place the tie bet if you think the hands will have the same value.
Before making a decision, you should learn what the payouts and odds are for each bet. Let's take a closer look below:
Player bet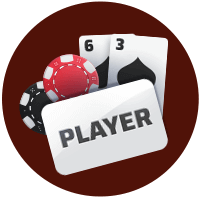 A winning player bet pays 1:1, meaning if you wager $10 and win, you'll collect an additional $10. However, remember that the player hand wins 44.63% of bets, slightly less than the banker.
Banker bet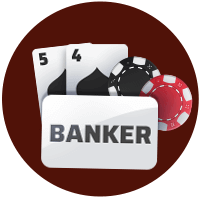 A successful banker hand also pays 1:1 but has better odds (45.87%) and pays out more often. That's why casinos have introduced a 5% commission on every winning banker wager. Therefore, betting $10 on the banker and winning will yield a $9.50 prize.
Tie bet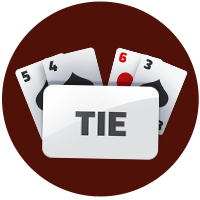 The tie wager is the least popular in baccarat, as it has the worst odds of only 9.51%. However, lucky individuals can expect an 8:1 payout. For instance, if you win a $10 tie bet, you'll get $80 and retain the original wager.
As you can see, betting on the banker offers better odds, as it wins more often overall. As for the tie bet, every seasoned player advises against it, especially if you're a beginner looking to maximize your chances of winning.
Side bets add another layer to the game and create more winning opportunities. Check out the most popular ones and their payouts:
All Red/Black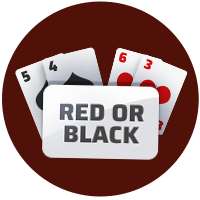 If you think a hand will contain all-red or all-black suits, go for this side bet.
All Red pays 22:1, while All Black offers a higher payout of 24:1.
Bellagio Match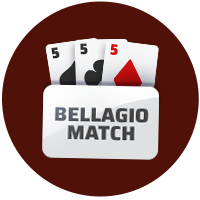 This is a bet on whether the banker's or the player's hand will be a three-of-a-kind.
If you guess correctly, the bet pays 75:1 (player) or 68:1 (banker).
Big/Small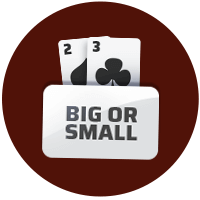 You bet Small when there are four cards between the player and the banker and get a 3:2 payout.
To win a Big bet, the player and banker's hands must have five or six cards in total. If correct, the wager pays 2:1.
Perfect Pair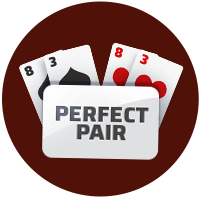 This is a side wager on whether the player's or banker's initial hand will be a same-rank pair.
If they have different suits, the bet pays 5:1, while the same-suit pair pays 25:1.
House Edge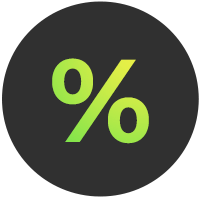 Before going any further, let's make one thing clear — you can never beat the house in baccarat. That said, there are a few details you might find helpful while playing. For instance, besides blackjack and craps, baccarat is one of the few games with a significantly low house edge, depending on your bet. 
We've previously explained that the odds of winning a player bet are 44.63%, meaning the house edge is 1.24%, making it higher compared to the banker bet.
On the other hand, the banker bet is more advantageous, with a 45.87% odds of winning. In this case, the house edge is lower (1.06%). However, the casino makes up for it with a 5% commission on winning banker bets.
Lastly, the tie bet has the highest house edge of all base game wagers amounting to 14.36%.
When you disregard the 9.51% odds of hitting a tie on either player or banker bet, you'll find a slightly different house edge:
Player: 1.36%
Banker: 1.17%
How to Calculate the Baccarat House Edge
Calculating the baccarat house edge is simple. Here's how to do it:
Player Bet
Chances of player winning – Probability of banker winning = Player house edge
0.446247 – 0.458597 = – 0.01235 = 1.24% 
Banker Bet
(0.95 x Chances of banker winning) – Odds of player winning = Banker house edge
(0.95 x 0.458597) – 0.446247 = – 0.01057985 = 1.06%
Tie Bet
(8 x  Odds of tie) – Probability of player winning – Chances of banker winning = Tie house edge
(8 x 0.095156) – 0.446247 – 0.458597 = – 0.0143596 = 14.36%
Can You Reduce the House Edge?
Like all other casino games, baccarat is designed so that the house always has a slight advantage. However, you can use several tricks to reduce the house edge.
Avoid the tie bet — We've already said that the tie wager is the worst option in baccarat because of its high house edge, regardless of how many decks you use in the game. So, while an 8:1 payout sounds appealing, it's a rarity.

Go for the banker — This bet has the best odds and the lowest house edge, making it a favorite among baccarat enthusiasts. While the player bet may benefit you more, the banker bet pays better in the long run.

Try various strategies — Baccarat is a game of luck, and not even the most detailed strategy can guarantee a win. However, some gamblers use Martingale or D'Alembert methods to improve their chances. On top of that, counting cards has proven beneficial, but it requires a lot of practice and has some downsides, especially in 8-deck games.
Conclusion
There you have it — a short guide through baccarat odds and house edge. Although it's impossible to beat the house at its game and predict the outcome, certain advanced strategies or tricks can help you reduce it.
Baccarat should be at the top of your list if you're looking for a game to kick off your gambling adventure. It's fun and easy to play and can yield juicy rewards. You'll be fine as long as you steer clear of the tie bet!
FAQ
What are the odds of winning in baccarat?
In baccarat, the player's hand wins 44.6% of the time, while the banker's hand offers better odds (45.8%). The tie bet has only a 9.51% odds of winning, so you should avoid it at all costs.
What's the baccarat house edge?
Baccarat has the lowest house edge among all casino games. Betting on the banker comes with a 1.06% house edge, while the player wager comes with a higher percentage of 1.24%.
Is there a baccarat strategy I should use?
Since baccarat is a luck-based game, not many strategies can help you win, especially if you're a beginner. The only advice we can give you is to bet on the banker most of the time because it has better odds and a lower house edge. You can throw some player bets in the mix but avoid a tie wager altogether.
Can you beat the baccarat house edge?
While you'll never beat the casino at its own game, understanding the game and its odds can help you reduce the house edge.
About the Author