Active filters:
Clear all filters

Wild Casino
Bonus Offer:
$5,000 Welcome Bonus
More Info
Available Games
Slots
Blackjack
Roulette
Live Dealer
Baccarat
Features
Great selection of slots
High-quality live dealer games
Excellent welcome bonus
Crypto-friendly

Ignition Casino
Bonus Offer:
$3,000 Welcome Bonus
More Info
Available Games
Slots
Blackjack
Roulette
Live Dealer
Baccarat
Features
300+ games
Crypto-friendly casino
Live dealer jackpot
Bonus galore for different verticals

Cafe Casino
Bonus Offer:
350% up to $2500
More Info
Available Games
Slots
Blackjack
Roulette
Live Dealer
Baccarat
Features
Accepts cryptocurrencies
Generous welcome bonus
Loyalty program
Kahnawake Licence
25

casinos found based on your search.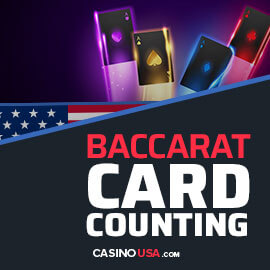 The real question is, is advantage play in baccarat profitable? Is it worth the risk, and what are your chances of winning big? Can you end up in any legal trouble for doing it?
Our article will answer these questions and explain how card counting works. Keep on reading.
How Does Card Counting Work in Baccarat?
Baccarat is a luck-based card game that features three bets — player, banker, and tie. The main objective of counting cards is to predict whether the banker or the player has a better chance of winning. The tie bet has no value in this scenario.
When counting cards, you strive to predict how many cards remain in play and what they might be. As baccarat is a relatively slow game, players can monitor their progress on a tracking sheet at the table.
First, finding a table that uses six to eight decks is essential. Make sure you sit at the start of the game so that the count is 0. You will then start assigning value to each card dealt. Since every card affects the count, you'll keep track of them to determine when the count is positive enough to be in your favor.
Here are the baccarat counting card values:
| | | | | | |
| --- | --- | --- | --- | --- | --- |
| Card rank | 9, T, J, K, Q | A, 2, 3 | 4 | 5, 7, 8 | 6 |
| Card value | 0 | 1 | 2 | -1 | -2 |
Let's say your running count is 15 and 4 is dealt, you will add 2, and the new count will be 17. If your next card is K, the count remains the same, and so on.
You will place the bet on the player if the count is 16 or higher or on the banker if it's 15 or lower. Calculate the true count to get the exact number by dividing the running count by the number of decks left. For instance, if the count is 42 and there are six decks, the true count will be 42/6 = 7.
You will place a bet on the player if the game has six or more decks and the true count exceeds 15. However, for a single-deck game, the true count must be higher than 11. Whenever a new deck is added to the shoe, you need to start counting from the beginning.
Even if you learn how to add the numbers quickly in your head, it will be challenging to keep track once the count reaches three- or four-digit numbers.
A few card-counting strategies were developed to help you maneuver this activity. Dr. Ed Thorp created his own advantage-play baccarat technique. It is slightly different from the one we discussed and requires several rounds to become effective. A well-known baccarat author, John May, has a unique card counting system dedicated to the tie bet. However, neither of the two is a foolproof strategy that will guarantee you a 100% win.
Can You Gain an Advantage by Counting Cards in Baccarat?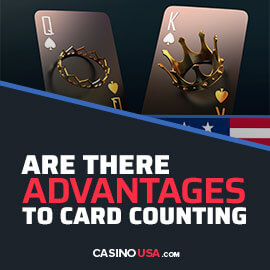 You won't find baccarat advantage play appealing if you're looking to make big money. This is simply because the hourly earnings are too small for the effort you put into it.
A mathematician and blackjack expert, Peter Griffin, explained that the profit would be minimal once you go card counting over the entire shoe. He argued that even the best card counters in Atlantic City make approximately $0.70 per hour. This means that you will need to wager $1,000 per hand when the count is at the ideal point.
Unlike in blackjack, if you are dealt natural in baccarat (when the total of two cards is 9), there is no bonus payout. So, it doesn't make much difference even if you know when the natural will be dealt. Additionally, some blackjack cards favor the player, and others favor the dealer. In baccarat, no cards are used to aid either hand.
Baccarat advantage play won't increase the effectiveness of your play. Plus, the bets are placed before the game starts, and you cannot change them afterward. However, counting can lower the house edge a little (0.99% to 1.06% on the banker bet and 1.06% from 1.24% on the player bet).
Even if you master advantage play, it will not guarantee a win. The amount of mental effort you have to make and the hundreds of hands you have to play before a favorable opportunity arises are not proportional to the slight advantage you get.
Is It Legal to Count Cards?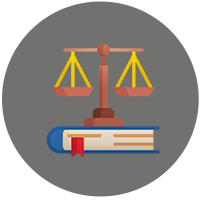 US federal, state, and local laws do not prohibit card counting as long as players do not use an external device or someone to assist them. However, casinos frown upon it and will probably escort you from the property if they catch you. In most cases, you will get a lifetime ban from playing there or in their sister casinos.
Some casinos are more strict than others. Although advantage play alone is not enough to detain you, they can call the police to arrest you for trespassing or disorderly conduct if you are rude or aggressive. After all, it's private property, and you must respect the rules and employees.
When a player is caught card counting several times, casinos often file fraud charges against them. If this happens in Las Vegas, you could be charged with a misdemeanor and face one to two years in county jail or a fine of up to $2,000.
Conclusion
It is up to you to decide whether card counting in baccarat is worthwhile. The rewards are nearly insignificant compared to mental effort. Since you can only earn less than a dollar per hour, it is an inefficient way to make money. Counting cards in baccarat is not the easiest thing in the world, and you need to concentrate on the cards and wait through hundreds of hands for an opportunity.
However, it can be advantageous in specific situations. For instance, it can be lucrative if done right with the Dragon 7 side bet that pays up to 30:1. You could also consider it as a new challenge or a hobby that could help you practice and earn a few bucks.
FAQ
Is card counting possible in baccarat?
Like in any other card game, it is possible but not profitable.
Can I earn money from counting cards in baccarat?
Yes, you can. It can increase your winning chances, but the profit you can make is insignificant compared to counting cards in games like blackjack.
Do casinos allow card counting?
Although it is not considered illegal, casinos will most likely ask you to leave the premises and impose a lifetime ban.
About the Author