Roulette is undoubtedly one of the oldest and most popular casino games that most serious gamblers want to master. While the game may conjure images of Monte Carlo's well-heeled wagering a small fortune on every spin of the roulette wheel, the table game has become most popular in America, especially the online version.
Want to jump straight into the action with Online Roulette for Real Money then read our in-depth guide right here and find out our top US casinos to play for real money.
Otherwise continue to read our guide for roulette basics, strategies, tips, tricks and more
The roulette wheel has stood the test of time because it is not only fun to play but is very easy to play. If you are a novice, this could be the ideal game to start your gambling experience.
At the center of the game is a wheel in which a small white ball spins and drops into one pocket on the wheel. It may not be one of the games to set you on the path to great wealth given the stiff house odds but if you pay heed to some of the time-tested betting strategies that we at CasinoUSA.com share, you could potentially manage to stretch your bankroll and make your time at the wheel worthwhile.
Top US Roulette Casinos
| Casino | Offer | Devices | Play Now / Review |
| --- | --- | --- | --- |
| | $5,000 Welcome Bonus | | Play! |
| | 350% up to $5000 | | Play! |
| | First 3 Deposits, Get Up To $6000 | | Play! |
| | 350% Match up to $3500 | | Play! |
| | First 3 Deposits, Get Up To $3000 | | Play! |
| | $5500 Welcome Bonus | | Play! |
| | $5000 Welcome Bonus | | Play! |
| | 255% Bonus up to $2555 | | Play! |
| | First 3 Deposits, Get Up To $6000 | | Play! |
| | $3,000 | | Play! |
Let's look at some of online roulette's basics, a few betting tips and useful strategies.
Online Roulette Basics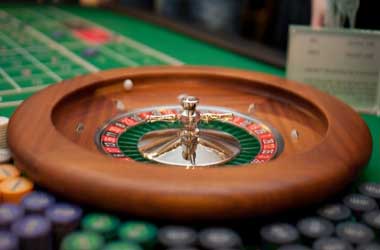 Roulette, as we've all seen in the movies, involves piles of colored chips that are placed on a rectangular table.
The online version has almost a similar feel. When the bets are all in, the dealer or croupier spins a large wheel that has slots marked by colors and numbers.
The wheel is spun counter-clockwise following which the dealer drops a small white ball in a clockwise direction. You need to wait for the ball to drop into one of those numbered pockets, which could be the spots on which you placed the bet.
Aspers Stratford
So, for the most part, betting is about guessing where the ball will potentially land when the roulette wheel comes to a stop. While the croupier drops the ball in a land-based casino and the rest is left to a gambler's luck or the random number generator (RNG) which determines the outcome in basic online roulette.
Types of Roulette
European roulette: The spinning wheel in the European variant has numbers 1 through 36 marked on it and includes a zero (0), which means you can place bets on 37 numbers.
American Roulette: Has two zeros (00) and a single zero (0), which means there are 38 numbers on which you can bet.
French Roulette: Which is much like European roulette. However, there are two significant differences. The words on the table are in French while the game uses the 'La Partage' rule where if the ball lands on a zero you lose only half your even-odds stake.
The betting factor
In online roulette the game is played in a similar fashion as a traditional casino. Players buy chips and have the liberty to place different types of bets. When the wheel is spun and the ball stops, the dealer or in the case of online roulette, the RNG software, will mark the grid that indicates the winning number. The dealer or software will collect losing bets and payout the winning bets.
There are many combinations you can bet on in online roulette. You can place a
Straight bet: You bet on any number. The payout is the highest at 35:1.
Split bet: You can bet on any two adjoining numbers both vertically or horizontally on the wheel.
Street bet: This is a wager on any three numbers horizontally such 1, 2, 3 or 4, 5, 6.
Corner bet: You can bet on four adjoining numbers in a block such as 11, 12, 14, 15.
Basket Bet: This is a bet on 0,1,2 or 0,2,3
Apart from these, bets can also be placed on the ball landing on Red/black, odd/even numbers, in the 0 or green slot, number groups, and columns and rows.
Bets placed on numbers are known as 'Inside bets' and those placed in the boxes outside the number grid are known as 'Outside bets'.
Online Roulette Strategy
Our experts at CasinoUSA.com always recommend that you practice for free as much as possible at an online casino before wagering real money. We have an entire list of casinos where you can play online roulette for free.
Make sure to play sensibly and allocate a portion of your bankroll to short sessions.
Separate your winnings from your original bankroll.
European Roulette offers better odds since it has a lower house edge of 2.70% as compared to the American variant that has a 5.26% house edge. French roulette also has a lower house edge of 1.35%.
It would be wise to bet small and stick to outside bets when you play for practice.
Inside bets offer greater winning opportunities. However, these bets are ideal for the experienced player. If you are a novice then outside bets such as odd/even and red/black
Manage your bankroll well and don't chase your losses. A sensible betting strategy would be place two outside bets of equal amounts – one on even-money play and the other on column or dozen that pays 2:1. For example, you can place a bet on black and another on Column 3, which has eight red numbers. Alternatively, you can place a bet on red and one bet on Column 2, which has eight black numbers.
Remember, Roulette is a game of chance and there is no magic formula to win consistently.
Don't let previous numbers wins influence you since every spin is independent and unrelated to any past spins.
Most importantly, to make the most of your foray into online roulette, stick with CasinoUSA.com for the very latest.
Online Roulette FAQ
If you're new to playing real money Roulette, or even if you're a more experienced gambler looking for some info, here are the answers to the most popular questions about this massively played casino game.