Active filters:
Clear all filters

Wild Casino
Bonus Offer:
$5,000 Welcome Bonus
More Info
Available Games
Slots
Blackjack
Roulette
Live Dealer
Baccarat
Features
Great selection of slots
High-quality live dealer games
Excellent welcome bonus
Crypto-friendly

Ignition Casino
Bonus Offer:
$3,000 Welcome Bonus
More Info
Available Games
Slots
Blackjack
Roulette
Live Dealer
Baccarat
Features
300+ games
Crypto-friendly casino
Live dealer jackpot
Bonus galore for different verticals

Cafe Casino
Bonus Offer:
350% up to $2500
More Info
Available Games
Slots
Blackjack
Roulette
Live Dealer
Baccarat
Features
Accepts cryptocurrencies
Generous welcome bonus
Loyalty program
Kahnawake Licence
37

casinos found based on your search.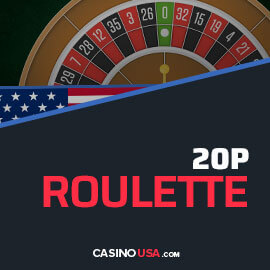 This article will discuss one lesser-known roulette variant — 20p Roulette. If you've never heard about this game, it's about time you did. Stay with us to learn all you need to know about 20p Roulette:
Rules
Payouts
Special features
How to play and win
What Is 20p Roulette?
20p Roulette is a simple variant of this casino classic. Despite its unusual name, its design and basic rules don't differ from the traditional roulette you're used to playing. 20p Roulette is played with a:
37-slot wheel
Betting table
Roulette ball
Stack of chips
Players must decide on the amount they want to bet and place the chips in the appropriate place on the betting grid. The action starts when the dealer throws the ball into the roulette wheel and spins it. The pocket where the ball stops decides the winners of the round.
The main differences between 20p and standard roulette are their bet types and betting limits. Namely, the 20p Roulette betting table features so-called Neighbor bets. These bets cover five numbers on the roulette wheel — a central number and two numbers on either side. It's similar to the Voisins du Zero or Neighbors of Zero wager. However, you shouldn't mix them up. The Neighbors of Zero bet covers the zero slot and eight slots on each side — so 17 in total.
The other difference we mentioned above is what gives 20p Roulette its name. This variant is played with 20c or 20p chips, and the minimum bet is usually $1 or £1, depending on where you're playing. These low minimum bet limits attract newbies and give them a taste of the game without spending too much money. Nevertheless, this game isn't geared towards beginners only — most of its versions also feature very high maximum bets, so high rollers can enjoy it, too.
20p Roulette RTP and Payouts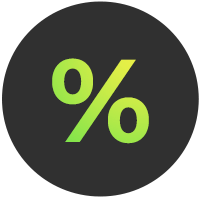 Now that you know how 20p Roulette works, we can discuss its characteristics.
A gambler's primary concern when looking for a new game is its RTP and payouts. The RTP shows what percentage of the money wagered will be returned over time. Roulette payouts show how much money one can expect to win with each bet type the game offers.
So, do 20p Roulette RTP and payouts make this variant worth playing? The short answer is yes. 20p Roulette features the same RTP percentage as the standard version — 97.30%. The game can be highly profitable if you're lucky.
20p Roulette shares its betting options with European Roulette, a well-known variation of this casino game. So, you can wager on red/black, even/odd, or any numerical combination with pretty good winning odds.
On top of that, the lack of the double zero slot on the wheel keeps the house edge relatively low, which is another plus. Thanks to 20p Roulette's large betting range, you can make the most of each bet. Bigger bets cater to high rollers, while smaller ones are suitable for casual players.
20p Roulette Special Features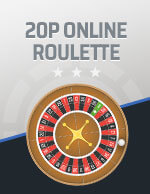 20p Roulette is an online variant of this famous game, so it comes with a few special features. Depending on the developer and casino that hosts it, the game typically offers two common aspects — Neighbor bets and a Turbo Spin option.
We've already explained Neighbor bets at the beginning of this article, so you already know how they work. They're generally rare on the roulette scene, so they can be a new and exciting way to wager your money. These bets are common among players who base their betting decisions on hot and cold roulette wheel sectors.
The 20p Roulette Turbo Spin, also called Turbo Play, is similar to the Autospin button on many modern slots. The Turbo Spin skips the animation part of the game that shows the marble ball turning in the wheel. The sped-up process lets you see the results of each spin immediately. Some versions of 20p Roulette even allow players to adjust the speed of the roulette wheel in the game settings. The Turbo Spin doesn't affect the odds or outcome of the game.
How to Play 20p Roulette and Win
No special tricks can help you win at 20p Roulette every time. Like all roulette variants, 20p is a game of chance. It is impossible to predict where the ball will land next, regardless of your or your fellow players' previous bets. Still, there are a few tips that can help improve your 20p Roulette winning odds in the long run:
Choose a reputable casino — Make sure the online casino where you're playing 20p Roulette is licensed, regulated, and reliable. This way, you'll know that you have a fair chance of winning, and you'll be able to claim your prize once you win it.

Use the free-play mode — Most casinos offer a free-play version of their roulette games. Take advantage of this option to explore the 20p Roulette gameplay, inspect its special features, and try it a couple of times. You should feel more confident about playing this game with real money afterward.

Check out roulette betting charts — Roulette betting charts show payouts and odds on every type of bet in this game. Having this info in mind can be helpful when you're managing your bankroll and deciding on the best way to bet. You can find these charts online.

Set a budget — 20p Roulette might seem like a game where you can't lose too much money because of its low minimum bet limits. However, you may get carried away if you do not set a budget. So, make sure you know how much you can spend on this game in advance and stick to that sum no matter what happens.
Conclusion
20p Roulette is a fantastic choice for fans of this classic casino game. It shares most of its rules and gameplay with well-known versions of roulette, so it features good winning odds and familiar gameplay. Plus, it has various features and benefits, such as flexible betting limits. You can find it in many online casinos nowadays, so why not try it out? Good luck!
FAQ
How do you play 20p Roulette?
20p Roulette gameplay doesn't differ much from that of other roulette versions. Players bet by placing 20p (20c) chips on the desired betting field, and the dealer or the computer spins the wheel to reveal the game's outcome.
What's the minimum bet at 20p Roulette?
Even though the value of each chip is 20p (20c), the minimum bet at 20p Roulette is $1. So, you have to wager at least five chips in each round.
What's the 20p Roulette house edge?
20p Roulette uses the same wheel as European Roulette, resulting in the same house edge — 2.6%.
Can I play 20p Roulette on my mobile device?
You can. Most 20p Roulette games are optimized for mobile play, so you can try them out on any mobile device. The graphics, loading speed, and feel of the game should be consistent across all platforms.
About the Author