Active filters:
Clear all filters

Wild Casino
Bonus Offer:
$5,000 Welcome Bonus
More Info
Available Games
Slots
Blackjack
Roulette
Live Dealer
Baccarat
Features
Great selection of slots
High-quality live dealer games
Excellent welcome bonus
Crypto-friendly

Ignition Casino
Bonus Offer:
$3,000 Welcome Bonus
More Info
Available Games
Slots
Blackjack
Roulette
Live Dealer
Baccarat
Features
300+ games
Crypto-friendly casino
Live dealer jackpot
Bonus galore for different verticals

Cafe Casino
Bonus Offer:
350% up to $2500
More Info
Available Games
Slots
Blackjack
Roulette
Live Dealer
Baccarat
Features
Accepts cryptocurrencies
Generous welcome bonus
Loyalty program
Kahnawake Licence
37

casinos found based on your search.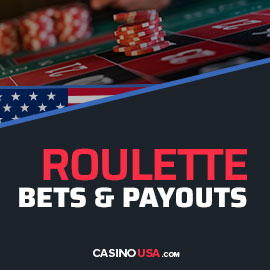 Understanding Different Roulette Versions
Over the years, the classic roulette game has been through numerous experiments, which resulted in many different game versions. While the essential game rules have generally stayed the same, there are some subtle differences between the basic roulette game and its adaptations.
One of the most common roulette variations is European Roulette, and many players worldwide believe this title takes after the original roulette game. In European Roulette, the wheel has 37 slots — numbers from 1 to 36 and a 0 pocket. Then, we've got American Roulette, which has the same slots and an additional 00 slot on the roulette wheel, and French Roulette with a few unique characteristics on its own.
In addition to these roulette titles, you can now find even more advanced roulette versions at numerous land-based and online casinos.
The important thing to point out here is that all these roulette variants can feature different bets, so it's always a good idea to check the available betting options for your chosen title.
Common Bet Types
Although different roulette titles can offer slightly different betting opportunities compared to other available roulette variations, some bets have almost all in common. We call those betting options basic bets, divided into two categories — inside and outside bets.
Let's go through both categories and explain the basic bets thoroughly.
Inside Bets
Inside bets include betting on a single number, a pair, or small sets of numbers. You can group your numbers in several different ways, but note that different sets come with unique odds and payout percentages you should note before playing.
The lower winning chance that comes with bets from this category comes at good compensation with higher payouts so consider all options wisely.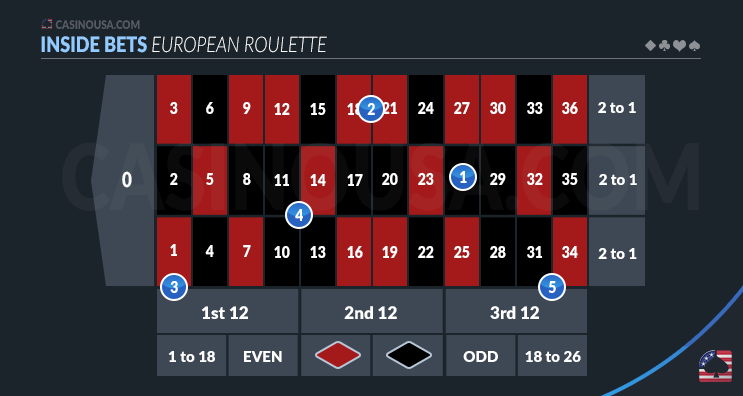 Basic InsideBets
As mentioned before, many people consider European Roulette the basic version of this popular game. For this reason, we'll share inside bets for this roulette title:
Straight-up bet — If you're looking for a big win, bet on any specific number, including 0 and 00, for a 35:1 payout. Still, note that such a high payout comes at the cost of lower winning chances compared to other bets.
Split — You can place a bet on two different numbers as long as they are next to each other. This bet pays 17:1, and you should place the chip on the line that divides them for the Split bet to be valid.
Street — The street bet includes a wager on three numbers in a row and pays out 11:1. You can place this bet by putting a chip on the line at the end of the row with your desired numbers.
Corner — You can earn an 8:1 payout with a corner bet if you place a chip on the corner of four adjacent numbers.
Line — If you have six lucky numbers that happen to be on two adjoining lines, place a chip on their dividing line at the end of the lines in question. This bet pays 5:1.
Once you step up from the basic roulette game and try other variants, you may come across other betting options. One is called basket or a five bet, and it's only available in American Roulette. This bet with a 6:1 payout includes a wager on numbers 0, 00, 1, 2, and 3, and if you want to place it, put a chip on the corner between 0 and 1.
Outside Bets
Roulette tables offer several outside bets to spice up your game. You can place single or multiple wagers on larger groups of numbers or a particular color, but remember that you need at least the table minimum for each bet.
While these bets have lower payouts, the winning probability is much better than inside wagers.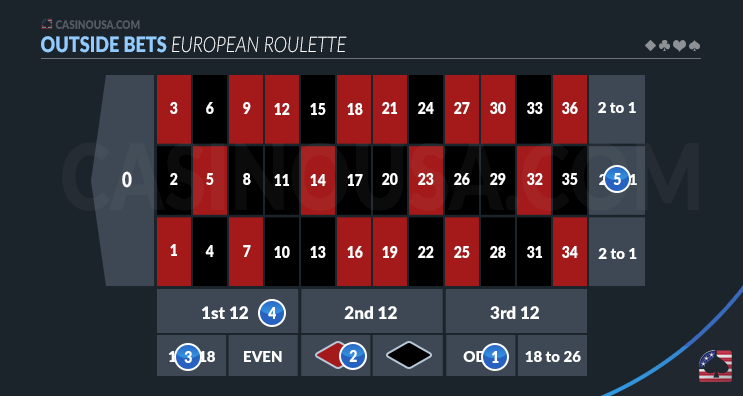 Basic Outside Bets
Outside bets are common for several different roulette variations, and the basic options are:
Odd/Even — Just like you can bet on a particular color, you can bet on either odd or even numbers. Put a chip on the odd or even box and expect even money if the bet goes through.
Red/Black — Bet on the ball falling on either a red or black field by placing your chip on the red or black box. This is a very simple bet that pays 1:1.
High/Low — Bet on low numbers between 1 and 18 or high ones that range from 18 to 36. This bet pays out even money.
Dozen bet — Place a bet on the first, second, or third dozen of numbers by putting your chip on the "1st 12", "2nd 12", or "3rd 12" box. This bet pays out 2:1.
Column bet — If you bet on a column, you'll wager on 12 different numbers. Leave a chip on a "2 to 1" box below the desired column for a 2:1 payout.
Which Roulette Bets Pay the Most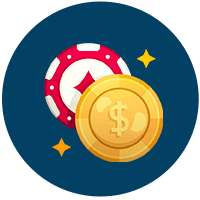 Choosing the highest-paying bets among the basic roulette betting options is very easy, as the answer is pretty obvious.
If you look at the paytable with payouts for inside and outside bets, you'll see that the straight-up bet pays out 35 to 1, which is more than double compared to the next-in-line highest-paying wager — the split bet that pays out 17:1.
Nevertheless, the straight-up bet pays up more than others due to its low probability, as it's more difficult to bet on a single number and get it right than bet on a group of numbers and score a win.
Conclusion
While you can make a number of different bets while playing roulette, the ones we've outlined here are some of the most common and offer the best potential payouts.
Remember to do your research before placing any bets, as each comes with risks and rewards. With a little practice, you should be able to easily identify which wagers give you the best chance for success and enjoy plenty of winning spins at the roulette table.
FAQ
What is the difference between inside and outside bets in roulette?
Inside bets are bets on specific numbers, pairs, and smaller groups of numbers, while outside bets include bets on larger groups of numbers.
Which basic roulette bet pays out the most?
The basic roulette bet that pays out the most is the straight-up bet. It's an inside bet that comes with a 35:1 payout.
Can I place basic wagers on all roulette variants?
Not exactly. Although most roulette versions allow players to place basic inside and outside bets, there are some exceptions to this rule. For example, a five bet doesn't exist in European Roulette, but it does in American Roulette.
Can I place multiple bets at the same time?
Yes, you can place multiple bets before each spin if you respect the table betting minimum.
About the Author