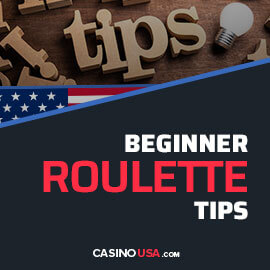 If you're new to the gambling industry and interested in learning how to win at roulette, stay put. The following article will outline all you have to do and explain the details behind every move.
Keep reading!
Learn the Basic Rules
The first step towards any goal is establishing a good foundation. In this case, you'll have to know roulette rules like the back of your hand. You'll never get to build on your skills and progress as a player if your base is flimsy.
So, let's start there.
Roulette is a game of chance played with a roulette wheel, table, and a marble or metal ball. The wheel comprises 37 or 38 pockets marked with numbers from 0 to 36. Numbers 1 to 36 sit against alternating red and black backgrounds, while the 0 or double 0 are displayed against a green background.
The roulette table comprises a grid with bet types players place their chips on to signal their bet for the round. Bets can cover only one wheel pocket or a range of them. Each bet comes with specific winning odds and payouts depending on that coverage. You can place one or more bets per spin.
The game starts with bet placing, then the dealer spins the roulette wheel and throws the ball into it. The ball moves opposite to the wheel and completes three revolutions around it. The wheel eventually stops, revealing the slot where the ball landed. Players who've bet on that slot win. The dealer pays out the winners, sweeps away the losing bets, and a new round starts.
Play European or French Roulette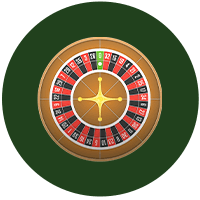 Once you've mastered the rules, you'll have to decide the game you want to play.
Roulette has had years to develop, so it comes in numerous variations. Roulette variants tend to share the basic rules described above, but there are still differences between them. Some of these features are more beneficial to players than others, so you can use them as guides when choosing the game you want to play.
The most popular roulette variants are:
The American Roulette wheel features 38 pockets, two of which are 0 and 00. These slots on the wheel significantly affect the house edge this variant features. It raises it to more than 5%.
European and French Roulette each have a wheel with 37 pockets, including only one 0 slot. Moreover, they feature two important rules the American variation doesn't — En Prison and La Partage.
En Prison allows players who've made even money and lost bets to keep their chips on the roulette table for one more spin. La Partage, or the dividing rule, lets players who've made even money bets have half their wager back when the ball lands in the zero pocket.
The exclusion of the 00 pockets lowers the house edge to 2.70% in European and French Roulette. In addition, the inclusion of either two mentioned rules lowers to 1.5%. These differences in the house edge percentage may seem small on their own, but they can make a huge difference in the long run.
So, avoid American Roulette, especially if you're a beginner, because French and European versions provide much better chances of winning.
Try Placing Outside Bets
The roulette table offers two bet categories — outside and inside bets. Outside bets include:
Odd/Even numbers
Red/Black pockets
Low/High numbers (1–18/19–36)
Column bets (row of 12 numbers)
Dozen bets (1–12, 13–24, and 25–36)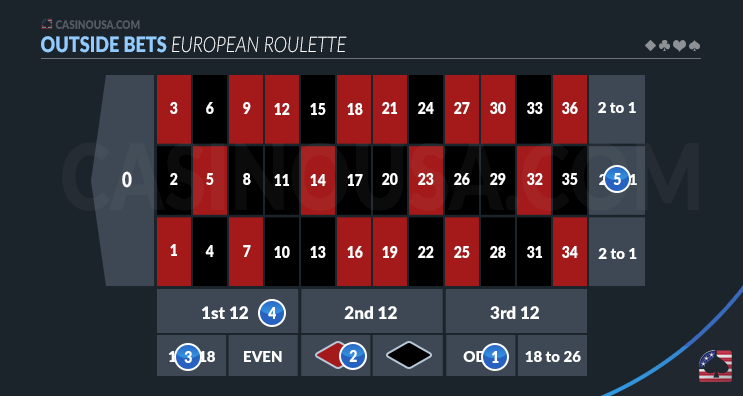 The first three offer a 1:1 and the last two a 2:1 payout. While this payout might not be particularly enticing, outside bets offer good winning odds. You can win almost 50% of the time, stay in the game longer, and take advantage of the En Prison or La Partage rule.
Inside bets include:
Straight (single number)
Split (two vertically or horizontally adjacent numbers)
Street (three consecutive numbers in a horizontal line)
Corner (block of four adjacent numbers)
Line (two neighboring rows of six numbers)
Five (0, 00, 1, 2, and 3) bets
They offer much larger payouts — up to 35:1 — but are much more difficult to hit. If you're not big on risk-taking, you'll find outside bets much more satisfying in the long run.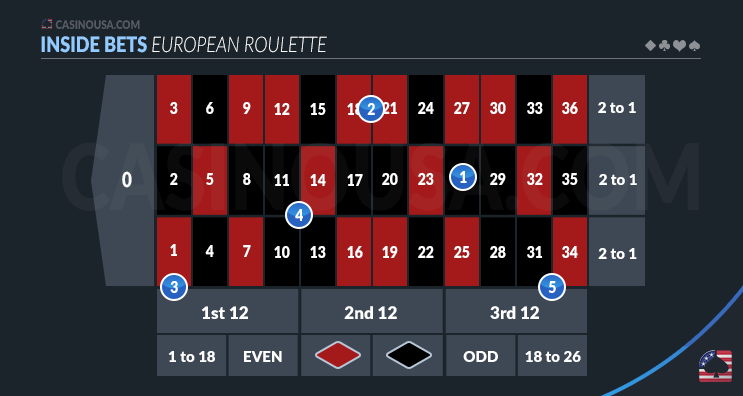 Focus on Bankroll Management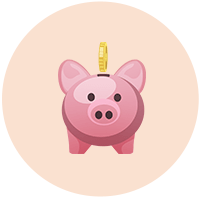 Roulette's fast-paced and enthralling gameplay makes it easy to get carried away. Players without a plan or structure to their bankroll go through it in a blink of an eye.
To avoid facing a problem like this, think ahead:
Calculate the amount of money you can afford to lose — Think of it as an entertainment expense. Remember that sum and stick to it while you're playing.
Don't let a wins streak deceive you — It won't last forever. Walk away from the table while you're still in the black.
Research roulette betting strategies — Systems like these help players manage their bankrolls and structure their gameplay. So, they can be a nice crutch to rely on while you're still finding your footing with roulette.
Active filters:
Clear all filters

Wild Casino
Bonus Offer:
$5,000 Welcome Bonus
More Info
Available Games
Slots
Blackjack
Roulette
Live Dealer
Baccarat
Features
Great selection of slots
High-quality live dealer games
Excellent welcome bonus
Crypto-friendly

Ignition Casino
Bonus Offer:
$3,000 Welcome Bonus
More Info
Available Games
Slots
Blackjack
Roulette
Live Dealer
Baccarat
Features
300+ games
Crypto-friendly casino
Live dealer jackpot
Bonus galore for different verticals

Cafe Casino
Bonus Offer:
350% up to $2500
More Info
Available Games
Slots
Blackjack
Roulette
Live Dealer
Baccarat
Features
Accepts cryptocurrencies
Generous welcome bonus
Loyalty program
Kahnawake Licence
37

casinos found based on your search.
Conclusion
If you're still figuring out casino games, roulette is a great start — it's simple to learn and fun to play.
While no magic moves can guarantee a win, beginners may find some tips helpful. Know the rules, choose your variant wisely, stick with outside bets, and think about your bankroll in advance.
With a little luck, this advice will be enough to make you a winner!
FAQ
Is there a trick that will help me win at roulette?
No. Unfortunately, there isn't a single roulette move or strategy that will make you successful every time you play. However, playing a player-friendly variant, knowing its rules well, and sticking to your budget can help you stay on the right track.
What is the best bet in roulette?
Inside roulette bets seem more profitable, but they can quickly drain your budget. You'll have a better chance of winning the game if you pick outside bets. They'll let you win more frequently and play for longer.
What number comes up the most in roulette?
According to roulette history and many croupiers, the ball most frequently lands on 17.
Is there a pattern to roulette outcomes?
No. Roulette is a game of chance, which means there's no pattern to its outcomes. There are no hot or cold numbers, no matter whether you're playing in a land-based or online casino. Each spin of the roulette wheel is an isolated and random event. It has nothing to do with the ones that preceded or came after it.
About the Author