Active filters:
Clear all filters

Wild Casino
Bonus Offer:
$5,000 Welcome Bonus
More Info
Available Games
Slots
Blackjack
Roulette
Live Dealer
Baccarat
Features
Great selection of slots
High-quality live dealer games
Excellent welcome bonus
Crypto-friendly

Ignition Casino
Bonus Offer:
$3,000 Welcome Bonus
More Info
Available Games
Slots
Blackjack
Roulette
Live Dealer
Baccarat
Features
300+ games
Crypto-friendly casino
Live dealer jackpot
Bonus galore for different verticals

Cafe Casino
Bonus Offer:
350% up to $2500
More Info
Available Games
Slots
Blackjack
Roulette
Live Dealer
Baccarat
Features
Accepts cryptocurrencies
Generous welcome bonus
Loyalty program
Kahnawake Licence
37

casinos found based on your search.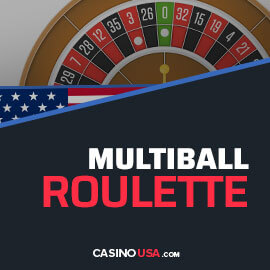 Today's article will discuss a less famous but equally exciting roulette variant — Multiball Roulette.
We'll explore Multiball Roulette's:
Rules
Gameplay
Betting options
Strategies
Read on to learn all you need to know to play this game.
What Is Multiball Roulette?
Multiball Roulette is a relatively new variant of the casino classic. It emerged as iGaming started to gain traction over the world. Its design, and by extension, its betting rules, make the game even more enticing.
So, let's start by outlining the basics.
The main difference between Multiball Roulette and the standard version of this game stems from the props it uses. Traditional roulette makes use of one roulette wheel and one marble ball. The dealer throws the ball into the wheel, and the ball spins until the wheel comes to a stop. The game's outcome is determined by the pocket where the ball landed.
As its name suggests, Multiball Roulette gameplay includes more than one marble ball. Most versions of this game feature three balls, but you can also find casinos that offer Multiball Roulette with up to 10 balls. Multiball uses the same roulette wheel you can find in the European version of this game. It has 37 pockets with numbers from 0 to 36. Except for one, all pockets are red and black. The one that stands out is the green slot with the number 0.
The Multiball Roulette rules are not that different from what we described above. However, this variant offers better winning odds. Because of its use of multiple balls during one spin, the game generates more than one result. So, players have better chances of landing their bet.
Types of Bets in Multiball Roulette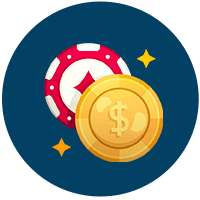 Multiball Roulette follows the standard roulette betting system. The players place the number of chips they want to wager on the designated table field and wait for the wheel to reveal the game's outcome. They can make all well-known types of bets, too.
You can find them and their payouts listed in the table below if you need to refresh your memory:
| Bet type | Payout |
| --- | --- |
| Red/Black | 1:1 |
| Even/Odd | 1:1 |
| High/Low | 1:1 |
| Split (2 adjoining numbers) | 17:1 |
| Straight Up (any individual number) | 35:1 |
| Corner (4 adjoining numbers forming a block) | 8:1 |
| Dozens (1–12, 13–24, 25–36) | 2:1 |
| Column (12 numbers in a single row) | 2:1 |
Besides these bets, many Multiball Roulette games also allow players to make Call or Announced Bets. They fall into three big categories, named after their position on the roulette wheel:
Voisins du Zero — This call bet translates into "neighbors of zero" and refers to the group of 17 numbers that sit between the pockets 22 and 25 on the wheel. The zero pocket takes the central spot in this wheel division, hence the name. Voisins pays out 17:1.
Tiers du Cylindre — This bet type translates to "thirds of the wheel" and refers to the numbers from 33 to 17 at the bottom of the wheel. It features the same payout as Voisins.
Orphelins — Orphelins is a French word for orphans. It stands for the two small segments that comprise eight numbers between the divisions mentioned above. They include 6, 17, and 34 on one side of the wheel and 1, 9, 31, 14, and 20 on the other. The Orphelins payout is 35:1.
The trick to understanding the Multiball Roulette stakes is the number of balls in the game. If there are two balls in the game, the payout will split into two. If there are three, the payout will be divided by three, and so on. For example, the Column bet, whose regular payout is 2:1, will have a payout of 2:3 in the Multiball Roulette with three balls.
Multiball Roulette Betting Strategies and Tips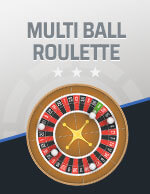 Multiball Roulette gameplay allows players to use any of the standard roulette strategies. However, two of them are more popular among Multiball players than others. One is flat-betting on your favorite number, and the other is the Martingale system.
The former includes selecting a number and continuously placing the same bet on it. This roulette strategy allows players to turn a profit or break even if their number appears.
The latter includes increasing your bet each time you lose and resetting it to your initial wager the moment you win. However, this strategy only works if you ensure that your winning odds are as close to 50/50 as possible. For instance, if you're playing a 2-ball Multiball Roulette with the Martingale system, you must make the Column or Dozens bet. The reasoning behind the choice is that these bets' payouts will be 2:2 in this case.
No matter the strategy you go for, there are a few additional tips you can benefit from when playing this variant:
Find a reputable casino that hosts this game and make sure it's licensed and secure.
Check out the casino's T&C page to learn about its limits and restrictions.
Try out Multiball Roulette's free play mode if it's available. It'll help you get a better grasp of the game.
Pick a real-money Multiball Roulette game with rule variations and betting limits that suit you.
Set a budget before playing. This game's betting system lets you go through your bankroll two or three times as fast. Don't bet money you can't afford to lose.
Conclusion
Multiball Roulette is like a classic roulette game on steroids. It features all the rules and bet types European roulette does but adds a twist to it by including additional balls in the gameplay.
As a result, players enjoy more dynamic gaming sessions and get better chances of winning. If that sounds interesting, find a good online casino that hosts this game and try it.
You're sure to have a blast!
FAQ
What is Multiball Roulette?
Multiball Roulette is an adaptation of European Roulette that's played with more than one ball. It offers a rich betting system and great winning odds.
Is it difficult to win at Multiball Roulette?
It's not. Landing a win in this variant might be easier than in many other versions of roulette because there's more than one ball in the wheel at a time. However, odds as good as these significantly decrease the payouts this game offers.
Where can I play Multiball Roulette?
Multiball Roulette is an online variant of this casino classic, so you won't find it in land-based casinos. However, numerous great online gambling sites host it. You can always refer to the top roulette casinos we recommend on this website if you need help finding a good place to play this game.
About the Author