Active filters:
Clear all filters

Wild Casino
Bonus Offer:
$5,000 Welcome Bonus
More Info
Available Games
Slots
Blackjack
Roulette
Live Dealer
Baccarat
Features
Great selection of slots
High-quality live dealer games
Excellent welcome bonus
Crypto-friendly

Ignition Casino
Bonus Offer:
$3,000 Welcome Bonus
More Info
Available Games
Slots
Blackjack
Roulette
Live Dealer
Baccarat
Features
300+ games
Crypto-friendly casino
Live dealer jackpot
Bonus galore for different verticals

Cafe Casino
Bonus Offer:
350% up to $2500
More Info
Available Games
Slots
Blackjack
Roulette
Live Dealer
Baccarat
Features
Accepts cryptocurrencies
Generous welcome bonus
Loyalty program
Kahnawake Licence
37

casinos found based on your search.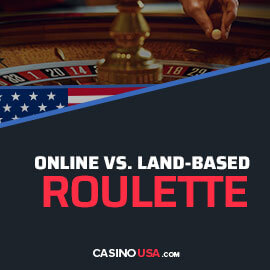 Today, people usually play the game online as it's more convenient and cheaper, but does that make it better than land-based roulette?
Let's see.
What Is Online Roulette?
Online roulette is any roulette game that's played online. It can be any roulette variation made by any manufacturer, as long as it's played on a device connected to the internet.
This leads to a lot of variety, and with the boom of online gambling, we now have hundreds of online roulette games from a wide range of game providers.
You can play roulette games for free or with real money, and you can do it on a huge number of sites, typically online casinos that offer a whole host of casino games.
How Does Land-Based Roulette Work?
Land-based roulette is the same as online roulette in many ways, but it's always played on a real roulette table with the ubiquitous roulette wheel.
People can play land-based roulette in land-based casinos and other establishments that offer roulette, as long as they are allowed and appropriately registered to offer real-money roulette. That's because land-based roulette is typically played with real money.
It's no longer as popular as online roulette, primarily because it's not always convenient or easy for a roulette fan to visit a land-based roulette establishment. However, that doesn't make it less exciting.
Key Differences Between Online and Land-Based Roulette
Now that we've seen what online and land-based roulette games are, it's time to take a look at the key differences between them:
| Online roulette | Land-based roulette |
| --- | --- |
| You can play online roulette any time of the day as long as you have a stable internet connection. | You can play land-based roulette if you have time to visit an establishment that offers it and if one is near you. |
| You only have to pay for the bets you place in the games. | You must pay for gas to visit the land-based casino that offers roulette. |
| Games provide a wide range of bet sizes, making them perfect for both casual and high-stakes players. | Most land-based roulette games require higher bets, and they are rarely suitable for players looking to invest only a couple of dollars. |
| There is a wide range of games on offer, and you can pick and choose between games and sites easily. | You can't be picky about land-based roulette games, and you are typically limited to what's offered near you. |
| You can claim and use various bonuses for roulette games. | There are no bonuses except an occasional promotion and maybe VIP rewards for high-stakes players. |
| You can only get something close to the real roulette experience if you choose live dealer games. | You get the authentic experience of sitting at a roulette table, playing with real people, and letting a real croupier lead the game. |
| Finding a trustworthy place to play a fair roulette game can get tricky. | Every land-based casino with roulette games is regulated, so you can be sure it's safe. |
| A problem with the connection can ruin the experience, and you can lose your bet. | Almost nothing can stop the game once it starts. |
Our Verdict — Which is Better?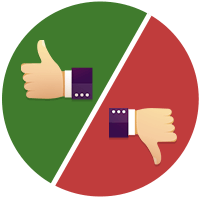 We don't think that this is the best question, as it all depends on your personal preferences. Plus, there's no reason to choose one over the other as you can always play both versions, depending on what sounds more fun at the moment and if you have the means to do it.
If you want to experience the real experience with other people, it's likely best to play land-based roulette and possibly online live dealer roulette. But if you want to play a wide range of roulette variations without spending additional money and going somewhere, you should play online roulette.
And that's about it. You don't need to decide which one is better; you only need to consider what works for you and go with it. Just make sure you are playing roulette in reputable land-based establishments and online casinos.
FAQ
What are the differences between online and land-based roulette games?
There are many differences, but the key thing is that online roulette is played on a website or app, while traditional roulette is played in a physical setting, usually a casino, with real players, a real dealer, and on a real table.
Is online roulette rigged?
No, it isn't. You only need to ensure you are playing a game from a legitimate provider and within a reputable online casino, and you'll be safe. These games use random number generators to ensure the results are always unpredictable.
Can land-based casinos manipulate roulette?
As long as the casino is regulated, it can't manipulate its games. As with online casinos, visiting only reputable and regulated establishments is important to stay safe.
About the Author