For fans of table games in the United States, Blackjack needs no introduction. The objective of the game is to beat the dealer without going over 21. So if you are ready to race to 21, our experts at CasinoUSA are happy to share some of the basics, strategies, tips, tricks and more. If you are looking to play Online Blackjack for Real Money jump straight to our expert guide from here to find out which are the best US real money casinos.
For the most part, Blackjack is an exciting game with the potential to win big money. However, that's only if you play with a cool head and stick to the rules and basic strategies. If you want to learn how to play blackjack the first important thing is to understand the basics of the game.
Blackjack is easy and simple to understand. You need to learn when to place bets, strategies like card counting, when to increase bets, and much more. While a land based casino may seem a great place to take a shot at blackjack it is always prudent to begin your tryst with the game online or you can experience the same thing by playing at the live dealer online blackjack casinos.
There are some awesome sites where you can play online blackjack and will guide you to the very best.
Top US Blackjack Casinos
| Casino | Offer | Devices | Play Now / Review |
| --- | --- | --- | --- |
| | $5,000 Welcome Bonus | | Play! |
| | 350% up to $5000 | | Play! |
| | First 3 Deposits, Get Up To $6000 | | Play! |
| | 350% Match up to $3500 | | Play! |
| | First 3 Deposits, Get Up To $3000 | | Play! |
| | $5500 Welcome Bonus | | Play! |
| | $5000 Welcome Bonus | | Play! |
| | 255% Bonus up to $2555 | | Play! |
| | First 3 Deposits, Get Up To $6000 | | Play! |
| | $3,000 | | Play! |
Online Blackjack Basics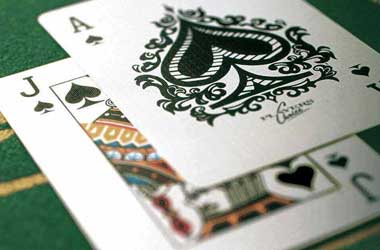 Understanding basic blackjack rules is essential for players to improve their game and increase their chances of winning.
Blackjack objective: to create a hand with a higher total than the dealer but not going beyond 21.
Players compare their hands with their dealer. In the beginning, each bet is placed in the betting box. Each player is dealt two cards face-up while the dealer receives one card face up. Once the players have drawn their cards the dealer's hand is completed.
Howcast
Blackjack card values:
Ace – 1 or 11
2-9 – Same value
Jack, Queen & King – 10
If you have a hand (Ace, 3), the value can be 4 or 14. If the next card drawn is a 5, you will have a hand of (Ace, 3, 5). In this case, the Ace takes on the value of 11 to make a total of 19. If you drew 8 instead of 5, the Ace will take the value of 1 or else the total would be 22 and you will lose the bet.
Blackjack rules are fairly similar throughout the globe, except for a few variations. The dealer's hand value is most important while the value of other player's hands does not matter. Showing your cards to the dealer or other players does not pose a problem especially in a shoe game where the cards are dealt face up.
Blackjack Dealer Rules
The dealer deals in a clockwise direction starting with the player on his left.
Each player receives two cards while the dealer flips one of his cards to reveal its value.
Players' cards are dealt face down in hand held games while they are dealt face up in shoe games.
Each player is allowed to pick up his or her initial cards with one hand while subsequent cards are to be left on the table.
The player to the left of the dealer will indicate how he wants to play his hand after the cards are dealt.
The dealer completes his hand after every other player finishes and then pays or collects the bets.
Another rule for the dealer is that he will have to Hit (draw cards) until the total value of his hand exceeds 17. The rule states that the 'dealer stands on all 17s'. In the case of the dealer an Ace is counted as 11 unless the hand value exceeds 21.
Blackjack rules may vary where some may be good for a player and some not to his advantage. Some of the common variations include double downs after splitting pairs. It reduces the house advantage by around .13 percent.
Some casinos offer players the surrender option. An 'early surrender' is when a player takes the option before the dealer looks under a ten while a 'late surrender' is accomplished after the dealer peaks for blackjack. If you have a bad hand like a hard 15 or 16 against the dealer's up-card of Ace or 10, the surrender can be helpful.
Another important aspect in blackjack is to understand the dealer's role. When the dealer's total exceeds 21, every player with a total of 21 or less win or else the dealer's total points is compared with each player's total.
Understanding payouts is also essential. Other than blackjack that pays 3 to 2, winning bets are paid even money. In the event of a tie (push), you keep your original bet.
Blackjack Player options
As a player, you have the option to Surrender, Hit/Stand, Double Down, Split, and get Insurance.
Surrender: If you feel that the odds are against you and you have a losing hand then you can quit or 'Surrender'. It is wiser to lose half your original stake than all your money. This option is available only before you draw the third card, split or double.
Hit/Stand: During the game you need to decide whether to draw (hit) another card or play with the two initial cards dealt (stand).
Double Down: If you think you have great potential to win you can double your bet. If the dealer has an open card of 4 or 5 and you have a 4 and 7, the chances of winning are greater. This option can be used before the third card is drawn.
Split pairs: Two initial cards with the same value can be split into two separate hands and played independently. There's more on splitting pairs in the tips section. There is usually no restriction on the number of times a player can split but some casinos may have specific rules so make sure to read the house rules before you begin.
Insurance: The dealer offers 'Insurance' to players when his open card is an Ace since the chances of the dealer getting a blackjack or 'natural' is much higher. If you agree to such an offer you will need to place half your original bet. If the value of t he facedown card is not a 10-value card, your winning bet will be paid at 2:1 odds.
Online Blackjack Strategy
Make sure to understand the house rules, which can vary.
Stick to your budget and play safe by staking around 3 to 5% of your bankroll. This is a good way to protect your bankroll.
When on a total of 17 avoid drawing any more cards until the dealer gets to or exceeds 17. Let the dealer draw, not you.
Do not split if you have two cards with a face value of 10. This is because the dealer will find it hard to beat a total hand of 20. The going will be tough if you split and then land up with a 6 and 5.
Don't split a pair of 5s. You could end up with a good hand if you have an 8 or higher. Split only if you have a pair of 8s otherwise you could be in a difficult spot with a total of 16. If you draw you will need a 5 or less to remain in the game.
It may not be wise to split if the dealer has a 10 since the dealer will have to draw until he gets to 17 or close. If the dealer will need to draw again if he draws a 6 and also face the prospects of losing since any value over 5 will hand over the game to you with your pair of 8s.
If you have two Aces then it may be prudent to split. You will make a blackjack if your next card is a 10. The dealer will have to match that. If the dealer pulls an ace you can buy insurance against the dealer making a blackjack.
Then again, there's much more to playing Blackjack. From side bets to house edge, Blackjack etiquette, Blackjack strategies, and everything in between, we promise to keep you posted so stick around at CasinoUSA.com and you will soon beat the dealer at his own game more frequently than you reckoned for.
Online Blackjack FAQ
Whether you already have some experience with Blackjack in traditional casinos or are making your first steps with online Blackjack, having a clear idea of the basics of the online version is important for a good gambling experience. With that in mind, here are the answers to the most frequently asked questions about Blackjack in online casinos.