Active filters:
Clear all filters

Wild Casino
Bonus Offer:
$5,000 Welcome Bonus
More Info
Available Games
Slots
Blackjack
Roulette
Live Dealer
Baccarat
Features
Great selection of slots
High-quality live dealer games
Excellent welcome bonus
Crypto-friendly

Ignition Casino
Bonus Offer:
$3,000 Welcome Bonus
More Info
Available Games
Slots
Blackjack
Roulette
Live Dealer
Baccarat
Features
300+ games
Crypto-friendly casino
Live dealer jackpot
Bonus galore for different verticals

Cafe Casino
Bonus Offer:
350% up to $2500
More Info
Available Games
Slots
Blackjack
Roulette
Live Dealer
Baccarat
Features
Accepts cryptocurrencies
Generous welcome bonus
Loyalty program
Kahnawake Licence
39

casinos found based on your search.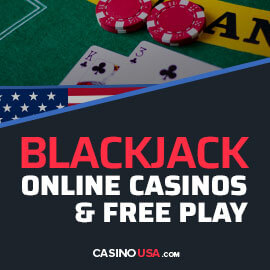 For fans of table games in the United States, Blackjack needs no introduction. The game's objective is to beat the dealer without going over 21.
So if you are ready to race to 21, our experts at CasinoUSA are happy to share some of the basics, strategies, tips, tricks, bonuses and more.
If you are looking to play Online Blackjack for Real Money, jump straight to our expert guide from here to find out which are the best US real money casinos.
For the most part, Blackjack is an exciting game with the potential to win big money. However, that's only if you play with a cool head and stick to the rules and basic strategies. If you want to learn how to play blackjack, the first important thing is to understand the game's basics, after which you can test that knowledge out for free through online blackjack demos like the one below.
Blackjack is straightforward to understand. You need to learn when to place bets, strategies like card counting, when to increase bets, and much more. While a land-based casino may seem a great place to take a shot at blackjack it is always prudent to begin your affair with the game online, or you can experience the same thing by playing at the live dealer online blackjack casinos.
There are some excellent sites where you can play online blackjack for free or with cash and we will guide you to the very best.
Play Demo Blackjack Online for Free
What Is Free Online Blackjack?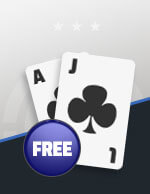 Free online blackjack is any game of blackjack that you can play without making a real money stake. Free blackjack games are usually available on online casinos or game review websites, permitting players to test online gambling games for free.
When you load a free blackjack online game, you can still see the money displayed in your balance, so the game will behave as if you're playing for real. Of course, this is a virtual balance with no actual monetary value.
You can also set your wager and use other options and features of that particular blackjack title. If your virtual balance runs out, you can always reload the game, and the balance will reset to its original figure.
Mind that you can only find RNG-based blackjack games in free mode. Live dealer blackjack games always require a real-money balance.
Explore the Game: Blackjack Variations You Can Try in Demo Mode
Now that you have learned the basic blackjack strategy and the rules of the game, you can explore different variations, as each comes with a unique twist. Here are some of the most popular titles:
Advantages of Free Play
Blackjack is a famous gambling game, so you might be wondering what's even the point of playing it for free. Well, there are several reasons why you might want to try online blackjack this way.
Disadvantages of Playing Blackjack for Free
Free online blackjack has plenty of advantages, but we must also talk about why it's far from an ideal way of playing this game.
Winning Feels Like a Missed Opportunity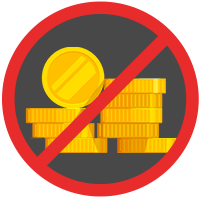 Free blackjack is like a two-edged sword — you don't lose anything even if you play poorly, but you also don't win anything when you play great, and luck is on your side.
The worst feeling when playing free blackjack is when you hit a hot streak and start winning hand after hand. In those moments, it's hard not to think about the actual profit you would have made if you decided to play for real.
It Doesn't Perfectly Reflect Real-Money Play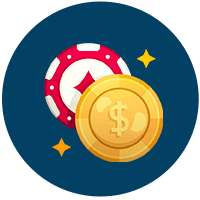 While the rules, features, and RNG should be identical in both the free and real-money versions of an online blackjack game, the player's thought process and decision-making will likely not be the same.
When there's no risk of losing money, you might double down on a hand you otherwise wouldn't. In other words, you'll only feel real pressure when playing for real money, and no amount of free play can prepare you for it.
It Gets Boring After a While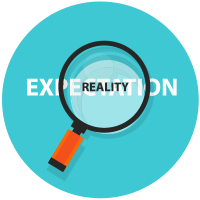 While free online blackjack is a great way to learn the rules and practice your strategies, you will probably lose interest in playing the game this way.
When there's no money involved, excitement levels are pretty low.
Online Blackjack Basics
Understanding basic blackjack rules is essential for players to improve their game and increase their chances of winning.
Blackjack objective: to create a hand with a higher total than the dealer but not going beyond 21.
Players compare their hands with their dealer. In the beginning, each bet is placed in the betting box.
Each player is dealt two cards face-up while the dealer receives one card face up. Once the players have drawn their cards the dealer's hand is completed.
Blackjack card values:
Ace – 1 or 11
2-9 – Same value
Jack, Queen & King – 10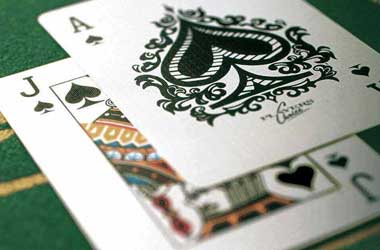 If you have a hand (Ace, 3), the value can be 4 or 14. If the next card drawn is a 5, you will have a hand of (Ace, 3, 5). In this case, the Ace takes on the value of 11 to make a total of 19. If you drew 8 instead of 5, the Ace will take the value of 1 or else the total would be 22 and you will lose the bet.
Blackjack rules are fairly similar throughout the globe, except for a few variations. The dealer's hand value is most important while the value of other player's hands does not matter. Showing your cards to the dealer or other players does not pose a problem especially in a shoe game where the cards are dealt face up.
Blackjack Dealer Rules
The dealer deals in a clockwise direction starting with the player on his left.
Each player receives two cards while the dealer flips one of his cards to reveal its value.
Players' cards are dealt face down in hand held games while they are dealt face up in shoe games.
Each player is allowed to pick up his or her initial cards with one hand while subsequent cards are to be left on the table.
The player to the left of the dealer will indicate how he wants to play his hand after the cards are dealt.
The dealer completes his hand after every other player finishes and then pays or collects the bets.
Another rule for the dealer is that he will have to Hit (draw cards) until the total value of his hand exceeds 17. The rule states that the 'dealer stands on all 17s'. In the case of the dealer an Ace is counted as 11 unless the hand value exceeds 21.
Blackjack rules may vary where some may be good for a player and some not to his advantage. Some of the common variations include double downs after splitting pairs. It reduces the house advantage by around .13 percent.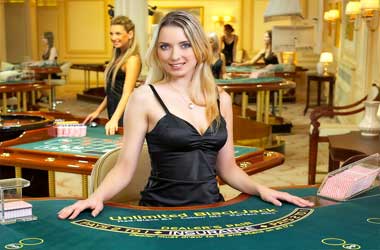 Some casinos offer players the surrender option. An 'early surrender' is when a player takes the option before the dealer looks under a ten while a 'late surrender' is accomplished after the dealer peaks for blackjack. If you have a bad hand like a hard 15 or 16 against the dealer's up-card of Ace or 10, the surrender can be helpful.
Another important aspect in blackjack is to understand the dealer's role. When the dealer's total exceeds 21, every player with a total of 21 or less win or else the dealer's total points is compared with each player's total.
Understanding payouts is also essential. Other than blackjack that pays 3 to 2, winning bets are paid even money. In the event of a tie (push), you keep your original bet.
Blackjack Player options
As a player, you have the option to Surrender, Hit/Stand, Double Down, Split, and get Insurance.
Free vs. Real Money Blackjack
To summarize what we discussed in this article, playing free blackjack can be advantageous if playing for specific purposes like learning the rules and practicing strategies. It is also a good option when a new online blackjack game comes out and you wish to test it out.
While free online blackjack can also be fun on its own, nothing beats the excitement of playing it for real money. This is where you'll see how good your performance is and get the actual joy of winning and making a profit.
We advise starting with free blackjack, especially if you're a beginner, and moving to real-money games once you feel ready.
Learn the Ropes: Additional Terms You Must Know Before You Start Free Play
Aside from knowing your blackjack options, you must familiarize yourself with the following terms:
Hole card — This is a card dealt face down. Once each player decides how they want to act, the card is revealed.
Upcard — This card belongs to the dealer exclusively and is dealt face up so that everyone can see it.
Blackjack — It is the perfect hand, as it contains an ace and a face card.
Even money — Making this move is similar to insurance. If you score a blackjack and the dealer gets an ace, you'll be offered the option to go even money, meaning the payout will be 1:1.
First base — This term refers to the place or a player sitting to the dealer's immediate left. This person is also the one who receives cards first in blackjack.
Soft hand — If one of your first two cards is an ace, you've got yourself a soft hand. It gets its name from the fact that its value is customizable (1 or 11), depending on the other card.
Hard hand — This is a hand with no ace. As a result, you have fewer options when it comes to creating hand totals.
House edge —Blackjack is played against the dealer or the "house." Therefore, a house edge refers to their advantage over you. It is the percentage of each player's bet that the casino keeps as profit.
Bust — It simply means you have lost because your hand's total exceeds 21.
Online Blackjack Strategy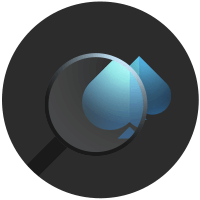 Make sure to understand the house rules, which can vary.
Stick to your budget and play safe by staking around 3 to 5% of your bankroll. This is a good way to protect your bankroll.
When on a total of 17 avoid drawing any more cards until the dealer gets to or exceeds 17. Let the dealer draw, not you.
Do not split if you have two cards with a face value of 10. This is because the dealer will find it hard to beat a total hand of 20. The going will be tough if you split and then land up with a 6 and 5.
Don't split a pair of 5s. You could end up with a good hand if you have an 8 or higher. Split only if you have a pair of 8s otherwise you could be in a difficult spot with a total of 16. If you draw you will need a 5 or less to remain in the game.
It may not be wise to split if the dealer has a 10 since the dealer will have to draw until he gets to 17 or close. If the dealer will need to draw again if he draws a 6 and also face the prospects of losing since any value over 5 will hand over the game to you with your pair of 8s.
If you have two Aces then it may be prudent to split. You will make a blackjack if your next card is a 10. The dealer will have to match that. If the dealer pulls an ace you can buy insurance against the dealer making a blackjack.
Then again, there's much more to playing Blackjack. From side bets to house edge, Blackjack etiquette, online Blackjack strategies, terminology and everything in between, we promise to keep you posted so stick around at CasinoUSA.com and you will soon beat the dealer at his own game more frequently than you reckoned for.
Conclusion
There you have it, folks! We hope this article made you understand more about online blackjack and why you should give free blackjack a try.
If you ever decide to play blackjack for real money, feel free to read our other articles for an more in-depth view on online blackjack rules, basic blackjack strategy, card counting, and other interesting topics.
Online Blackjack FAQ
Whether you already have some experience with Blackjack in traditional casinos or are making your first steps with internet Blackjack, having a clear idea of the basics of the online version is important for a good gambling experience.
With that in mind, here are the answers to the most frequently asked questions about Blackjack in online casinos.
Does Online Blackjack Really Offer the Best Returns?
Although there are some games that have a 0% house edge (in certain scenarios) theoretically Blackjack has one of the best odds in online casinos. However, this is not something set in stone, because your odds in Blackjack depend on your choices and the rules of the game. Some variations have better rules that can increase your advantage, while others don't. However, all games will be more rewarding if you have mastered basic strategy.
Is Online Blackjack Similar to Traditional Casino Blackjack?
In general, yes. Both online and Blackjack variations played at brick and mortar casinos follow the same rules and style of play, as well as offer similar odds. However, there are some online versions of Blackjack that offer extra bets, or have slightly different rules that what you can find in traditional casinos. That's why it's always good to check the table rules before you join in a game.
Is Basic Strategy Important?
Blackjack is not a game of random guesses and haphazard decisions. The whole point of you playing Blackjack is to win money, which can never be done by relying on hunches. The basic Blackjack strategy is a strategy created with the help of mathematical calculations that have produced moves which have the best returns in the long run. When you drift away from basic rules and strategy, you only increase the casino's advantage over you.
Can You Count Cards in Online Blackjack?
No, you can't. The cards you get at an online blackjack game are determined by a Random Number Generator whose sole purpose is to produce an entirely random outcome on every bet. The decks are also shuffled after every played hand, which makes card counting literally impossible. This is mainly due to the advantage online players can get with all the available software resources for Blackjack.
Is there a Successful System for Winning at Blackjack?
One of the first things that many beginner players become interested in is finding out whether there's a reliable system for winning money in Blackjack. If such a thing was possible, everybody would have already made a successful career out of playing Blackjack. The Martingale system is one popular choice, but this is just a misconception, as this system doesn't really work with Blackjack.
Can I Play Online Blackjack For Free?
Most online casinos will offer the same games as demo versions on their website. You can play these games to test drive them and learn the rules before you spend any money, often even without having to create an account. You can also use free chips offers or no-deposit bonuses, although you should read the terms to see whether they apply to blackjack games.
How Do I Know The Casino Doesn't Rig a Game?
If a casino holds a license, this means that the regulatory body that granted its license had inspected the casino's Random Number Generator, but also their listed game RTPs. Once given a license, the casino can risk losing it if they modify their outcomes in any way. There are also third-party audit agencies like eCOGRA and TST that conduct their own inspections and award certificates. That's why it's always a good idea to check for watermarks from auditors and regulatory bodies.
How Many Decks are Used in Online Blackjack?
Just like in land-based casinos, online blackjack can be played with a various number of decks. The standard games come with six decks and up, while there are also a number of single-deck games to choose from. If you're a novice player, always make sure you use a strategy that's adapted to the number of decks you're playing with.
How Many Hands Can I Play?
There are both single-hand and multi-hand versions of online Blackjack. The multi-hand ones can go up to five hands per round but they will also be more expensive, since you'll be making a bet per each hand. However, this also means that you'll have better winnings.
What's a Progressive Blackjack Bet?
Just like progressive slots, some Blackjack versions come with a progressive jackpot which can be won by placing a side bet. The jackpot is accumulated by funds from all players and can be won in part or in total by receiving a specific card combination.
About the Author