Active filters:
Clear all filters

Wild Casino
Bonus Offer:
$5,000 Welcome Bonus
More Info
Available Games
Slots
Blackjack
Roulette
Live Dealer
Baccarat
Features
Great selection of slots
High-quality live dealer games
Excellent welcome bonus
Crypto-friendly

Ignition Casino
Bonus Offer:
$3,000 Welcome Bonus
More Info
Available Games
Slots
Blackjack
Roulette
Live Dealer
Baccarat
Features
300+ games
Crypto-friendly casino
Live dealer jackpot
Bonus galore for different verticals

Cafe Casino
Bonus Offer:
350% up to $2500
More Info
Available Games
Slots
Blackjack
Roulette
Live Dealer
Baccarat
Features
Accepts cryptocurrencies
Generous welcome bonus
Loyalty program
Kahnawake Licence
40

casinos found based on your search.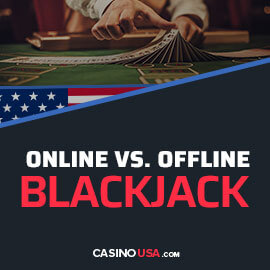 On the surface, playing blackjack online or in a brick-and-mortar casino isn't that different. The same rules apply, you have to make identical decisions, and you get to test your skills and strategies.
However, several vital differences can influence your decision on where to play.
The following article will explain the dissimilarities between the two and discuss their good and bad sides.
Let's begin!
Key Differences Between Online and Offline Blackjack
Some factors influence the way you experience online and offline blackjack. Below, we'll explain the most prominent differences between the two options.
Environment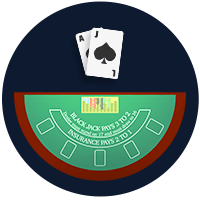 The environment is the most obvious element that separates online and offline blackjack. When playing online, you'll be in front of a screen, placing wagers and testing your skills.
Essentially, you'll enjoy the game from the comfort of your home or anywhere you find yourself at that moment.
On the other hand, offline blackjack provides you with an engaging experience. You'll be playing next to other players, enjoying the authentic casino setting.
Game Pace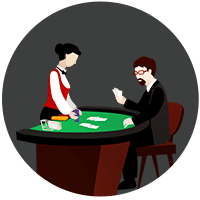 In online blackjack, you can take as long as you need to make a decision and place a wager. On top of that, the software shuffles cards quickly, increasing the game pace.
As for the offline game version, the dealer and other players will be waiting for you to play your cards. At the same time, the dealer will deal the cards physically, which can take a while, especially if more people are playing.
Number of Decks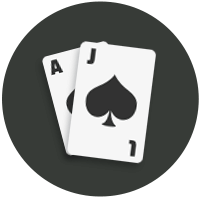 In online blackjack, the number of decks isn't as important, as the software automatically shuffles the cards after each hand. You can't always choose how many decks are in the game — you just play.
In a land-based location, you can ask the dealer how many decks they will use. It's essential to check because the odds will be in your favor with a smaller number of decks.
Advantages and Disadvantages of Online Blackjack
By now, you understand the main elements that make online blackjack diverse from its offline counterpart. However, it will become even more apparent after looking at the pros and cons of the online variant.
Many online casinos will allow users to try blackjack for free. That way, you can test your knowledge and strategies and play for real money only when you feel ready.
Online blackjack is better if you prefer concentration and quiet when gambling. You won't have any distractions that might confuse you. 
You can rely on strategy charts to help you out when playing online. This is useful, especially if you're a beginner. 
Online blackjack has a lower house edge, increasing your odds of winning.
Card counting is almost impossible while playing blackjack online. This happens because games employ advanced software that automatically shuffles cards after dealing each hand.
Playing the RNG-based blackjack will diminish the authentic feel you'd experience while playing in a real casino. 
Advantages and Disadvantages of Offline Blackjack
Offline blackjack isn't the perfect solution for everyone, but some might enjoy it. Below, you'll find the good and bad stuff regarding blackjack in land-based casinos:
Sitting at a blackjack table with other players is a feeling you won't encounter anywhere else. Players looking for an immersive and authentic experience will always choose offline blackjack.
Brick-and-mortar casinos often offer exclusive deals and rewards to their visitors. So, use them to your advantage and boost your winning odds and overall experience. 
Unlike online blackjack, card counting is possible when sitting at a live blackjack table. However, you'll have to do it carefully, as some casinos forbid this strategy.
The presence of other players and the overall atmosphere can influence your thinking and ability to play. 
You cannot take your time to make a move since other players and the dealer will be waiting. There's no pausing the game in a land-based casino.
Conclusion
It all boils down to what's most important to you. Once you understand your priorities and needs, you'll easily decide between offline and online blackjack.
As mentioned, both have their pros and cons, so research and explore your options before choosing.
FAQ
Is it better to play online blackjack?
Each variant has its advantages and disadvantages. For instance, online blackjack offers more versatility and is faster, while blackjack in land-based casinos provides a more immersive casino experience. However, there is no correct answer. It all comes down to personal preferences.
Can I count cards in online blackjack?
Yes, you can count cards while playing blackjack online. However, game developers use software that shuffles cards after every hand, so this strategy might be tricky to pull off.
Is the house edge the same in online and offline blackjack?
Generally, the house edge should be the same, no matter where you play. However, remember that the house edge varies between blackjack versions and grows as the game uses more decks.
Is online blackjack rigged?
Reputable online casinos collaborate with verified software providers and offer their games to players. Usually, these companies test the software for fairness, ensuring the blackjack games aren't rigged. You should always play in popular online casinos with rock-solid reputations. You might play a rigged blackjack game if you choose an unknown site.
What are the odds of winning in online blackjack?
When playing blackjack online and using the standard strategy without side bets, the return-to-player percentage usually hovers above 99.5%, meaning the house edge is only 0.5%. Of course, the RTP rates depend on the game variation, so remember that when choosing the blackjack title to play online.
About the Author