Active filters:
Clear all filters

Wild Casino
Bonus Offer:
$5,000 Welcome Bonus
More Info
Available Games
Slots
Blackjack
Roulette
Live Dealer
Baccarat
Features
Great selection of slots
High-quality live dealer games
Excellent welcome bonus
Crypto-friendly

Ignition Casino
Bonus Offer:
$3,000 Welcome Bonus
More Info
Available Games
Slots
Blackjack
Roulette
Live Dealer
Baccarat
Features
300+ games
Crypto-friendly casino
Live dealer jackpot
Bonus galore for different verticals

Cafe Casino
Bonus Offer:
350% up to $2500
More Info
Available Games
Slots
Blackjack
Roulette
Live Dealer
Baccarat
Features
Accepts cryptocurrencies
Generous welcome bonus
Loyalty program
Kahnawake Licence
40

casinos found based on your search.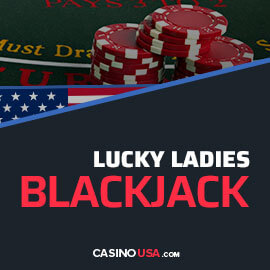 Lucky Ladies is one of the most widespread side bets in blackjack. It was first introduced in Washington in 1997 and has since become a staple in casinos across the country.
The exotic wager pays bonus money for any 20-point hand, although some combinations are more lucrative than others.
Numerous US-based casinos (both land-based and online) offer the LL option bet, mostly because it yields a house edge of around 25%, which is about four times as high as other side bets.
On the other hand, Lucky Ladies is vulnerable to card-counting, as it centres on ten-valued cards. Consequently, it draws the attention of professional and advantaged players alike.
This quick-start guide will introduce you to the Lucky Ladies side bet and explains the:
What Is Blackjack Lucky Ladies Side Bet
Lucky Ladies is a side bet offered in certain standard blackjack variations. This wager's outcome is depends on the first two cards dealt. If your initial hand is 20 in aggregate, you'll receive a bonus payout. If it's any other total other than 20, you lose the bet.
You'll note a designated spot for betting for games that offer LL. That area is ordinarily located near the standard wagers.
The minimum and maximum amount you can bet on LL varies between tables. In most versions, the lowest acceptable stake is $1.
Please note: any LL side bet(s) must be placed in conjunction with the standard wager.
Odds and House Edge for Lucky Ladies Side Bet
The payouts for "twenty" depends on the card-combination involved. You'll receive a lucrative payout if your first two cards match (Ace Diamond and Nine Diamond) or are suited (two Jacks of Clubs).
If you're dealt two Queen of Hearts when the dealer hits a blackjack, you'll win the top prize. In this case, you'll receive a 1000:1 payout.
Here's the most commonly offered paytable for Lucky Ladies blackjack side bet.
| Hand Combination | Payout |
| --- | --- |
| Queen of Hearts + the Dealer has BJ | 1000:1 |
| Queen of Hearts | 125:1 |
| Matched 20 | 19:1 |
| Suited 20 | 9:1 |
| Any 20 | 4:1 |
In general, the Lucky Lady side wager is considered a sucker bet since it has a 25% house edge. Getting the grand prize is like finding a needle in a haystack (0.0015%). Drawing paired Queen of Hearts alone is a long shot, with a probability of 0.0295%.
Here's a table detailing house edge for each of the winning LL combos.
| Hand Combination | Payout |
| --- | --- |
| Queen of Hearts + the Dealer has BJ | 0.0015% |
| Queen of Hearts | 0.0295% |
| Matched 20 | 0.4638% |
| Suited 20 | 2.0777% |
| Any 20 | 8.0139% |
These probabilities apply to the six-deck variant of LL blackjack.
Lucky Ladies and Card Counting
Due to its use of ten-valued cards as a premium, Lucky Ladies is susceptible (prone) to card-counting systems, like (such as) Hi-Lo. To protect against counters, (As a security measure,) online casinos have implemented a low cap on maximum bets (around $25).
Furthermore, they use cutting-edge software to easily spot when (pick out) someone (who) is counting cards. If caught, you can be permanently banned from the site. (As they say,) 'the juice isn't worth the squeeze', in this case.
Conclusion
The Lucky Ladies side bet adds an entertaining element to the already scintillating gameplay. But from a purely statistical standpoint, you should avoid the wager.
If you're keen on trying your luck at LL, you should search for a casino that offers single-deck games with Lucky Ladies. This version's odds seem to be a more favorable; you will need around 100 hands to win the second-largest payout; in multi-hand variants, you will get a QH pair roughly every 1,250 hands — which is quite a large sample size.
FAQ
Is Lucky Ladies a profitable bet?
No, because the house edge is at a mere 25%. A far cry from the odds for basic blackjack strategy (0.5%).
Where can I play Lucky Ladies blackjack?
Several of our recommended online casinos offer blackjack tables with the Lucky Ladies side bet. Before committing, we recommend that you check out pay tables and minimum/maximum wagers.
Does Lucky Ladies affect the rules?
No, Lucky Ladies wager doesn't impact the standard gameplay in any way. It's paid, irrespective of the main bet.
Should I play the Lucky Ladies bet?
If you want to try something outside the box, then yes, give it a try. But (replace 'But' with 'However,') bear in mind that the wager doesn't yield a favorable long-term win rate.
About the Author