Active filters:
Clear all filters

Wild Casino
Bonus Offer:
$5,000 Welcome Bonus
More Info
Available Games
Slots
Blackjack
Roulette
Live Dealer
Baccarat
Features
Great selection of slots
High-quality live dealer games
Excellent welcome bonus
Crypto-friendly

Ignition Casino
Bonus Offer:
$3,000 Welcome Bonus
More Info
Available Games
Slots
Blackjack
Roulette
Live Dealer
Baccarat
Features
300+ games
Crypto-friendly casino
Live dealer jackpot
Bonus galore for different verticals

Cafe Casino
Bonus Offer:
350% up to $2500
More Info
Available Games
Slots
Blackjack
Roulette
Live Dealer
Baccarat
Features
Accepts cryptocurrencies
Generous welcome bonus
Loyalty program
Kahnawake Licence
39

casinos found based on your search.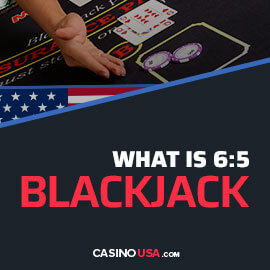 Some of these rule variations, regardless of how insignificant they seem, are actually quite important to understand, as every little thing in blackjack can affect your strategy.
However, blackjack versions played with certain rules are just better left alone completely. That is the case with 6:5 blackjack. Under no circumstances should you ever sit on a blackjack table, land-based or online, in which the payout for the natural blackjack is 6:5, and we'll be more than glad to explain why.
Rules of 6:5 Blackjack
6 5 blackjack is not exactly a variation on its own. It's precisely the name that describes a single rule, or rather a payout. When you win in blackjack, you are usually paid even money (1:1), but when you win with a natural blackjack (your first two cards are an ace and a 10-value card), you are paid more.
In most blackjack games, winning with a natural blackjack pays 3:2, but some games give you a payout of 6:5.
Disadvantages of 6:5 Blackjack
You don't need to be a great mathematician to figure out that 6:5 is way less generous than the standard game with a 3:2 payout.
Let's go through some calculations.
Imagine placing a $10 wager on a 3:2 blackjack table. You get a natural blackjack and are paid 3:2, which, in this case, considers a $25 payout or $15 profit. That same $10 bet on the 6:5 blackjack table will only win you $22, or $12 profit. On just a $10 bet, the difference in profit is a whole $3, which is huge.
Considering that a natural blackjack happens around five times on every 100 hands and assuming that you'll put down $10 in every round, you are likely to win $15 (5x$3) more when playing a 3:2 game instead of a 6:5 one after 100 played hands.
Of course, the smaller payout also affects the house edge. Even if all other rules and payouts are identical, the 6:5 blackjack has a 1.39% higher house edge than the 3:2 game.
This is basically the only disadvantage of 6:5 blackjack, albeit a massive one.
Why Would Casinos Even Offer 6:5 Blackjack?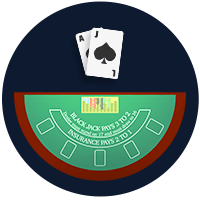 We've already established that 6:5 blackjack is a sucker's game and that you should never play it.
But why do casinos even offer it?
The main reason is that a 6:5 payout may compensate for other rules that give players an advantage. For instance, it's known that a single-deck blackjack game is better than games played with 6–8 decks, as it makes it easier to implement certain strategies like card counting.
So, the casino will basically lure you in by giving you an "easy" version of the game but will be a little stingy when it comes to payouts and pay only 6:5 on a natural blackjack.
It's only fair, right?
Well, not quite. Even if you count cards and play with the optimal strategy on a 6:5 single-deck game, you'll still be better off playing a 3:2 game with 8 decks.
In other words, the casino is just tricking you into thinking that a 6:5 rule is balanced when, in fact, it's just another way to raise the house edge.
Conclusion
We hope that you read this article before playing a 6:5 blackjack game. If not, simply remember to avoid it in the future, and you'll save yourself a lot of money.
If you want to read more interesting blackjack topics, browse our website.
FAQ
What is 6:5 blackjack?
6:5 blackjack is a version of blackjack that pays 6:5 on natural blackjack hands. This contrasts with the 3:2 payouts found on most land-based and online tables.
Should I ever play a blackjack game with a 6:5 payout?
No, you should avoid a 6:5 blackjack game at all costs, as it provides a much smaller payout than the 3:2 game.
What is the house edge of 6:5 blackjack?
The house edge of a 6:5 blackjack depends on other rules, but it can go up to 2% even when playing with the optimal strategy.
About the Author