Active filters:
Clear all filters

Wild Casino
Bonus Offer:
$5,000 Welcome Bonus
More Info
Available Games
Slots
Blackjack
Roulette
Live Dealer
Baccarat
Features
Great selection of slots
High-quality live dealer games
Excellent welcome bonus
Crypto-friendly

Ignition Casino
Bonus Offer:
$3,000 Welcome Bonus
More Info
Available Games
Slots
Blackjack
Roulette
Live Dealer
Baccarat
Features
300+ games
Crypto-friendly casino
Live dealer jackpot
Bonus galore for different verticals

Cafe Casino
Bonus Offer:
350% up to $2500
More Info
Available Games
Slots
Blackjack
Roulette
Live Dealer
Baccarat
Features
Accepts cryptocurrencies
Generous welcome bonus
Loyalty program
Kahnawake Licence
40

casinos found based on your search.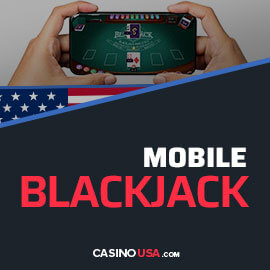 Using a smartphone or tablet to play blackjack has been possible for quite some time.
As technology has been developing rapidly over the past decade, there is now a wide range of high-quality blackjack games available for these mobile devices. Many gambling brands have also created native apps compatible with all major operating systems.
Top Mobile Apps
Many blackjack apps on the market can be played on Android and iOS (iPhone and iPad) devices.
We scoured the internet and selected the best blackjack apps for your convenience.
Blackjack 21
This top-rated app is suitable for beginners and veteran blackjack players. It features a user-friendly design, high-quality graphics, and a slew of free and real-money blackjack variations.
Blackjack Online – Just Like Vegas!
It has a unique, stimulating reward system that sets it apart from the rest. You receive daily bonuses, as well as extra ones every weekend.
BC Blackjack
This 3D app offers a real-deal gaming experience. Realistic gameplay and free chips are reasons why it attracts so many blackjack enthusiasts.
If you want access to more features, higher limits, and fewer ads, you must subscribe to the pro version.
Ultimate Blackjack Reloaded
High-quality graphics and customizable settings have earned this app a high rating. In-app purchases are also available to get an edge over competitors.
Blackjack Toolbox
With this application, you can access several tools that will enhance your skill set.
What Is Mobile Blackjack?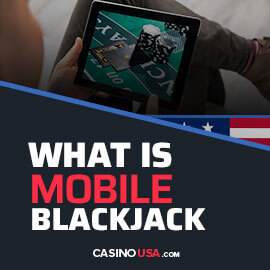 Blackjack players now have the opportunity to play while on the go, contrary to what they could do before smartphones and gambling apps. And this is precisely what mobile blackjack does — it allows you to play this casino classic regardless of location.
Blackjack on a mobile device follows the same rules as land-based casino blackjack. The interface of most mobile blackjack games resembles real-world blackjack tables. Players use their device's keypad to indicate how much money they want to wager and decide whether to hit, stand, split, or double down.
Mobile blackjack is available as a free or a real money game. The free mobile game version is a good choice if you just want to have fun, warm up, or sharpen your skills. On the flip side, real-money blackjack is ideal for people enjoying the thrill of gambling.
Playing blackjack for real money involves creating a mobile casino gaming account and depositing funds. Even if you play on an app, you can still make a deposit using various methods, including:
Bank transfers
Credit/debit cards
E-wallets
Selection Criteria: How to Pick the Best Mobile Blackjack Casino or App
When choosing an operator for playing mobile blackjack, you need to consider a few important factors:
Interface — Pay attention to the site's or app's design and layout. You should be able to access games, bonuses, cashier, and customer support easily on your mobile.
Responsiveness — Your mobile blackjack sessions should be as smooth as the desktop ones. Therefore, the mobile app or site must be free from lags or glitches.
Game selection — Mobile casinos usually offer fewer games than their desktop counterparts. That's why you need to look for an operator with the highest number of mobile optimized-games before you join any mobile site or download an app.
User experience — Read player reviews to find out what to expect from particular operators that offer online blackjack games.
Advantages and Disadvantages of Playing Mobile Blackjack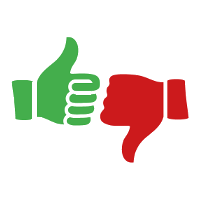 Although most casinos have realized mobile gambling has become a huge trend among players, the apps still have pros and cons.
Naturally, the pros outweigh the cons, which is why players must be familiar with potential issues they might experience while playing blackjack on the mobile devices.
Play on the go— A smartphone version of blackjack offers the convenience of playing anywhere and anytime and making deposits and withdrawals on the go. Additionally, if you have downloaded the casino's app to your device, it will be instantly accessible.
Instant access to banking— Your banking app and any e-wallet apps on your mobile device are accessible in real time when you play on your mobile device. You can switch between the two in a few easy steps and make and receive transactions instantly.
Fast connection— Using your blackjack app, you can connect fast, start the game immediately, and enjoy extended playing periods.
Mobile blackjack bonuses— Since more people use mobile devices than desktop computers these days, most online casinos offer blackjack bonuses exclusively for mobile users. They are similar to the standard ones but only available on mobile devices.
You can play with a real dealer — Playing blackjack on mobile doesn't restrict you from playing live blackjack. In fact, smartphones now support top-quality live blackjack games in high resolution so that no player misses a single second of the game. An immersive gambling experience is now possible from the convenience of your smart device.
Smaller bets are available— Mobile blackjack appeals to players because they can play without risking large amounts of money. For instance, some mobile blackjack games allow you to wager $1 per hand.
Screen and other limitations— Although mobile apps are intuitive and easy to use due to the smaller screen size, they are more prone to errors caused by either thickness of fingers or a simple shake. Another significant obstacle is that not all casinos offer native apps, so the choice is still limited.
Gaming variety— Some providers offer games accessible through mobile platforms that are not compatible with specific devices. Fortunately, the situation changes as more game developers continuously strive to update their products to work for mobile users.
Data usage — Playing blackjack on mobile devices with multimedia add-ons, including live dealer options, may consume a lot of data.
Potential for gambling addiction— Players sometimes get carried away and forget that mobile blackjack, like any other casino game, should be consumed in a balanced manner. The sooner they realize this, the lesser the chance of becoming a problem gambler.
Blackjack on Mobile Apps and Web Browsers
Although most seasoned blackjack players are traditionalists who love to place bets in land-based casinos with old-fashioned technology, most beginners place their wagers via apps and mobile browsers. However, mobile apps are a little more popular than web browsers due to their ease of use.
Blackjack on Mobile Web Browsers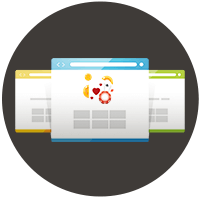 Mobile web browsers work as standalone apps, so there is no need to download anything additional to your device.
Due to the relatively low costs of starting and maintaining browser-based games, many developers can offer mobile games at affordable rates.
Browser-based casinos have existed for much longer than the app-based. Consequently, developers spent more time perfecting the user experience, including:
Responsiveness to the touch
Tnterface design
Other crucial playing elements
Blackjack on Mobile Apps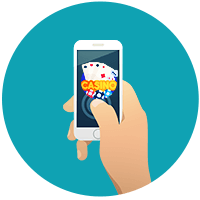 Modern bettors want everything at their fingertips, which is why they choose apps. They are an excellent option for players who wish to play different games while keeping their hands free.
Mobile apps make life easier by allowing you to log into them from tablets, freeing up the phone for other tasks.
Mobile app developers customize their products to the devices their clients use. Thus, players can expect access to more blackjack features compared to their web-based counterparts.
Regarding security, apps provide a greater level of protection than browser-based games because they use security keys to protect player funds.
Additionally, some apps allow users to deposit and withdraw money directly from their devices when playing casino games.
Can You Play Mobile Blackjack for Free?
When it comes to playing mobile blackjack for free, players do have many options. Although online casinos won't let you play live dealer blackjack for free, many variations without the human dealer will. They offer the demo mode novice players can use to hone their blackjack skills and strategies. Plus, downloading these apps is almost always free of charge.
Furthermore, you won't have to go through the sign-up process first. Simply choose your game and start enjoying it right away.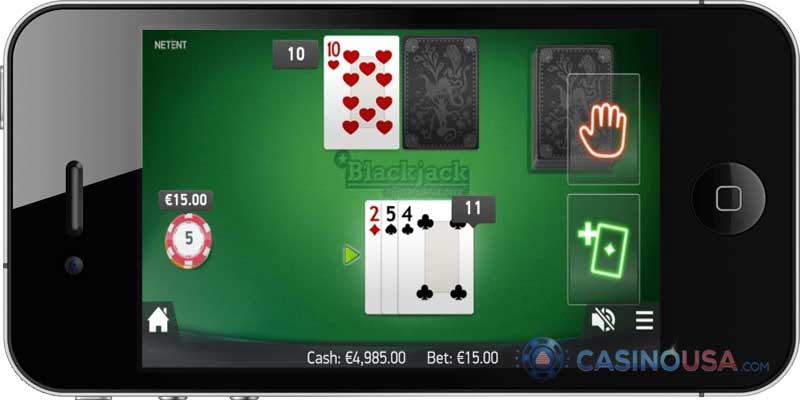 Since real-money gambling is prohibited in many US states, social apps that allow you to play blackjack for free have become highly popular. Players have hundreds of them at their disposal, and the best even offer weekly tournaments. They also have a chat feature, so that you can communicate with players worldwide.
Most players highly praise two apps — Blackjack 21 and Blackjack World Tournament.
Playing With an Edge — Mobile Blackjack Bonuses for Bankroll Boost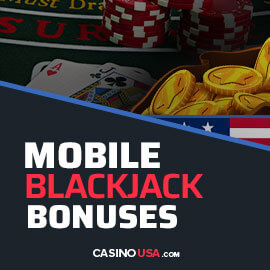 Blackjack players will find various bonuses at mobile casinos or in native casino apps. The most common ones include:
Welcome offer — Welcome promotions await new players at almost every mobile casino. These deals are activated when you make your first deposit, and the rewards often include a match deposit bonus combined with other perks.
Reload bonus — Reload bonuses target existing users and work in the same way as match bonuses.
Cashback — Claim a cashback to recover a percentage of your losses at the blackjack table.
Mobile bonuses — Some casino sites have exclusive offers for mobile players. Unsurprisingly, these deals can only be claimed through your mobile device.
VIP program — Enrolling in a loyalty program will give you access to various promo deals that become increasingly lucrative the more you play.
Tips and Tricks for Fully Enjoying Blackjack Games on Mobile Devices
Even while you're away from home, blackjack can keep you entertained — provided your mobile device is in good shape, of course. Here's how you can accomplish this:
Always keep your battery full — Try to leave your home with a full battery so that your phone doesn't shut down in the middle of a blackjack session. Also, carry the charger or a power bank with you in case you need to recharge your device.
Keep the software updated — No matter how well a mobile casino and its app are designed, they won't work well on devices with outdated software. Keep the software up-to-date to secure a smooth gaming experience.
Ensure a safe internet connection — Public Wi-Fi networks aren't that safe for online gambling; plus, their signal strength and speed may also be unstable. Always connect to a trusted network or use your mobile data to play blackjack on mobile.
Conclusion
As we have seen, playing mobile blackjack is super easy. You just need to download an app on your Android or iOS device. In addition to many real-money blackjack variations you can play with a few clicks of your app, you can also enjoy plenty of free blackjack games that will keep you entertained for hours on end.
FAQ
How do I play mobile blackjack?
Find an online casino and then play blackjack on your mobile browser or download the casino's app. Register, and start playing.
Can I play free blackjack on my smartphone or tablet?
Yes, you can. Instead of outdated Flash, many free blackjack games are built with mobile users in mind, using HTML5 instead.
Can I play blackjack for real money on an app?
Yes, you can play blackjack on your mobile device for real money and also win real money. The game works the same as with any real-life casino. Plus, you can win the same real-money prizes.
Are blackjack games on mobile rigged?
No, they are not. Regulatory agencies independently monitor mobile blackjack casinos to ensure fair gameplay. Thus, you can enjoy blackjack without fearing foul play, whether you play for free or for real money.
Can I claim blackjack bonuses on mobile devices?
Yes, of course. A lot of bonuses and promotions are available to mobile blackjack players. In addition, mobile players can take advantage of promotions that are specifically geared towards them. Before joining, be sure to check out the bonuses on offer.
About the Author