Active filters:
Clear all filters

Wild Casino
Bonus Offer:
$5,000 Welcome Bonus
More Info
Available Games
Slots
Blackjack
Roulette
Live Dealer
Baccarat
Features
Great selection of slots
High-quality live dealer games
Excellent welcome bonus
Crypto-friendly

Cafe Casino
Bonus Offer:
350% up to $2500
More Info
Available Games
Slots
Blackjack
Roulette
Live Dealer
Baccarat
Features
Accepts cryptocurrencies
Generous welcome bonus
Loyalty program
Kahnawake Licence

BetUS Casino
Bonus Offer:
150% up to $3,000
More Info
Available Games
Slots
Blackjack
Roulette
Live Dealer
Baccarat
Features
Reputable online casino with 26+ years' experience
Wide range of deposit bonuses for sports bettors and casino players
Outstanding customer support
Several different cryptocurrencies accepted for deposits and withdrawals
35

casinos found based on your search.
The Different Types of Blackjack
A classic blackjack version is one of the most popular games in the gambling world. But even if you're a fan of the basic gameplay, what's the harm in trying new variations to keep things interesting?
So whether you're a seasoned pro or just starting, be sure to check out these popular twists on blackjack:
Single Deck Blackjack and Multi Deck Blackjack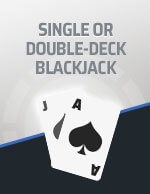 In a single deck game, you'll face off against the dealer using just one 52-card standard deck.
However, the multi-deck game is a more popular form of playing cards, and it involves two, four, six, or eight decks with 52 cards each.
European Blackjack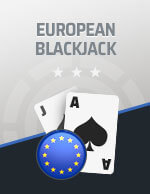 European Blackjack is a popular casino game quite similar to the original blackjack gameplay.
This game highly favors players as it's typically played with only two decks of cards.
Atlantic City Blackjack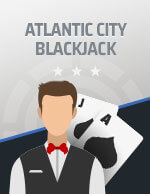 Atlantic City Blackjack differs from other variants by the number of decks used for gameplay, which is eight instead of the standard six.
Another thing that makes this game different is the late surrender option, allowing you to abandon a bad hand and keep 50% of your bet.
Blackjack Switch Online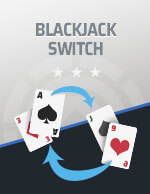 Blackjack Switch is a multi-hand game that allows you to switch cards between two hands and boost your winning chances.
Spanish 21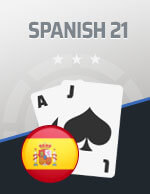 Spanish 21 is a popular choice for experienced blackjack players looking for a challenge, as all of the 10s are removed from the deck, and it's slightly harder to hit a natural.
Double Exposure Blackjack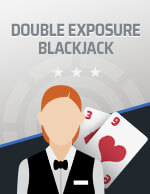 This is a blackjack variant where dealers must expose both their cards before the players make their moves.
Perfect Pairs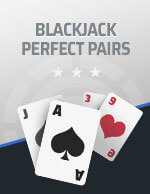 Blackjack Perfect Pairs offers a side bet enabling wagering on the first two cards you're dealt being the same.
Zappit Blackjack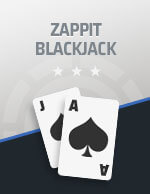 Zappit Blackjack is a card game in which players can "zap" cards from their hand and replace them with two random new ones, provided that their hand total falls within a certain range.
Double Attack Blackjack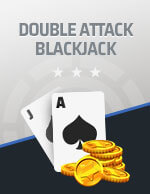 In Double Attack Blackjack, the 10s are missing from the decks, and players can double their initial wager after seeing the dealer's up card.
Power Blackjack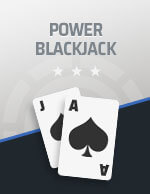 Power Blackjack lacks both 9s and 10s from the decks and allows players to double, triple, and quadruple their bets.
Vegas Strip Blackjack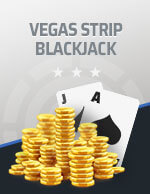 Despite being named after Sin City, this blackjack variation can now be found in many online casinos, not only in Vegas.
The rules you have to follow here are all part of the regular single-deck blackjack strategy, but there are a few important distinctions.
The most notable rules in Vegas Strip are that the dealer has to stand on a soft 17 and that the payouts for hitting blackjack are usually higher.
Pontoon (British Blackjack)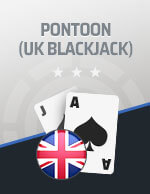 Pontoon is the British version of regular American blackjack, and it's largely similar to it. However, there are a few things that make the game more interesting and less strategic.
The most noticeable distinction is that you get to see one of your cards before making your bet. Another major difference is that you win double if you have five cards equaling 21 or less.
The game still functions in the same way, but the terms are also different, which is important to know if you want to play the game in a physical location.
Notable Differences in Rules
Whichever blackjack game you pick, the objective will stay the same — your total hand value must be stronger than the dealer's hand without going over 21. However, each blackjack variant has a certain twist that makes it different from the classic version and all the other options.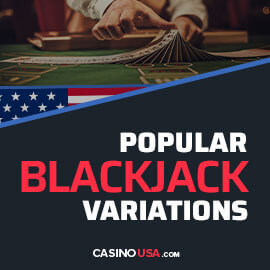 The first difference you'll spot between the blackjack variants mentioned above is the number of decks in play. You can find a single-deck game that is the best for skillful card counters, while the number of decks can go up to eight like in Atlantic City Blackjack.
Moreover, some games, like Spanish 21, Double Attack Blackjack, or Power Blackjack, are missing certain cards from the deck, with 10s being the most common ones.
Then, each blackjack version has special rules for splitting cards and doubling down, including side bets that increase your winning potential. For instance, in Blackjack Perfect Pairs, you can bet on your two dealt cards being the same and win extra money.
Finally, you'll spot blackjack variations with unique rules, such as Blackjack Switch, which allows you to swap cards between two hands, or Zappit Blackjack, which enables you to replace cards with random ones.
The game with probably the best rules is Double Exposure Blackjack, where you can see the dealer's cards before you can act.
RTP and Payouts
Blackjack is often considered one of the best casino games for players, thanks to its enormous RTP percentage. You can rarely find a blackjack variation with RTP lower than 99%, which is quite encouraging for both beginners and seasoned players.
When it comes to payouts, you need to be careful and check them before choosing a casino to play in. For instance, European Blackjack pays 3:2, which is common in most virtual and brick-and-mortar casino venues.
Nevertheless, you'll see a 6:5 payout in numerous casinos for some blackjack variations, most commonly Single Deck Blackjack. Another thing you may spot is that some blackjack versions pay out even money on blackjack, such as Double Attack Blackjack.
The house edge also differs depending on the blackjack game you pick. It can range from around 0.15% and go over 0.60%.
Conclusion
Ready to try your hand at some blackjack variations? Check out the games listed above and get started on your path to casino glory, whether online or land-based.
Stay tuned as we'll describe all these blackjack games in more detail on our website, so you can learn all there is to know about them and, with a little bit of practice, beat the dealer every time.
FAQ
What makes blackjack variations different from one another?
Blackjack variations often differ in the number of used decks, the lack of certain cards from the deck, the rules about splitting and doubling down, and more. Additionally, some blackjack variations offer special side bets that make them different from others, while payouts are the biggest change you can expect while playing a blackjack version other than the classic one.
Can I find all blackjack variants in every casino?
Usually, casinos choose several different blackjack versions for their collections, meaning that you won't necessarily always find all these blackjack variants in every online casino.
Should I play blackjack games with fewer card decks?
This depends on your blackjack strategy. It's often said that card counters prefer to play blackjack variations with fewer decks on the table, or even a single deck, as it's easier for them to follow the cards and make calculations. The more decks in play, the higher the house edge.
About the Author