Active filters:
Clear all filters

Wild Casino
Bonus Offer:
$5,000 Welcome Bonus
More Info
Available Games
Slots
Blackjack
Roulette
Live Dealer
Baccarat
Features
Great selection of slots
High-quality live dealer games
Excellent welcome bonus
Crypto-friendly

Cafe Casino
Bonus Offer:
350% up to $2500
More Info
Available Games
Slots
Blackjack
Roulette
Live Dealer
Baccarat
Features
Accepts cryptocurrencies
Generous welcome bonus
Loyalty program
Kahnawake Licence

BetUS Casino
Bonus Offer:
150% up to $3,000
More Info
Available Games
Slots
Blackjack
Roulette
Live Dealer
Baccarat
Features
Reputable online casino with 26+ years' experience
Wide range of deposit bonuses for sports bettors and casino players
Outstanding customer support
Several different cryptocurrencies accepted for deposits and withdrawals
35

casinos found based on your search.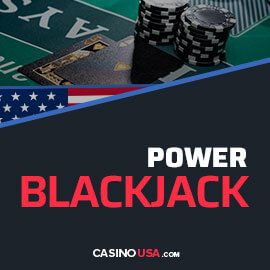 Power Blackjack is a relatively new variant of the game, but you shouldn't have much trouble finding it at a number of top-rated online casinos. Evolution released the game as a live dealer installation in 2020, and it became an instant hit.
The guide below will provide you with:
The basic rules of Power Blackjack
Its unique features
Side bet payouts
How it compares to regular and other types of blackjack
Power Blackjack Basic Rules
The game of Power Blackjack is played with eight decks. However, all nines and tens (just tens and not all ten-value cards) are removed from the deck, so the shoe contains 352 cards instead of the usual 416. The dealer stands on both soft and hard 17 and peeks for blackjack when showing a jack, queen, king, or ace.
Just like in regular blackjack, you can double down, split any pair, and split aces to receive only one additional card. You can use insurance, but only if the dealer is showing an ace. Insurance pays 2:1, and blackjack pays 3:2. If you get a higher total than the dealer, you win, while tied hands result in a push.
One distinctive option players have is that they can not only double but also triple and quadruple down on their first two cards and after splitting. There are four side bets, including:
21+3
Any Pair
Hot 3
Bust It
How to Play Power Blackjack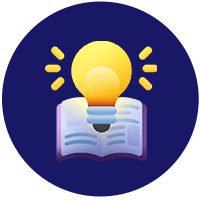 Power Blackjack follows the concept of Infinite Blackjack in the sense that an infinite number of players can enjoy the game at the same time. The dealer draws the cards that end up in the player box, and each individual can make their own decision, which the system keeps track of.
Power Blackjack is a pretty fast-paced game, as you'll only get 13 seconds to decide on your bet. During this time, you can set your stake, which can go anywhere from $1 to several thousand dollars, depending on the version.
Apart from the standard bet, the player can place a wager on any or all of the four side bets, which we'll explain later on.
Once the betting round is over, the dealer will draw two cards each for themselves and the player. Once two cards have been drawn, the player has an option to double, triple, or quadruple down as indicated by the 2x, 3x, and 4x orange buttons and receive one card in return.
The dealer will keep drawing cards until all players finish their moves, after which all main and side bets will settle accordingly, and the next betting round can begin.
Power Blackjack Side Bets Payouts
Here are the side bets you can take in Power Blackjack:
21+3 — Betting for your first two cards and the dealer's upcard to form a poker hand.
Any pair — Betting on your first two cards to form a pair.
Hot 3 — You can win this bet only if your first two cards and the dealer's up card total 19, 20, or 21.
Bust It — Getting an extra payout if the dealer busts.
You can win each of these side bets in several different ways, with payouts ranging between 1:1 and 250:1.
21+3 Side Bet
| 21+3 Hand | 21+3 Payout |
| --- | --- |
| Suited Three-of-a-Kind | 100:1 |
| Straight Flush | 35:1 |
| Three of a Kind | 25:1 |
| Straight | 8:1 |
| Flush | 5:1 |
Any Pair Side Bet
| Any Pair Hand | Any Pair Payout |
| --- | --- |
| Suited Pair | 20:1 |
| Pair | 7:1 |
Hot 3 Side Bet
| Hot 3 Hand | Hot 3 Payout |
| --- | --- |
| 7-7-7 | 100:1 |
| Suited Total of 21 | 20:1 |
| Unsuited Total of 21 | 4:1 |
| Total of 20 | 2:1 |
| Total of 19 | 1:1 |
Bust It Side Bet
| Bust It Hand | Bust It Payout |
| --- | --- |
| Bust with 8+ cards | 250:1 |
| Bust with 7 cards | 100:1 |
| Bust with 6 cards | 25:1 |
| Bust with 5 cards | 8:1 |
| Bust with 4 cards | 2:1 |
| Bust with 3 cards | 1:1 |
Power Blackjack vs. Other Types of Blackjack
Power Blackjack's uniqueness lies in the ability to triple and quadruple down after receiving your first two cards or splitting a pair, take a couple of exotic side bets, and play with a smaller deck that doesn't contain any nines and tens.
Other than that, it's pretty much like the classic version of the game. Nevertheless, these differences are enough to make the basic blackjack strategy ineffective, so you'll need to use the dedicated Power Blackjack strategy to lower the house edge to a minimum.
Conclusion
Power Blackjack is an ideal game if you're bored of the regular old blackjack and want to up the excitement with some new rules and side bets. You are likely to find an online casino that features live dealer games from Evolution, and you can always turn to us for a suggestion on which operator to choose. Best of luck!
FAQ
What is Power Blackjack?
Power Blackjack is a live dealer version of blackjack in which the goal remains to beat the dealer in a race to 21, but with added betting options, specifically tripling and quadrupling down and choosing between four different side bets. The game is played with an 8-deck shoe with all nines and tens removed.
Is it hard to play Power Blackjack?
If you already know how to play regular blackjack, you'll have a smooth transition to Power Blackjack. After all, the game is not that different from other BJ variations.
What is the house edge of Power Blackjack?
The house edge in Power Blackjack is 1.20%, which is noticeably higher than the standard blackjack's 0.46%. Also, taking side bets increases the house edge by up to 4%.
Can I use the basic blackjack strategy to play Power Blackjack?
The basic blackjack strategy doesn't work on Power Blackjack because of the difference in rules. You must use the tailored Power Blackjack strategy instead.
About the Author