41

casinos found based on your search.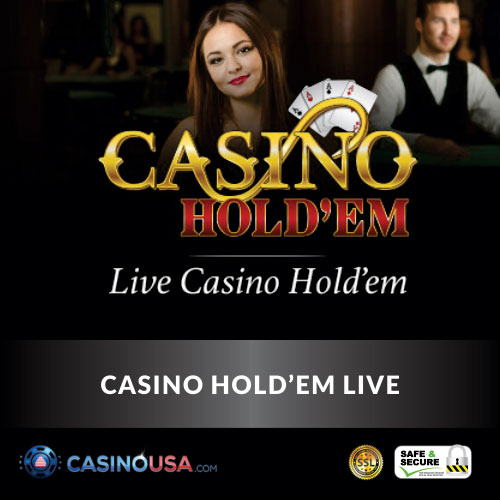 "Live Casino Hold'em" by Evolution Gaming, a leading live gaming development company, is a variation of the popular card "Texas Hold'em", designed specifically with poker players in mind.
Casino Hold'em and features the same quality players have come to expect from Evolution Gaming. First released in 2013, it features a single deck of cards that are shuffled between hands. Similar to its sister-game Texas Hold'em, its purpose remains the creating of the best hand possible through the use of five community cards and two hole cards using a 52 card deck.
Live Casino Hold'em is streamed through impressive video quality in real-time using multiple webcams at a studio located in Riga. It features a simple interface that allows for easy navigation within the game itself in so far as locating betting options, game controls and information Hosted by experienced dealers, it applies standard poker rules and identical hand combinations based on traditional five card poker.
Best U.S. Live Casino Hold'em to play this game
The most popular casino game in America is undoubtable Texas Hold'em. It then should not come as a surprise that Live Casino Hold'em ranks high amongst card players due to its being a near replica. There are a large number of casinos online catering to American players, and as a result, the opportunities to play with respected casinos, both legally licensed with the .U.S. and those operating offshore, are quite generous.
Those who are located within Nevada, New Jersey, Rhode Island, Delaware and West Virginia have multiple state licensed casinos online that provide Casino Hold'em live, and those outside of those states have equal opportunities with those offering live casino games through offshore licensed casinos. The list of those most recommended will highlight the many promotional opportunities and other features they offer can be seen below.
How Live Casino Hold'em Works
Casino Hold'em is an easy game to play at its most basic form. Those that have a basic knowledge of poker will be comfortable playing this rendition of a card game classic as it involves the dealing of two hole cards followed by five cards that are community cards, meaning all those seated may use those cards in the formation of their best possible hand. In addition to standard poker hands, Evolution Gaming has chosen to include a Jumbo 7 Jackpot, one that, if a side bet is staked will award the progressive jackpot should a seven card straight flush be dealt.
Head-to-Head: Casino Hold'em vs. Mississippi Stud – Key Differences In Live Dealer Games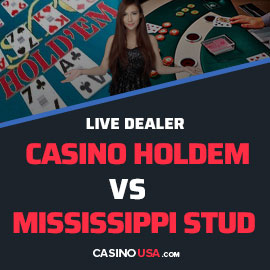 The object of both Casino Hold'em and Mississippi Stud is to form the strongest possible five-card poker hand. Still, the casino games differ in a couple of aspects.
Firstly, both are played against the house rather than other players. However, Casino Hold'em players compete heads-up against the dealer, while Mississippi Stud is played against the paytable.
The second distinction includes the number of community cards, as you'll get five of them in Casino Hold'em and only three in Mississippi Stud.
Finally, your Mississippi Stud bet will lose if you have anything less than a pair of 6s. In contrast, you can have a winning hand in Casino Hold'em even if the ranking goes down to the highest card.
How to play Live Casino Hold'em
Casino Hold'em is played with a single deck consisting of 52 cards, At the completion of each hand, the cards will be automatically shuffled by the dealer using an electronic shuffling machine, and a new game with then begin. The betting action is noted below:
The Ante: This is the starting wager, which can be at the minimum $0.05. The game won't begin until the Ante is wagered.
The Bonus: The Bonus Bet is a secondary wager that's associated with the Ante. This wager applies to the first five cards laid out by the dealer. Payouts are rewarded only when a pair of aces or higher are revealed.
The Jumbo 7: This is a wager meant explicitly for the progressive jackpot. For players to break the bank and win the progressive, a seven-card straight flush must be laid out by the dealer.
The Call: This is a wager played when the cards are being dealt out.
Play begins with the initial dealing of the two hole cards.
At this point, all those seated may carry out one of the following; fold their cards, pay the amount of the big blind (this is determined by the table limits), or they may raise. After all player actions are carried out, the dealer will burn one card and then deal three community cards.
This is identified as the flop and will be followed by another round of betting, another community card, another round of betting and then the final community card, the river will be dealt. At this point, all those remaining in the hand will have one last opportunity to check, bet, raise or fold. The player with the best hand will win the cumulative total of chips in the pot.
Live Casino Hold'em Tips & Strategies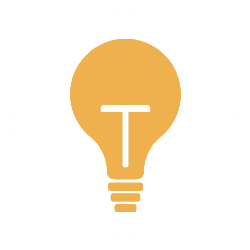 Everybody occasionally needs help when it comes to playing a casino game, especially if new to a particular style of poker.
Generally, that comes in the form of instructional videos or tips, and in honouring that, we have collected a number of tips that are designed to assist newcomers to Casino Hold'em gain a better understanding of how to play. These include:
Basic Live Casino Hold'em Strategy
Most people will be surprised to find out that Live Casino Hold'em isn't played against multiple other players, but instead is played by each individual player. The main difference to its being online live is while you are playing as an individual, multiple other players are doing the same, all with the same dealer and therefore betting against the dealer, not other players.
Played with a standard 52 deck of cards, typical strategy that would apply to Texas Hold'em, for example, applies to Casino Hold'em. Mastering the game will show veteran players that placing a bonus wager at a specific time will allow for house edges to go down to 2.5%. This means that player percentages will be maxed out on returns. However, there is a right time and a wrong time.
The best times to place bonus bets are right after a deck has been shuffled, mid-way through the deck and at the very end. Managing this level of strategy requires calling with pairs which, for some, is a risky decision. However, fortune favours the bold in Live Casino Hold'em and holding a pair of aces or kings will guarantee the houses edge decreasing. If new to playing Casino Hold'em, it will be beneficial to play a traditional version in free play to gain a proper understanding of the game, but also as a tool to practise the implementation of strategic play.
We understand that the urge to play for a bigger payout is tempting. However, by not wasting your bankroll and conserving it for the perfect moment, players can enhance payout probabilities tenfold. Just remember, this game isn't challenging and being calm allows for you to fend off the dealer professionally with a strategy such as the one we've provided for you.
Gain an Edge: Get the Most Out of Your Casino Hold'em Experience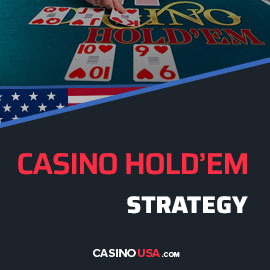 As online gaming experts, we have a few tips that can give you an edge when playing Casino Hold'em:
Knowing The Right Calls

When you have a high suited pair, call or raise
When holding an Ace or a King prior to the flop, either raise or call.
When holding two over-cards, always call pre-flop
If one card is needed to complete a flush or straight, call

Study the game rules — Never join the game before learning its rules. Our page can briefly introduce you to Casino Hold'em, so make sure to read up on all the basics and memorize them prior to your first poker session.
Stick to your budget — Cutting your coat according to your cloth is essential in live casino gaming, as you don't want to go broke after a single poker night.
Stay cool-headed — Don't let big wins or devastating losses cloud your judgment. Try to stay calm while you're playing and exit the game if you notice your emotions are starting to affect your decisions.
Best Casino Hold'em Promotions: Rewarding Deals for Poker Players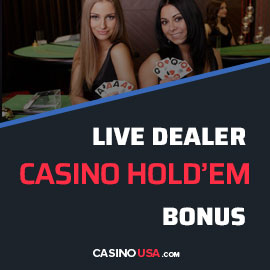 Although bonuses and promotions often don't apply to live dealer games, you can still enhance your Casino Hold'em experience with a few special offers. Let's see what types of bonuses poker players can get their hands on:
Welcome bonus — Welcome deals target new players and usually offer a percentage match of your first deposit in combination with other perks. If the terms allow it, you can use the match deposit bonus to play Casino Hold'em.
Reload bonus — A reload bonus works similarly to a deposit match deal — the only difference is that it targets registered users. Namely, it allows players to take advantage of a percentage match after they've used their welcome bonus.
Cashback — At some online casinos, you might be able to get a percentage of your losses back as a cashback bonus. For example, if you lose $200 playing Casino Hold'em, a 10% cashback will ensure you get $20 back as a bonus.
High roller bonus — Some casinos offer special deals for high rollers. To activate this promotion, you must make a qualifying deposit that is much bigger than the one required for any other bonus. These often go up to $1,000.
VIP program — If a site has a VIP program, you can benefit from it as long as you regularly come back to play your favorite games, such as Casino Hold'em. Through frequent gaming activity, you'll collect tier points. Higher tiers will lead to great benefits like special bonuses, higher cashback deals, extended limits, and more.
Final Thoughts
Evolution Gaming continually shows distinction above its competitors in the arena of live gaming. While others try to equal its creativity, quality and selection, few can, and that is evident in Live Casino Hold'em as it is a gaming product that novices and enthusiasts will both enjoy. The ability to place low, mid and high limit bets and the additional opportunity at hitting its progressive jackpot should a seven card straight flush be formed is enticing, to say the least.
About the Author