We want our readers to have a safe yet exciting gaming experience, which is why we worked hard to find the platforms you should steer clear of.
Remember that we regularly review online casinos to update this list. So, make sure to check in every once in a while and see if anything's changed.
Below, you can see all the sites that have failed to meet our criteria, meaning they belong on our blacklist.

CoolCat Casino
Bonus Offer:
330% Welcome Bonus
More Info
Available Games
Slots
Blackjack
Roulette
Live Dealer
Baccarat
Features
No license at the moment
A limited selection of games and withdrawal methods
Great welcome bonus package
A plethora of whopping bonuses and promotions, including a no deposit bonus
To ensure our readers get the best possible gambling experience, we scoured the web and came up with a list of casinos you should avoid at all costs.
The guide below discusses blacklisted operators and shows you how to identify one easily. Read on!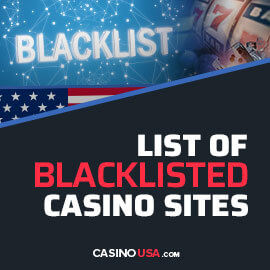 What Is a Blacklisted Online Casino?
By definition, a blacklist is a list of things or people deemed unreliable or untrustworthy that should be avoided or excluded from a group. This explanation also applies to online casinos that have a bad reputation.
These US platforms do not put their customers first. Instead, they focus on personal gain and treat their users poorly. While not all of them tend to harm you and your privacy, they can be unfair and prone to rigging games, imposing unrealistic bonus terms, etc.
Consequently, we created a blacklist of unsafe sites that can pose a serious threat to your safety.
Given that an official agency that blacklists operators doesn't exist, you can only rely on sources like this to learn more about the uglier side of online gambling and know which sites to avoid.
Why Do Online Casinos Get Blacklisted?
Before going into further details, we'd like to explain why online casinos get blacklisted in the first place.
Once you understand what makes an online casino unsafe, you'll find it easier to identify suspicious operators. That way, you'll enjoy a fair and safe gaming experience without fearing for your privacy and security.
In the following paragraphs, we'll discuss the most common reasons that lead a casino to a blacklist, so pay attention.
Security Concerns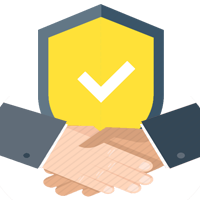 Since you need to share sensitive information with an online casino, a casino must feature bank-level security.
If a platform has issues with cyber-security, it's not a good idea to leave any sensitive data, like bank or credit card details, there. 
A reputable online casino should employ advanced measures to protect all the players' data and keep it safe. Strong SSL encryption protocols and firewalls are a standard in the industry, as they provide maximum security to casino users.
What's more, cyberattacks continue to evolve, with hackers inventing new ways to breach firewalls.
So, a casino needs to feature an active approach to player protection. Platforms that fail this test are instantly placed on the blacklist.
Slow or No Payments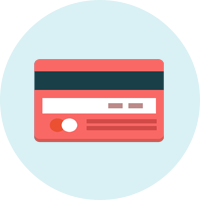 There's nothing quite like winning in a game to get your juices flowing. Online casinos provide reliable payment systems to help us collect the money as soon as possible.
The entire industry has come a long way, allowing us to withdraw funds and receive them within hours.
Of course, suspicious sites don't operate like this, meaning you'll either have trouble collecting the winnings or never see them. Although the first scenario is much better, it still doesn't justify this kind of player treatment.
Things like this can happen even in a reputable online casino. However, if you see players complain about this regularly, it indicates that a casino conducts shady money operations.
Since we have a zero-tolerance policy towards withholding money, platforms with such continuous issues land on our blacklist.
On the other hand, the worst scenario is when a casino refuses to process a withdrawal request for one reason or another.
If a player has failed to meet certain requirements indicated on the site, we'll side with the casino. But we've heard all other excuses before, and none of them are legit.
So, if an operator doesn't pay out the winnings without having a legitimate reason, well, you know where this goes — straight to our blacklist.
Customer Care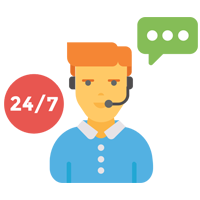 To gain the trust of its members, an online casino needs to meet their needs and help them in any way possible.
While we've seen operators that go out of their way to help their players, others have failed miserably in this regard.
Online casinos that don't support various communication channels (email, phone, live chat, social media) and are unsuccessful in helping their clients are usually the ones that have found a place on our blacklist.
The way an operator reacts to complaints tells us a lot about its work ethic and trustworthiness.
Those who fail to address customer complaints or generally refuse to respond to their members get a first-class ticket to our list.
Game Legitimacy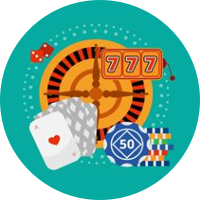 This is one of the primary concerns with online casinos. People are generally skeptical when it comes to RNG-based games as they believe every title is rigged.
While there haven't been many cases of online casinos with unfair games, an operator must have proof that all games are legit.
Typically, reliable casinos have certificates issued by eCOGRA or another third party that regularly tests the games and determines their legitimacy.
These checks need to be routinely performed to ensure all players will be treated equally. Casinos that don't employ services from independent auditors should be avoided.
Unfair or Changing Terms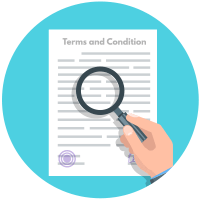 We always remind our readers to pay attention to the fine print as they'll always find crucial information there.
Whether it's bonus requirements or general casino terms, you should take a couple of minutes to read them and see if you understand how the platform functions.
Shady operators like to hide stuff in the T&Cs, hoping nobody would notice.
Unfortunately, they sometimes succeed, leaving players without their winnings. This is the case of unfair terms, where the money is locked out because a player failed to meet an absurd request.
Most commonly, players have trouble meeting staggering wagering requirements designed to keep the customer's money. Although it's not illegal to impose such terms, we find it unethical and unfair towards players, which is why it's one of the main reasons casinos end up on a blacklist.
One other aspect that the entire industry frowns upon is changing T&Cs without notifying the members.
While it's not unusual for casinos to adjust the ways they operate, doing it without any announcement or warning leads us to believe the casino has something to hide, which is usually the case.
False Advertisement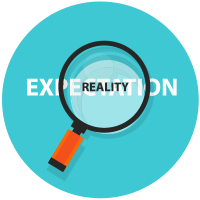 You've probably come across or heard about companies that promote one thing and sell something entirely different. That's called false advertisement, and it's present even in the iGaming industry.
In most cases, online casinos advertise certain:
Games
Bonuses
Withdrawal limits
All of these are to attract new players and entice them into signing up.
So, if we come across a platform that grows its customer base by deceiving clients, we mark it as unreliable and untrustworthy.
History of Player Complaints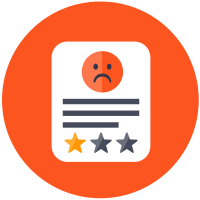 Not all players have the same preferences for online gaming, which is why they have different experiences.
So, when someone has a negative comment, it doesn't always apply to all casino members.
However, if you find similar comments from different people, it will lead you to believe something is wrong with a casino — and it usually is.
Therefore, before signing up, make sure to visit some iGaming forums, see players' reviews and comments, and then decide if you should create an account.
How to Spot a Shady Online Casino?
While we do our best to protect our readers from unreliable casinos, warning you about each potential shady operator is next to impossible due to the vast number of platforms. Therefore, you must learn what to pay attention to and know when something's wrong.
Thankfully, the web is packed with reputable operators looking to give you the best possible experience. So, even if you have a hunch that something might be wrong, you can easily avoid that site and move onto a safer one.
In addition to everything we've mentioned so far, below are the most common aspects that point to an untrustworthy online casino. Of course, it's important to note that sometimes there's nothing wrong with the site, which is why you should always dig a little deeper.
Still, here are some casino parts you should pay special attention to:
Too good to be true bonus offers where players are promised tens of thousands of dollars.

Undisclosed fees, wagering requirements, and withdrawal requests.

Platforms lacking updates.

Any of the reasons we mentioned above (no license, buggy game software, slow payments, false advertisement, etc.).
Risks of Playing in Blacklisted Online Casinos
Having a bad gaming experience should be the least of your concerns when playing in an untrustworthy casino.
We've compiled a list of reasons to help you fully comprehend why blacklisted casinos pose a threat to you, so read on.
Difficult to Identify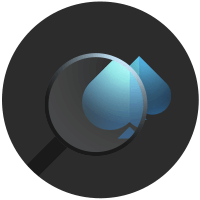 Regardless of your experience with online casinos, unreputable sites are sometimes difficult to recognize.
At first glance, they look like any other gaming platform. These operators go out of their way to resemble a reliable source of gambling options.
Shady online casinos attract innocent players and trick them into signing up by using:
Vivid images
High-quality animations
Enticing bonuses
That's why it is important to do your homework, carefully examine the platform before leaving any sensitive information and exposing yourself to risk.
Losing Real Money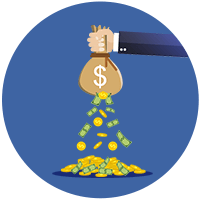 Players lose money even in reputable online casinos, so you can imagine what playing real money games on blacklisted sites looks like. Some of these platforms rig games in their favor. That means you don't stand a chance from the start, regardless of your experience.
Additionally, these sites often refuse to pay out the winnings and find a legit reason for doing so.
Therefore, you don't have to add unnecessary risk to an already unpredictable situation.
Compromised Player Privacy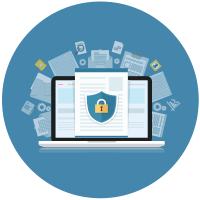 If you value your privacy, you'll stay away from blacklisted online casinos.
Given that most casinos require registration, you'll have to share sensitive information with the operator, such as:
Name
Address
Email
Phone number
Bank account
While you're doing so under the belief that the casino won't mistreat the shared data, some sites will do the exact opposite and compromise your safety and privacy.
In extreme cases, the operator might even sell your data to online marketing companies, which is more than enough to make us blacklist the site.
Therefore, if you're a reasonable person that values privacy, you'll understand why playing in a reputable and secure online casino is never a good idea.
Can a Casino Go Off a Blacklist?
Simply put — yes. We can remove an online casino from the blacklist. However, we'd like to point out that it rarely happens.
If an operator changes management or gets acquired by another company, it can turn around suspicious activities and become a reputable gaming site. This has happened just a couple of times because, in most cases, when a site signs up on a blacklist, it rarely goes off.
Of course, another vital aspect to consider is why the casino was blacklisted in the first place. If the operator has been involved in fraudulent activities, there's no coming back.
However, sites that have had problems with slow payouts or some minor player complaints can make improvements and get back in our good graces.
How Do We Find Secure Online Casinos?
Thanks to years of experience in the industry, we've learned how to identify trusted and reputable online casinos easily. We've created a foolproof system that helps us separate the wheat from the chaff.
You can also use this guide to learn how to select a platform that meets your needs and provides you with a secure gaming experience.
Below, you can see the most important aspects that constitute a reputable online casino:
Valid gambling license from a renowned regulatory agency

Secure payment providers

Wide range of games from high-quality software developers

Rewarding bonuses and promotions with reasonable terms and wagering requirements

Reliable and efficient customer support
If a casino checks all the items on the list, there's no reason to think the operator is rogue. Of course, if you're a beginner, it may be difficult to recognize top-tier online casinos that cater to US players.
Fortunately, you have us to point you in the right direction and ensure you have a secure yet exciting gaming adventure.
Blacklist Casinos FAQ
What is a blacklisted online casino?
A blacklisted casino is a gambling site that has been thoroughly reviewed by our expert team and deemed unsafe or incompetent to provide high-quality service to its players. Casinos get blacklisted for various reasons — slow payments, refusal to process the withdrawal request, unfair bonus terms, rigged games, unreliable customer support, etc.
Why should US players avoid blacklisted online casinos?
Casino enthusiasts should steer clear of blacklisted casinos for many reasons. Generally, these platforms can't provide a good gambling experience and can compromise your safety and privacy. The web is overflowing with fantastic casinos, so there's no reason to play in shady ones.
What should I do if I already signed up in a blacklisted online casino?
The first thing to do is request a withdrawal to cash out any winnings you've made. Avoid depositing any more money, and once the payment goes through, initiate the account closure process. Once that's done, go check out the list of the best casinos for US players and pick your favorite.
Will I be able to get my money back from a blacklisted site?
No one can guarantee you'll get the money back from a blacklisted online casino. Given that these operators are untrustworthy, withdrawing funds can be a long and grueling process. If the casino withholds your money, you should turn to the regulatory agency for help. However, most of these casinos operate without a valid license, meaning you won't be able to rely on outside help.
How to know if a casino is blacklisted?
The first tell is the lack of a gambling license. If a casino isn't licensed, you should exit the site and move onto a different one. Other aspects to pay attention to include the games, bonus terms, customer support, and other players' reviews.
About the Author