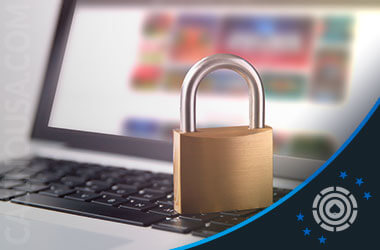 People have different answers to the question, "What's the most important thing in online gambling?"
Some will say bonuses, while others will focus on the game selection. However, I'm here to tell you they are all wrong.
Without a doubt, the most crucial aspect of any online gambling platform is player security.
All online casinos should hold valid licenses to operate. Unfortunately, that's not always the case, and a growing number of inexperienced players get scammed playing their favorite games.
According to Statista, the global gambling market is worth 226.81 billion USD as of early 2021 and with 25% of that going through Casinos, it's more important now than ever to make sure you only play on casinos that have a good reputation and clean track record void of customer safety issues.
My goal isn't to scare you or make you stay away from online casinos. On the contrary, I would like to show you how you can play in safe and legal online casinos in the US.
In the following paragraphs, I will mention some tips that might come in handy when picking a new online casino to try out.
Conduct Proper Research

Before you decide which casino to play in, you should always do thorough research.

For example, you can check the casino's URL. You should see a padlock symbol next to the address bar — if it's locked, the platform has the necessary credentials and is therefore deemed safe.

Naturally, that's not the only aspect to look for when choosing a perfect online casino.

Look for a Valid License

Every renowned online casino should have a certain kind of regulation in place. For instance, international online casinos go through a rigorous testing process and meet a specific set of requirements before obtaining a license issued by acclaimed regulatory bodies.

From my experience, the best way to determine whether an online casino is licensed is to visit the official website and scroll to the bottom of the page.

All casinos worth your time and money will display a logo for the regulatory body in question, along with the licensing info.

By looking into these details, you can see whether you're visiting a reliable online casino.

If you can't find that information on the main page, then it might be time to stay away from that casino and look for the one that boasts about its licensing and regulation details.

Check Additional Security Details

The presence of the industry-standard SSL encryption protocol that a padlock indicates is one of the crucial aspects when it comes to online security.

This padlock shows that all information you leave on the site is protected, and every transaction is encrypted before being processed. This means no data will be shared with third parties.

Before you leave any sensitive data on the site, make sure you're informed about all their security aspects.

Furthermore, feel free to visit the "Banking" section — renowned casinos will support trustworthy payment methods.

For an added security layer, use digital wallets, such as PayPal or Skrill, as they require users to confirm payments before making transactions.

Always Read the Fine Print

I know — terms and conditions are dull and difficult for reading. However, they are vital when your account is concerned. The T&Cs content contains all relevant information regarding the casino platform:

Accounts
Bonuses
Games
Payments

It might take some time to get through all the text, but after reading it, you will know whether you can trust this casino or not.

You should pay attention to the fine print, especially when the bonuses and promotions are in question. In some cases, it's the bonus terms that can help detect a shady casino, and here's how.

All bonus offers come with specific:

Terms and conditions
Wagering requirements
Minimum deposits

More often than not, unreliable casinos impose high wagering requirements you need to meet in a short time. This makes it impossible for players to fulfill all bonus T&Cs, leaving you without the bonus money while the casino keeps all your deposits.

Pay Attention to Your Payments

Another useful tip for staying safe and gambling responsibly is to keep an eye on your funds.

You don't want to get in over your head, which can happen quickly, no matter if you're in a land-based or online casino.

Every safe and reputable online casino will allow you to set a deposit limit on the basis of the following:

This is the first step toward staying safe and not breaking the bank.

A classic rule of thumb in online gambling is never to wager more than you can afford to lose. If you feel like you might be spending too much too fast, it might be a good time to take a break and call a timeout.

Certain online casinos offer a "timeout" to players who feel overwhelmed.

This "timeout" option means you can exclude yourself from gambling for a specific amount of time whether that be:

In any case, all trustworthy casinos should take care of their players and put their safety first.

Read Online Reviews

When exploring the online casino scene, it's always a good idea to read some player reviews. Given that the US online casino scene is growing, more online gambling platforms will become available to you.

While this means more gambling opportunities, you will also need to conduct more research in finding the best casino.

Here's why I'm telling you to read player reviews — while they aren't necessarily objective, they are always honest.

If you come across multiple negative reviews, you might get the idea that the casino isn't as safe as it claims to be. Therefore, online player reviews are always a good source of information.
Summary
I said it once, and I will say it again — I don't mean to discourage you from playing in online casinos. As a matter of fact, with technological advancements, online gambling has become one of the primary sources of entertainment worldwide.
However, while there are plenty of choices, you need to know how to pick a safe one. With thousands of online casinos and millions of players, regulatory bodies and governments worldwide are pushing for a higher gambling security level.
Therefore, if you follow my tips and stay in touch with the news, you will have no trouble finding the right online casino to meet all your needs.
About the Author