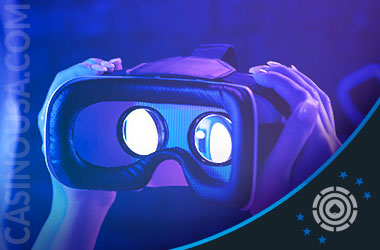 Technological advancement has become lightning-fast, and it's not likely to stop picking up speed any time soon.
New technologies keep infiltrating and transforming all areas of life, from:
Communication
Entertainment
Medicine
Online casinos have been keeping up with the latest tech ever since their emergence in the 1990s. Since then, they have been trying to provide the most authentic casino experience out of their land-based counterparts.
What has so far been achieved by live casino games is now being taken to new heights by the VR and AR technologies that threaten to transfigure the casino experience.
What are VR and AR
The abbreviations VR and AR stand for "virtual reality" and "augmented reality," respectively.
They represent technology that enables users to experience the digital world as realistically as possible, either by:
Enhancing the real world with digital content through a screen such as a tablet or mobile
Or by immersing the user in a totally different environment via a VR kit
This effect is achieved with the help of advanced software and gadgets that make it possible to experience the virtual world with most of your senses. Not only can you see digital reality in three dimensions, but you can also explore it through sound and touch.
The Difference Between AR and VR
Although many people tend to confuse these two terms, there are significant differences between them.
Virtual reality is a term labelling technology that completely immerses users in a digital world to the point they lose awareness of being in an artificial environment.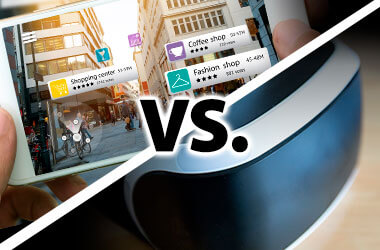 Users can move their head and "look around" to see the virtual world in 360° or a 3D environment. They can also sometimes hear authentic sounds or be able to "touch" virtual objects. This is possible thanks to the use of VR glasses and headsets, as well as special controllers and haptic gloves.
Whereas VR technology creates an all-encompassing experience of a virtual situation, AR or "augmented reality" only enhances the physical reality.
Special software is used to superimpose images and information on the users' real-world surroundings.
The hardware used for AR is typically not as complex as the one used for VR. Users can usually have an AR experience with their mobile devices, for example.
One of the most popular examples of the application of this technology is Niantic's Pokémon Go game.
The Use of VR and AR in Gambling
Truth be told, there are not many VR and AR online casinos to date. However, that doesn't mean that these technologies haven't made their breakthrough in this field.
For instance, the legendary gaming provider Microgaming introduced its first roulette virtual reality game as far back as 2015. Gamblers could use Oculus Rift VR glasses and Leap Motion 3D controller to place bets. The project earned the title of Innovation of the Year at the International Gaming Awards.
Another industry giant has been keeping pace by developing and releasing several VR casino games based on its most popular creations.
NetEnt has enabled its tech-junkie fans to use VR technology on titles like Gonzo's Quest, Starburst, Scarface, and Jack's World.
Although it's difficult to know exactly what kind of transformation we can expect in the iGaming industry, we can predict some of the features that enhanced casino games are likely to have.
For example, the use of VR and AR technologies will enable the players to visit some of the most popular casinos in the world without having to dress up for the occasion. Players are able to:
Talk to other players in real-time
Shake hands with other players
Hold cards
Press slot machine buttons
Enjoy the authentic casino sounds
Thanks to the versatility of VR software, gamblers could join a poker table at their favorite casino in Vegas or play roulette on Jupiter.
The Drawbacks of VR and AR Casinos
One could argue that this technology is already advanced enough to be used in online casinos. While that might be true, we must consider some of the obstacles to applying VR and AR to casino games on a large scale.
For the software providers to be able to offer a real-time immersive experience, they would have to install cameras and other equipment in all major casinos in the world and create imaginary worlds with realistic graphics.
All of this requires a lot of funds on the part of the software developers, casinos, as well as the users themselves. The technology is still very expensive, and not many people have access to the necessary equipment.
However, with the speedy advancements in the IT world, all of this is becoming more affordable, and it is reasonable to expect that VR and AR technologies will soon drive the casino experience to the point of no return.
The Impact on Land-based Casinos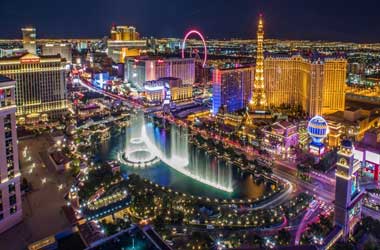 Despite all of this happening in the digital world, we can't ignore the effect these changes might have on land-based casinos, particularly considering the current global situation involving social distancing measures.
The possibility of using VR and AR technologies to bring distant customers to their casinos might be an excellent opportunity for casino owners to increase footfall on their premises. However, significant improvement comes at a high cost.
As we already discussed, casinos first have to make their quarters VR and AR-friendly.
Making a casino VR and AR-friendly would mean installing expensive technologies and running complex protocols on high-speed networks to allow for seamless gambling and the protection of user data.
Nevertheless, it is evident that the benefits far surpass the cost since some casinos have already started to do this.
Besides, while online casinos have never before been able to fully replace institutions in the real world, it remains to be seen what kind of effect the fully-immersive virtual experience will have on the brick-and-mortar casinos.
Conclusion
With the swift upward course technology development has taken, it's no wonder it's taking the technology-dependent casino industry by storm.
The VR and AR innovations have enormous potential to completely reinvent the modern gambling industry. While it may indeed take some time for the world to adjust, we cannot but feel excited about all that is to come.
About the Author