many casinos in Las Vegas, over 100, and 30 of them are located on the Las Vegas Strip, with 10 more in the surrounding area.
There are
There are several other ones that are worth a visit, and some may have been missed such as Planet Hollywood, Luxor, Mandalay Bay or Paris, but we had to choose 8 and here they are:
Best 8 Casinos In Las Vegas
#8 The Stratosphere Casino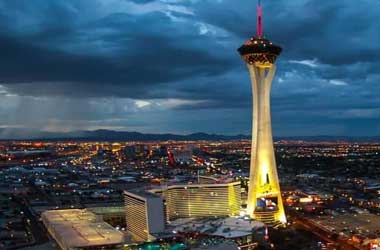 The Stratosphere deserves its name as its tower is over 350 meters high and is the largest tower west of Mississippi, and, of course, it dominates the Las Vegas skyline and is one of its most important landmarks.
The plan was actually to construct the tower that would be 553 meters high, but the Federal Aviation Administration didn't allow it as there's an airport nearby. The construction was completed in 1995 and the casino opened in 1996, with renovation plans announced in March 2018.
The traditional definition of the Las Vegas Strip excludes the Stratosphere, it is often included in travel guides as a Strip attraction. It's the only Strip hotel that's actually located within the City of Las Vegas. The restaurant at the top is conveniently named Top of the World, and there are two observation decks and four thrill rides: Big Shot, Insanity, SkyJump Las Vegas and X-Scream. Short description of one of the rides – the riders dangle over the edge of the tower and then spin in a circular pattern at speed of approximately forty miles per hour. As far as casino games go, Stratosphere has an 80,000 square foot (7,400 m2) casino that inherited some unusual variations on casino games from its predecessor Vegas World. There are 50 table games and 1,500 slot machines. This is actually one of the smaller top casinos in Vegas.
#7 Treasure Island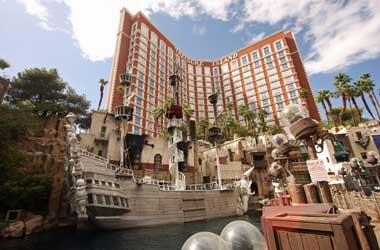 Treasure Island Hotel & Casino was constructed in 1993, and it has 2664 rooms and 220 suites, and is connected by tram to The Mirage, and it has a pedestrian bridge to the Fashion Show Mall.
The theme is, of course, Pirate and Caribbean. The casino is home to Cirque du Soleil's show Mystere, which opened in 1993 as the original Cirque du Soleil production in Las Vegas.
Cirque du Soleil
One notable thing about Treasure Island is that it apparently had a theme that would appeal to kids more than it would to adults, so several attempts have been made to make the unfortunate pirate theme more attractive to the adult audience, including the change of exterior colour from orange to maroon and additions of a hot tub and a night bar. The Buccaneer Bay pirate show was replaced by two shows that featured half-naked pirates in 2003, too. Today, this resort still struggles to finish the theme and make it appeal to an adult audience.
#6 New York-New York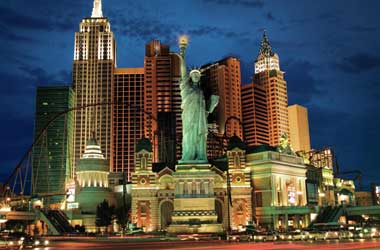 New York-New York is arguably the most impressive venue in Las Vegas, as it features a replica of the Statue of Liberty as well as replicas of Empire State Building and Chrysler Building, and the entire venue is constructed to resemble New York buildings put together.
It's as if someone put a piece of New York right here in Las Vegas, and the view is breathtaking. Within the resort, gambling areas, restaurants, lounges and other areas are named after New York City neighbourhoods or landmarks.
The main casino area is named after Times Square.
#5 Resorts World Las Vegas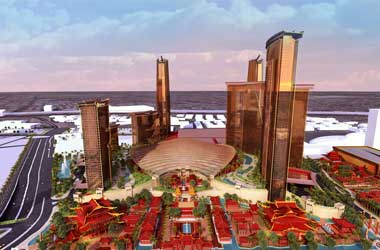 Set to be completed by 2020, Resorts World is being constructed at the venue of Stardust Casino, which is famous for its appearance in movies such as Showgirls, Vegas Vacation and Ocean's Eleven. The casino is estimated to cost more than 7 billion dollars, and it will have a Chinese theme.
There will be four hotel towers with almost 7000 rooms, there will be a 4000 seat theater, rooftop sky park and observation deck, aquarium, indoor water park, panda exhibit and, of course, a huge 175,000 square foot (16,300 m2) casino.
The casino is owned by Genting Group, and there's also a Resorts World in Malaysia, and there are three more Resorts World casinos in the United States. If we'll judge by other Genting and especially Resorts World casinos, this one in Las Vegas will just be huge and will offer everything you need but will lack the over-the-top appeal of other Vegas casinos, including Stardust it's replacing. It will be huge though, and you'll get to see pandas.
#4 Bellagio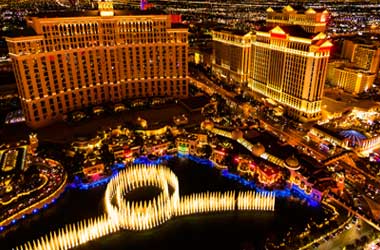 Bellagio is one of the most famous Las Vegas casinos and there are countless movies it appears in. This luxurious casino is located on the Las Vegas Strip, and is operated by MGM Resorts International. This casino is famous for its elegance, style and class, and is inspired by the lake town of Bellagio in Italy. The Fountain of Bellagio, located outside the casino, is a sight commonly seen in movies that are set in Las Vegas, as the music choreographed fountain is a true feast for all senses. It has more than 1200 nozzles.
The casino is also famous for its high table limits, and many high rollers choose this casino over all others. Bellagio also hosts many tournaments of the World Poker Tour and is very popular among professional poker players. There are many attractions other than the fountain, such as a conservatory, a botanical garden and a gallery of fine art. Bellagio opened in 1998, and was built on the site of demolished Dunes hotel and casino that operated from 1955 to 1993 and had a recognizable front neon sign that can be seen in many movies.
There are 3950 rooms in the hotel on 36 floors in two towers, and Bellagio is a permanent residence of the "O" stage production by Cirque du Soleil since 1998. One of the most notable appearances of Bellagio in popular culture is as the setting for the 2001 movie "Ocean's Eleven", in which a group of thieves conspire to rob its vault. In real life, it was never robbed.
#3 MGM Grand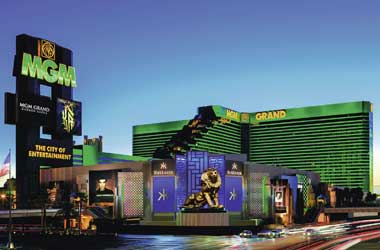 MGM Resorts International owns half of Las Vegas, and this is the only casino they named after themselves. MGM Grand is the largest single hotel in the US with 6,852 rooms, and it's the third-largest hotel complex in the world (was the largest when it opened in 1993). Theme of the casino is art deco and Hollywood, and the total gaming space is 171,500 square feet (15,900 m2), which is the largest casino in Clark County and therefore the largest in Las Vegas.
Most notably, David Copperfield is a permanent resident at MGM Grand, and there are other signature attractions such as MGM Grand Garden, Arena, Hakkasan and TopGolf. This is one of three casinos that Danny Ocean and his gang rob in the 2001 movie "Ocean's Eleven", and they did choose the most famous three casinos for that movie.
#2 Caesars Palace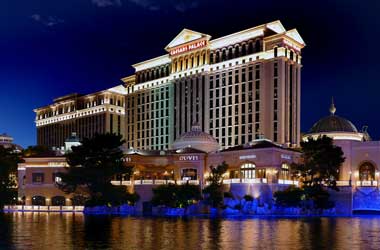 Caesars Palace is located on the west side of the Las Vegas Strip, between Bellagio and The Mirage, and is one of the oldest casinos in Las Vegas as it opened in 1966.
This casino-hotel is designed in style of ancient Rome, and it has a replica of the Roman Colosseum that serves as the venue for concerts and other performances, and it saw Elton John, Cher, Celine Dion, Bette Midler, Rod Stewart, Shania Twain and others as permanent residents over the years.
Celine Dion has had the longest residency, with 1,110 shows, and grossed $650 million since her arrival in 2003. Caesars Palace is most well known for these permanent residencies and other performances by notable stars, so this is the casino to visit if you want to see the biggest pop stars of today – and of yesterday. The hotel has 3.976 rooms in six towers and gaming space has 124,000 square feet (11,500 m2). Caesars Palace is the setting for the 2009 movie "Hangover".
#1 The Mirage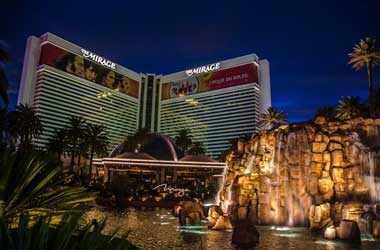 The Mirage is one of the most impressive venues on Las Vegas Strip, and it's connected by a tram to Treasure Island casino. The Mirage is considered to be the father of modern Las Vegas and it was opened in 1989 and was the first casino to be built using the money from Wall Street junk bonds.
It cost about $630m to build, and the reason it's so expensive is that the construction contains a lot of gold, including the windows whose golden tint is not fake. This casino broke new ground and other casinos that followed copied it and tried to improve on what The Mirage did.
There's no shortage of marvels in The Mirage – you got a secret garden, dolphin habitat, rainforest flora, artificial volcano, poolside nude area, and you do get the feeling you're in Polynesia, which is the theme of this casino. The Mirage often hosts boxing events.
The movie "Vegas Vacation" was filmed mainly at The Mirage, and this is one of three casinos that are being robbed in the 2001 movie "Ocean's Eleven". If you only had to visit one casino in Las Vegas, you should probably go to The Mirage.
About the Author