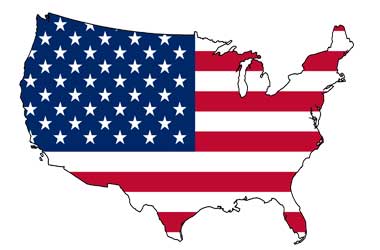 The US is one of the biggest gambling markets with thousands of land based casinos and billions of dollars in revenue.
Think of casinos and Las Vegas is undoubtedly the first place that comes to mind. The Strip is where you will find all you need to enjoy a true gambling experience, whether it is video poker, slots, table games or card games that suit your fancy.
However, while Las Vegas is probably the number one gambling destination, it isn't the only place for some great gambling and entertainment combined.
Atlantic City, New Jersey too is home to some of the biggest land based casinos that attract gamblers from all over the country and not just neighbouring cities and states.
Many land based casinos are also located on Indian reservations or tribal land while almost every state boasts of a few casinos. Mississippi has as many as 29 casinos while California is home to over 150 casinos, and includes Native American Gaming and card rooms. Louisiana's famous riverboat casinos too are also a major attraction.
Nevada – The Gambling State
Las Vegas, Nevada
Nevada obviously needs no introduction even as the biggest employer when it comes to the casino industry. For decades it was the only state where casino gambling was legal. That status changed only in the 1970s but the Silver State still remains the number one gambling destination.
No vacation to Nevada can be complete without a visit to Las Vegas casinos and its thousands of square feet of gaming floors. Many casinos are attached to hotels with nightclubs, bars and theatres that allow for a great overall experience.
The Venetian Casino located on the Strip is the largest with loads of slot machines, video poker, and tables to choose from. Wynn Las Vegas Casino is not far behind while Mandalay Bay Casino is the third biggest land based casino in Las Vegas. Next comes Bellagio on the Las Vegas Strip while MGM Grand and Santa Fe Station are just as popular with gamblers from all over the globe. Nine of the ten biggest hotels in the world are located a short distance from each other on the Las Vegas Strip.
Reno and Lake Tahoe
If you have had your feed of Las Vegas and want a bit of a change of pace, Reno and Lake Tahoe are the places to find land based casino. Reno's easy access to gambling facilities and its quintessential Wild West frontier spirit attracts many travellers and gamblers. Peppermill, Eldorado, and Atlantis Casino, are among the few Reno based casinos.
Harrah's Lake Tahoe, Harveys Lake Tahoe, Montblue, and Hard Rock Hotel & Casino are also places in Lake Tahoe to test your gambling skills and enjoy some great skiing in winter and lake activities in summer.
New Jersey – Atlantic City
Since the late 1970s New Jersey began to transform Atlantic City into a legal gambling destination. While the Atlantic City Boardwalk may be less glitzy than the Vegas Strip, it still has all the trappings of a great gambling destination with a festive atmosphere all through the year and of course, the seaside. Some of the hotspots include Bally's, Caesar's Atlantic City, Harrah's, Sands Casino, and Tropicana, which are guaranteed to offer a unique experience whether you wish to roll that metaphorical dice or are mesmerized by the sound of slots machines.  Bally's is where you will find more WSOP poker tables that are a hit with the younger crowd. Currently there are no Tribal or Native Gaming casinos in the state.
Mississippi
Mississippi is the third largest casino gambling market in the country. The first legal casinos entered the fray in the early 1990s and since then have continued to grow, undaunted even by Hurricane Katrina. There are several riverboat casinos on the waterfront while you are sure to find a pleasant mix of private casinos and Native American casinos. This includes Margaritaville, Bally's Tunica, and Silver Slipper Casino, to name a few. While bingo is open to individuals who are 18 years and more, you need to be 21 to play casino games.
California
California is home to almost 150 land based casinos and card rooms and is an ideal gambling destination on the west coast. Several casinos are on Indian reservations. However, if slot machines and roulette or craps are what get you going then you may have feel that your choice is limited to Native American Reservations since state laws otherwise permit only games of skill like Blackjack, Baccarat, Pai Gow Poker and Three Card Poker. You may want to check the tables at Hustler Casino, Harrah's Rincon, and Pala Casino, to name a few.
Florida
The Sunshine State has its fair share of casinos with almost two dozen at present. So if you want a change from the theme parks and want some big time entertainment, Florida is one place that won't disappoint. From slots to table games and video poker, you could be pleasantly surprised at the selection of games these casinos have to offer. While the minimum legal age to gamble in the state is 18, casino properties that serve alcohol have raised the legal gambling age to 21.
While CasinoUSA.com does it best to keep you updated about gambling destinations in the country, laws may change from time to time. Therefore, make sure to check with the casino's policy before playing.