41

casinos found based on your search.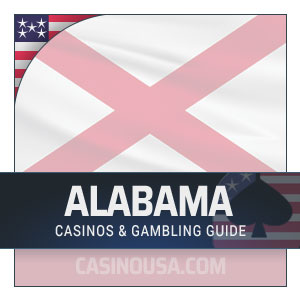 Alabama isn't a very friendly state for gamblers. In fact, many would venture to call it one of the worst. Very few casinos exist within the borders of Alabama and the ones that do are severely lacking in games, not offering some of the most popular table games such as poker and roulette. In Alabama, only electronic casino games, pari-mutual betting and bingo are permitted. Currently, Native Americans are pushing for more in the way of permitted gambling options while conservatives are pushing for even stronger laws which would lead to the closure of the already minimal casinos currently open.
The severe lacking of gambling facilities within the state of Alabama makes the online casinos even more appealing to those wanting to participate in casino games. No steps have been taken to legalize online poker or online gambling in general. However, there has also been no steps taken to declare either of them illegal in which online gambling would become punishable by law.
Therefore, Alabama residents can feel free to join an online casino or poker site and enjoy both the free play and/or real money games.
Casinos in Alabama
As with the vast majority of US States there are casinos located in Alabama, however those casinos are Native American venues and one additional piece of information you may find of interest and be surprised to learn about is that table games are prohibited in each of the those casinos!
However, what you will find in each of the bricks and mortar casinos available in Alabama are a very large and a very diverse range of gaming machines, and plenty of those machines will be the very latest slot machines.
If you are ever planning on visiting the State of Alabama and want to know about the casino related gambling activities taking place throughout the State then please read on, for below we do have a wealth of information on what you are going to find on offer in any casino located there and also additional Alabama State gambling laws and regulations too.
Alabama State Stats
Let us now give you some facts and figures about Alabama. The Land Size is 50,645 sq. miles and this US State has a population that are over the age of 18 of 76.5%. The legal minimum gambling age for casino gambling is 21.
There are 3 casinos along with 1 Racino within the Alabama State boundaries. Below you will find additional details on a selection of those Alabama land based casino venues, which you will find very handy if you wish to visit any of them now or in the very near future.
Gambling Laws in Alabama
Table games are not permitted in any casino venue throughout the State of Alabama, this rule has been in place for years and as such you will never come across a casino with any type of table games on offer.
You do of course need to be over the age of 21 to legally gamble in Alabama and anyone who appears younger than 21 will be challenged to produce picture I.D. Gambling winnings are of course fully taxable in Alabama as they are in all other US States and as such any and all hand pays won on any electronic game devices including slot machines are subject to tax.
Top Bricks and Mortar Casinos in Alabama
To experience the delights of playing land based casino games in Alabama you should pay a visit to one of the many casinos located throughout the State. Just keep in mind that you will not be able to access table games in such venues and the only way of doing so is to play at an online casino site. Below are some of the casinos worth visiting if you live in or are planning on visiting Alabama.
Alabama State Gambling Resources
As the type of land based casinos you are going to find available in Alabama are Native America Gaming establishments the agency that oversees those venues for the Federal Government in the US is the National Indian Gaming Commission. Each fully licensed and regulated casino in Alabama must therefore conform to the legal requirements as laid out in the Indian Gaming Regulatory Act.
Help, advice and support is on offer to anyone who is experiencing any type of gambling problems in Alabama, and you will find that by visiting the Gamblers Anonymous website you will find a wealth of information and details on where you can attend a GA meeting in person, or find information on how to manage and cope with any type of gambling addiction related problems.
Advice for Gambling in Alabama
If you do fancy trying your chances at a land based casino in Alabama then do always keep in mind that by using a Players Card you are often going to be showered with lots of additional extras based solely on your level of play.
It is not the amount of cash that you lose when gambling in any Alabama casino or online casino it is the volume of wagers you place over one or more session that will determine your VIP Status and the amount of comps you will be earning.
So always sign up for a Players Card at any casino you visit, or pick out an online casino offering one of the more generous comp clubs to maximize the value of your gambling action!
FAQ
To help you get the answers to any additional questions that you may have about gambling in Alabama we have put together the frequently asked questions section below.
Please do read it through for you will find answers to a lot of the most commonly asked questions asked by visitors to that US State in regards to the range and type of casino related gambling opportunities that are going to be available to them.
What are the most played slot machines in Alabama?
It is the Quick Hit range of slot machines that do tend to get the most attention from slot players in Alabama, and one of the main reasons why players cannot resist playing those slot machines is that they offer players multiple different progressive jackpot payouts that can be won on any spin they play off! Another of the many advantages of playing that slot machine is that you do have a lot of control over the stake levels you send into live play, and there is also a bonus game that can be triggered when you spin in three of the free games scatter symbols on its middle three reels!
Is there a dress code for Alabama casinos?
There are no dress code requirements in place at any of the casinos in Alabama, and as such you are more than welcome to visit any venue dressed casually as you would when visiting a casino in any other US State. However, if you are planning on watching a show or dining in any of the restaurants in any of the casinos listed above in Alabama then you may wish to dress accordingly! There are in fact quite a number of fine dining opportunities available in Alabama casinos and as such you could if you like make a full day of your gambling exploits including dining out.
Can I play online casinos within Alabama State boundaries?
One thing worth knowing if you do like to play casino games online is that there are no State licensed or regulated online casinos in Alabama. However, there are quite a number of offshore licensed and regulated casino sites that will allow you to sign up and play their range of casino games for free or for real money. With that in mind if you are for example a fan of playing any type of tables games then as you are not going to find any in bricks and mortar casinos in Alabama the only way you can access those types of casino games will be by playing them online at any of our featured and showcased online casino sites.
Are online and land based Alabama casino promotions available?
One thing that you will never go short on is high valued player promotions irrespective of whether you choose to play at a land based Alabama casino venue or when you have signed up to an online casino venue that accepts and allows Alabama residents to play at their respective sites. Whilst it will usually be high valued deposit match bonuses available at online casino sites you will find when visiting a land based casino you will have access to slot free play offers and plenty of draws too.
What are the best online casino games to play in Alabama?
It will of course be up to your own personal preferences in regards to what types of games you will enjoy playing the most when playing at an online casino site as opposed to a land based Alabama casino venue, as there are going to be hundreds of different games on offer to you at all US player friendly casino sites. If you do whoever want the maximum winning chances then select the video poker games and/or slot machines boasting the highest possible payout percentages, or if you are a fan of card an table games then it will be those variants which have been designed with the very lowest house edge that you should always be making a beeline to play, so do keep that in mind when you are next gambling at an online casino site!
Land Based Casinos By States
About the Author