35

casinos found based on your search.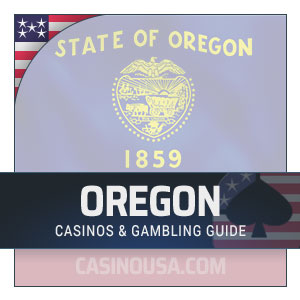 Oregon is a somewhat lenient state with regards to gambling. There are racetracks and online horse betting is permitted.
There are also a number of tribal casinos and there is a state lottery.
Charitable games are also permitted.
Online gambling is not yet legal, so for now players will have to stick to playing at the US friendly offshore poker sites and casinos.
Casinos in Oregon
Casino game players will always have plenty of low or high risk gambling opportunities available to them if they are in our around the US State of Oregon and with that in mind is that is a place that you are thinking of visiting in the very near future we cordially invite you to read through the following casino guide.
There are lots of snippets of information that you will find out below that will ensure you always know just which are the very best casino venues to visit in Oregon and also just which are going to be the very best casino games of you to play too.
We are also going to be introducing you to online gambling too in this guide, for very recently a number of online casino sites and mobile casino sites have opened up that players who are based in Oregon are going to be able to sign up to.
With all of the above in mind please do read of for we are more than confident when you do so you will be able to plan your next casino gaming sessions in Oregon perfectly and will always will now where to play too!
Oregon State Stats
Oregon is in regards to size the 9th largest US State and is a total of 98,386 total square miles in size and if you wish to gamble at a casino either an online or in a land based casino in any US State and you are from Texas then you have to be over the age of 21 to be able to legally do so.
Oregon is known by the abbreviation of OR and its date of statehood was back in the year 1859 the current capital city is Salem which became the capital city in the year 1855 it has a municipal population of 154,637 people. There are land based casinos in this US State and you will also be able to play online casino games at one of many different top online casinos in Oregon too.
Gambling Laws in Oregon
The gambling laws in Oregon are just as strict as in any other US State, and one thing that you will need to be aware of if you do intend to gamble in any casino when visiting Oregon is that you have to be over the age of 21 to do so.
All casino games offered to players in Oregon have to be fair and completely random, and there is of course a complaints procedure that you can go through if you experience any problems with any licensed casinos in Oregon. Also be aware that online casinos that you can access in Oregon will be licensed in offshore jurisdictions, the gambling jurisdiction that licenses each different casino site will be indicated on each casino website.
Top Bricks and Mortar Casinos in Oregon
Kla-Mo-Ya Casino – The first casino we think you may wish to visit is this one and the address and phone number is as follows: Address: 34333 US-97, Chiloquin, OR 97624, USA Phone: +1 541-783-7529
The Mill Casino Hotel – Another casino worth visiting is this one and the contact details are as follows: Address: 3201 Tremont St, North Bend, OR 97459, USA Phone: +1 541-756-8800
Oregon State Gambling Resources
In Oregon there are three different agencies that oversee and regulate gambling activities in that US State and those agencies are the Oregon Lottery and the Oregon State Police – Gaming Enforcement Division and the Oregon Racing Commission for more information on how they do regulate, license and oversee gambling activities in this State please check out their respective websites for more details.
If you live in Oregon and you feel that you may have a gambling problem or are not in control of your gambling activities then you will be best advised to seek help and support from Oregon Gamblers Anonymous who offer free and confidential advice and support to anyone with or who is affected by any type of gambling addiction problem.
Advice for Casino Gambling in Oregon
One piece of advice that we want to pass onto you if you are ever if Oregon and want to gamble at a casino is that you will always find you can adjust the stake levels out are playing slot and video poker games for and you will also find plenty of different staking options available on any table games you come across.
As such you are never going to have to have a huge bankroll if you do fancy playing real money casino games in Oregon as you can and will have plenty of fun no matter how small or large your bankroll is so do look around and play the games that appeal to you for your preferred staking option as there will be many of them to pick and choose from!
Frequently Asked Questions about Casinos in Oregon
Everyone who is going to start gambling for the very first time no matter in which gambling environment they choose, will probably and possibly will have lots of different questions that they are searching or the answers to and that may be the case right now with you.
As such if you are currently in Oregon and wish to visit a land based casino nearby or you want to start playing casino games online or even on mobile device then read on for we have answered in full below some of the most frequently asked questions about casino gambling in Oregon for you!
Do Oregon residents have access to Pick'em Poker video poker?
Pick'em Poker video poker is a poker game variant which has proven to be popular with players in Oregon and in fact all over the world, due to the many different and unique winning hand combinations that are listed on the pay table of this game. When playing Pick'em Poker video poker you have the chance of getting a payout percentage with optimal play over the long term of a very high and very appealing 98.74% and it is a poker game available at many casino sites offering players the Real Time Gaming software platforms and their range of casino games that can be played for free or for real money too.
Will I be able to play scratchcards online?
If you enjoy playing any type of game of chance then there is a very good chance that you will find those games available online and one type of game that many players do enjoy playing every now and then are scratchcard games. Just be aware that you will always be able to select the stake you play online scratchcards for and each game on offer will have a different set of payouts associated with them, but online scratchcard games do payout better returns that those you can buy in a local store so you will have more winning opportunities online!
Do I earn comps at an online casino?
As you will have probably discovered when you have visited a land based casino before each casino will have their own reward scheme and by using a players card you are going to be earning comp points based on your amount of real money gaming action. You may be interested to learn that when you are playing at an online casinos site you will also earn points in much the same way, however instead of having to use a players card your comp points will automatically be added to your comp club account each time you place a wager, which makes it easier to earn those points is you will never forget to insert your players card into the game you are playing online!
If I live Oregon can I play volatile slot machines?
One thing Oregon based players will notice about volatile slot machines is that they do tend to offer a great playing structure and one volatile slot that you should have a ball playing when you come across it is the Spartacus Gladiator of Rome slot which is getting a lot of slot players gaming action currently. Watch the above live slot play video of the Spartacus Gladiator of Rome slot in full flow as you will then be able to judge for yourself whether you do like the way volatile slots have been designed and how they play and pay out too, and we think you will like them!
What should I do if I lose my players card?
One thing that many players can do from time to time is lose their players club card, occasionally a player will leave it in the card slot on a machine they have been playing and will walk off only for another player to remove that card and put it at the side of the machine where it could get lost! If you do lose your players card then make your way over to the comp club desk and the staff there will be able to issue you with another one very quickly, many casinos will ask you to select a PIN number so only you can access your comps.
Land Based Casinos By States
About the Author