41

casinos found based on your search.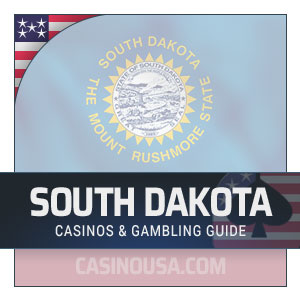 South Dakota offers those interested in gambling a few outlets in which they can do so. There are tribal casinos, charity games and state lottery games available.
One thing that may surprise some about South Dakota is it does not allow racetrack betting within its borders.
It is not legal to run an online gambling site from inside the state, so players will have to gamble at one of the US friendly offshore gambling sites.
Casinos in South Dakota
You are always going to have a place to gamble if you are visiting or currently live in South Dakota as there are more than enough casinos you can visit throughout the State. However, not everyone has been to a casino before and may never have visited the area if they are about to go there, if they do like playing casino games of course!
As such we have put together this guide that is going to introduce you to several casinos that are in South Dakota and, we will be letting you know the types and range of casino games you will have access to when visiting such a casino.
Plus, if you have been thinking about gambling online at one of the huge and growing number of casinos that you can access online or even on a mobile device such as a tablet device or mobile phone then we will also be enlightening you just what South Dakota residents have on offer at those casino sites too. So please do spend a little bit of time reading this guide to South Dakota as there will be something in it that will interest you!
South Dakota State Stats
South Dakota is in regards to size the 17th largest US State and is a total of 77,121 total square miles in size and if you wish to gamble at a casino either an online or in a land based casino in any US State and you are from South Dakota then you have to be over the age of 21 to be able to legally do so.
South Dakota is known by the abbreviation of SD and its date of statehood was back in the year 1889 the current capital city is Pierre which became the capital city in the year 1889 it has a municipal population of 13,646 people. There are land based casinos in this US State and you will also be able to play online casino games at one of many different top online casinos in South Dakota too.
Gambling Laws in South Dakota
The gambling laws in South Dakota are just as strict as in any other US State, and one thing that you will need to be aware of if you do intend to gamble in any casino when visiting South Dakota is that you have to be over the age of 21 to do so.
All casino games offered to players in South Dakota have to be fair and completely random, and there is of course a complaints procedure that you can go through if you experience any problems with any licensed casinos in South Dakota. Also be aware that online casinos that you can access in South Dakota will be licensed in offshore jurisdictions, the gambling jurisdiction that licenses each different casino site will be indicated on each casino website.
Top Bricks and Mortar Casinos in South Dakota
Bourbon Street – The first casino we think you may wish to visit is this one and the address and phone number is as follows: Address: 667 Main St, Deadwood, SD 57732, USA Phone: +1 605-578-1297
Cadillac Jack's Gaming Resort – Another casino worth visiting is this one and the contact details are as follows: Address: 360 Main St, Deadwood, SD 57732, USA Phone: +1 605-578-1500
Comfort Inn at Gulches of Fun Casino – One additional casino that you may wish to visit when in this US State or the local area is this one and the contact and address of this casino is: Address: 225 Cliff St, Deadwood, SD 57732, USA Phone:+1 605-578-7550
South Dakota State Gambling Resources
In South Dakota there are two different agencies that oversee and regulate gambling activities in that US State and those agencies are the South Dakota Commission on Gaming and the South Dakota Lottery for more information on how they do regulate, license and oversee gambling activities in this State please check out their respective websites for more details.
If you live in South Dakota and you feel that you may have a gambling problem or are not in control of your gambling activities then you will be best advised to seek help and support from South Dakota Gamblers Anonymous who offer free and confidential advice and support to anyone with or who is affected by any type of gambling addiction problem.
Advice for Casino Gambling in South Dakota
The one thing we would suggest you do if you are in South Dakota and get the sudden urge to gamble by playing casino games is to checkout some of the casinos that we have listed and showcase don this website as each of them has something special to offer you when you sign up.
In fact, the rage of casino game you will be able to access at those sites will be even larger than the range of casino game you can play at a land based casino and as such that should ensure you get plenty of fun and winning opportunities too!
Frequently Asked Questions about Casinos in South Dakota
There may be many questions you have about gambling in a casino in South Dakota and if so then please do read on for below we have put together the top and most frequently asked questions about gambling in this US State and have each of the answers below too!
Remember that it is not only going to be land based casinos you may wish to play at when you are in South Dakota as there will also be plenty of both online casino and mobile casino apps you can play at and on too, all of which will have plenty of fun to play casino games that you can play for free or for real money!
At what times are Blackjack tables the busiest?
It is over the weekend when most Blackjack tables will be at their busiest however you will often find that when there are only a few Blackjack tables open those that are open can be quite busy at any time of the day or night. However, in most casinos if the tables are full if you have a word with the Pit Boss he or she will usually ensure that as soon as a spot become available you will eventually get a seat, but you may be better of visiting during the day time when the tables are quieter!
What is the best Roulette game to play?
The very best Roulette variant you can play is one on which there is just a single zero in play on the wheel and on the better layout, for those games tend to have a house edge of just 2.70% which is way lower than the house edge on any variant that has two zeroes in play on the wheel and betting layout. Also, try and avoid playing any Roulette game variants on which there are any side bets available as those games tend to also come with a high house edge on each of the bonus betting opportunities you can place your wagers on, so always keep that in mind!
Can I turn the volume off when playing slots in a land based casino?
You will often find an option setting button that you can press when playing most slot machines in land based venues and when you click on that button one of the options that will become available to you is an audio setting or volume button. You will also find on all slot machines a pay table button and if at any time, you wish to check what the payouts are on any of the possible winning combinations that you can spin in then make sure you give that button a click the pay table will often also show you how the bonus games can be triggered too!
Are Joker Poker games available to South Dakota based players online?
Living in South Dakota will see you having access to quite a large number of different online casino sites at which several different video poker games will be available to you, one of which is the game of Joker Poker. There are a couple of things you will need to do when playing that game to get the expected payout percentage over the long term of 98.48% and that is to play off each base game hand perfectly and also put into play the maximum number of coins per hand you play too.
Do South Dakota casinos have IGT slots available?
IGT slot machines will often appeal to you when you fancy playing slot machines in or around South Dakota but you are seeking out slot machines that can and often will reward you with some very high valued winning payouts, and there are certainly plenty of those types of slot machines available to you. One thing South Dakota players will appreciate is that IGT slot machines can be played for different stakes so they are suitable to players who are either low stake players or even high rolling slot players, so do consider playing some of them and make sure you watch the above video of one such slot in action!
Land Based Casinos By States
About the Author