41

casinos found based on your search.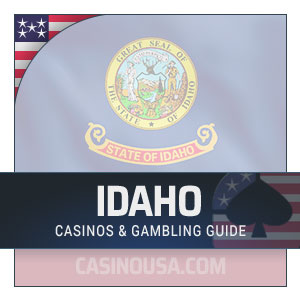 Idaho isn't one of the friendliest states with regards to gambling, but they do have a few racetracks and some charitable bingo events.
They also have a handful of land based casinos that allow patrons to enjoy gaming on electronic games.
However, online gambling is not legal.
This means online poker sites, online casinos and online sports betting sites cannot be run from inside the borders of Idaho.
Anyone who wants to participate in any of these forms of online gambling must do so at one of the US friendly offshore poker sites, casinos or sports betting sites.
Casinos in Idaho
The laws regarding casinos do change in every single US State you can visit and as such if you do travel around America a lot and you like to gamble can play casino games when visiting each State then the following guide is certainly going to be very interesting to you and will let you know just what casino gaming opportunities there are in Idaho.
One thing that you may or may not be aware of is that as a casino game player you will find that there are more ways to play casino games other than just visiting a land based casino, for thanks to the advent of online casinos you can now play any type of casino games that appeal to you the most from home on your computer.
To help you make sense of every possible type of casino game playing opportunities that are going to become available to you when you are in Idaho please do spend some time reading through the following guide as by doing so you will find out which are the very best casinos to ether visit or play at online and some other relevant facts and figures and information too.
Idaho State Stats
Idaho is in regards to size the 14th largest US State and is a total of 83,574 total square miles in size and if you wish to gamble at a casino either an online or in a land based casino in any US State and you are from Idaho then you have to be over the age of 21 to be able to legally do so.
Idaho is known by the abbreviation of ID and its date of statehood was back in the year 1890 the current capital city is Boise which became the capital city in the year 1865 it has a municipal population of 205,671 people. There are land based casinos in this US State and you will also be able to play online casino games at one of many different online casino sites too.
Gambling Laws in Idaho
The gambling laws in Idaho are just as strict as in any other US State, and one thing that you will need to be aware of if you do intend to gamble in any casino when visiting Idaho is that you have to be over the age of 21 to do so.
All casino games offered to players in Idaho have to be fair and completely random, and there is of course a complaints procedure that you can go through if you experience any problems with any licensed casinos in Idaho. Also be aware that online casinos that you can access in Idaho will be licensed in offshore jurisdictions, the gambling jurisdiction that licenses each different casino site will be indicated on each casino website.
Top Bricks and Mortar Casinos in Idaho
Coeur d'Alene Casino – The first casino we think you may wish to visit is this one and the address and phone number is as follows: Address: 37914 South Nukwalqw, Worley, ID 83876, USA. Phone: +1 800-523-2464
Clearwater Casino – Another casino worth visiting is this one and the contact details are as follows: Address: 15347 Suquamish Way NE, Suquamish, WA 98392, USA. Phone: +1 360-598-8700
Fort Hall Casino Fort Hall – One additional casino that you may wish to visit when in this US State or the local area is this one and the contact and address of this casino is: I-15 Exit 80, Fort Hall, ID 83203, United States. Phone: +1 208-237-8778.
Idaho State Gambling Resources
In Idaho there are two different agencies that oversee and regulate gambling activities in that US State and those agencies are the Idaho Lottery and also the Idaho State Racing Commission for more information on how they do regulate, license and oversee gambling activities in this State please check out their respective websites for more details.
If you live in Idaho and you feel that you may have a gambling problem or are not in control of your gambling activities then you will be best advised to seek help and support from Idaho Gamblers Anonymous who offer free and confidential advice and support to anyone with or who is affected by any type of gambling addiction problem.
Advice for Gambling in Idaho
It doesn't matter where you decide to play casino games the one thing that you should be looking for are the games which have been designed to return more of your stakes back to you as winning payouts over the long term, as you will get more play time and more winning opportunities when you play those games.
Therefore if you are in Idaho try and find out the payout percentage of every slot or video poker game you lay and pick the ones with the highest payout percentages, or when playing card and table games locate the games which offer the lowest house edges and play those games optimally too!
FAQ
We are often asked many questions about gambling in every single US State and with that in mind to answer any questions that you may have about gambling at casinos in Idaho we have put together the following most frequently questions guide.
Please do read on for there will be a very good chance that any questions you may have will be answered in the section below, if not they may just be answered when you take a good look around our website which we cordially invite you to do so!
When is the best time to visit a casino?
There is never really a good time or a bad time to visit a casino in person, however if you want to have access to as many different casino games as is possible then you will probably be best advised to go at a quieter time of the day or night, as there will be fewer players in the casinos at the quieter times of the day or night giving you more choice in regards to the available games that are not being played! Keep in mind however that at certain times of the week you may find a casino is offering special giveaways and promotions too, so always check to see if they are as some of those offers will be way too generous to miss out on!
Are slot tournaments available at my local casino?
Quite a number of casinos will hold regular slot tournaments for their players, what you will often find when you are interested in taking part in one of them is that there may be no entry fee required to take part in them and as such you will not have to pay anything to give one or more of them a try! You should ask at the comp club desk in regards to when any ongoing slot tournaments are available for some casinos may be offering them on a daily basis, whilst some other casinos only ever hold slot tournament once a week or once a month, but there will be plenty of casinos that do have regular slot tournament some with large cash prizes on offer too!
Can I play Roulette in a land based casino?
You will find some casinos will have Roulette games available however one thing you should try and always do is to track down the casinos that have single zero roulette available within them and on their gaming floors. For when you play a Roulette game which just one single zero on the Roulette wheel you will have more chances of winning and due to those games only having one zero that means the house edge will be much lower than when you are laying the double zero roulette games, so keep that in mind for some casinos only have available the high house edge double zero Roulette games on offer and available which are poor value games to play!
Can I play Aristocrat slots at Idaho casinos?
Aristocrat slot machines are available in land based casinos and in casinos that players based in Idaho can play online or on their mobile devices, and if you do fancy playing a fun to play and potentially high paying Aristocrat slot then one you should consider playing is the Game of Thrones slot! Idaho slot players who do decide to play the Game of Thrones slot will be able to configure is to suit their bankrolls and will of course find that they can play it for low or high stakes and it is a slot with a high payout percentage too so you will certainly have lots of winning opportunities when playing it!
Which video poker games can Idaho residents play online?
All American is a video poker game that many Idaho residents will enjoy playing, and the variants you will be able to play anywhere in Idaho online are the ones available at casino sites that are utilising the impressive range of Real Time Gaming games and their gaming platforms. All American is such that when playing it optimally it can return a payout percentage on the standard pay table of 98.49% when playing at RTG casino sites, but keep in mind some casinos may have better paying pay tables on their All American games that other sites do!
Land Based Casinos By States
About the Author