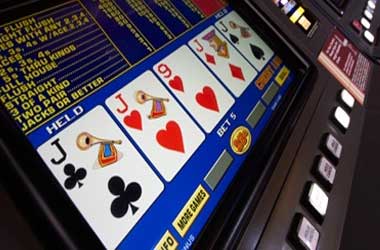 Video poker has been around for decades and is extremely popular. A low house edge and greater winning possibilities are a major attraction to this game of skill, which is in essence a blend of slots and poker.
Nevertheless, it is important to remember that this is one game where the old saying 'house has the advantage', does not apply. Video poker is played with a standard 52-card deck where players are required to make the best 5 card hand.
There are several variants of video poker although the principle and objective of each game is the same. If you play the liberal tables properly, there is a chance of even getting 100% in returns if you include incentives such as cash back and free play.
Top US Video Poker Casinos
| Casino | Offer | Devices | Play Now / Review |
| --- | --- | --- | --- |
| | $5,000 Welcome Bonus | | Play! |
| | 350% up to $5000 | | Play! |
| | First 3 Deposits, Get Up To $6000 | | Play! |
| | 350% Match up to $3500 | | Play! |
| | First 3 Deposits, Get Up To $3000 | | Play! |
| | $5500 Welcome Bonus | | Play! |
| | $5000 Welcome Bonus | | Play! |
| | 255% Bonus up to $2555 | | Play! |
| | First 3 Deposits, Get Up To $6000 | | Play! |
| | $3,000 | | Play! |
Some of the popular variants of video poker include Tens or Better, Aces and Faces, Deuces Wild, Jacks or Better, Joker Poker, Double Double Bonus, and Deuces and Jokers. You will find most of these variants at online casinos with low stakes and high stakes.
At CasinoUSA.com, our experts suggest that slots players ought to consider video poker since the chances of cracking the jackpot are five times more. However, using a proper strategy is the key to success. And, that's where we can help. All you need is to pay attention to the following.
Online Video Poker Basics
Playing video poker is as simple as 1, 2, 3. The dealer deals five cards. You need to decide which ones to keep, which you can do in online video poker by simply clicking on the relevant cards on the screen, and discarding the rest. When you hit the 'Draw' button the discarded cards are replaced. You win if you end up with a traditional poker hand such as a straight, two pair, full house, flush, etc. The amount you win depends on the pay-table for the relevant video poker variant you are playing.
IGT
Video Poker Pay-tables
Pay-tables feature five columns since the winnings depend on whether you played 1, 2, 3, 4,or 5 coins. In other words, you get to increase your bet and winnings on the number of coins played. It is always wise to deposit the maximum number of coins in a video poker game since it presents the opportunity to win the maximum amount.
One of the plus points of video poker is that you are aware of the returns before you begin playing. The house edge is roughly 3% which means you get back 97% of what you bet. The returns are determined by the pay-table, which varies depending on the variant played. Some games like Jacks or Better have a return as high as 99.54%. The bottom line is to choose video poker games with a good pay-table.
Video Poker Hands
Pay-tables are based on five-card poker hands that include:
Royal Flush: Ace/King/King/Jack/10 of the same suit
Straight Flush: Five consecutive cards of the same suit (4,5,6,7,8)
Four of a Kind: For cards of the same rank such as Ace of hearts or Ace of spades
Full House: Two cards of one rank and three of another rank such as 8 of hearts, 8 of spades, 6 of diamonds, 6 of hearts, 6 of spades.
Flush: Five cards of the same suit such as Ace, 10, 8, 4, 3, 2 of hearts.
Straight: A mixed suit of five consecutive cards such as 2 of hearts, 3 of diamonds, 4 of clubs, 5 of spades, 6 of diamonds.
Three of a kind: Three cards of the same rank such as 8 of clubs, 8 of hearts, 8 of diamonds
Two Pair: Two cards of one rank and two of another such as 8 of diamonds, 8 of hearts, 7 of clubs, 7 of spades.
Pair of jacks or better: Two jacks, queens, kings, or aces.
Online Video Poker Strategy
There are a few simple rules that you can stick with in order to improve your chances of winning.
Hold a two pair, royal flush, straight flush, full house, three of a kind or four of a kind. You and discard the remaining two cards in a three of a kind in order to get a chance at four of a kind. With a two pair, discard the fifth card for a shot at a full house.
If you have four cards to a royal flush then it would be wise to break up a straight or flush. For example, if you have Ace/King/Queen/Jack/9 of hearts, discard the 9 for a chance to get the 10 of hearts. This also opens a window of opportunity to get a flush with another hearts, a straight with another 10 and a pair of jacks or better with an AKQ or J.
Discard a single high card instead of a low pair.
If you have four cards to a lower straight flush or royal flush break up a pair of jacks or better.
Always play maximum bets or move to a lower stake machine that you can afford.
Video poker offers high payouts but that doesn't mean you can always break even.
Never let short-term results let you down. If you play correctly, you will do well over time.
Practice with play money before you place real money bets.
Refrain from stretching your bankroll. If you want to start with $20 then head for machines that allow you to play five quarters at a time.
There's much more to playing video poker so make sure to stay tuned to CasinoUSA.com for all the latest. Our experts have their finger on the pulse of everything to do with online video poker so make sure to keep coming back for more
Online Video Poker FAQ
If you're interested in giving video poker a try but are confused by basic concepts, you might want to check out the following answers to the most popular questions about this casino game: