Active filters:
Casino Games:
Video Poker
Clear all filters

Wild Casino
Bonus Offer:
$5,000 Welcome Bonus
More Info
Available Games
Slots
Blackjack
Roulette
Live Dealer
Baccarat
Features
Great selection of slots
High-quality live dealer games
Excellent welcome bonus
Crypto-friendly

Ignition Casino
Bonus Offer:
$3,000 Welcome Bonus
More Info
Available Games
Slots
Blackjack
Roulette
Live Dealer
Baccarat
Features
300+ games
Crypto-friendly casino
Live dealer jackpot
Bonus galore for different verticals

Cafe Casino
Bonus Offer:
350% up to $2500
More Info
Available Games
Slots
Blackjack
Roulette
Live Dealer
Baccarat
Features
Accepts cryptocurrencies
Generous welcome bonus
Loyalty program
Kahnawake Licence
37

casinos found based on your search.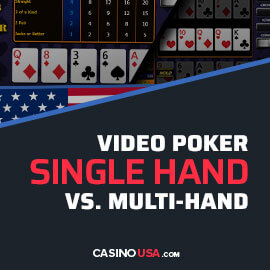 Multi-hand and single-hand video poker differ in precisely what you think — the number of hands you play simultaneously.
However, there are other differences you need to know about, especially in terms of paytables and game variance. Keep reading to learn that and which version is preferred.
What Are Single and Multi-Hand Video Poker Games
A single-hand video poker game uses only one hand, while a multi-hand title uses multiple hands. The number of hands in the latter can be 2, 3, 5, 10, 25, 50, or 100. In some rare instances, it can go even higher.
Single-hand games seem straightforward, while multi-hand ones appear impossible to follow. However, that's not true because you will get the same five cards in multi-hand releases as in a single-hand game.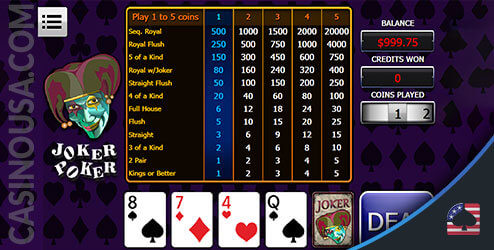 The versions are effectively the same until the second draw, where you receive new cards. You get five cards and choose which ones to hold in both versions. However, once the subsequent draw starts, you'll get new cards for every hand played in multi-hand poker.
In other words, you get to hold the same cards for every hand, but the new cards are random, giving you a chance to win on each hand separately.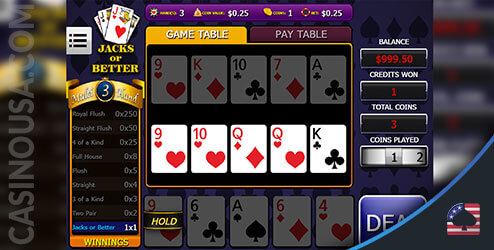 Naturally, you get to choose the number of hands before the draw, and you have to put money into each one. This means the stake in multi-hand games is typically much bigger, with the potential winnings being higher as well.
You won't be able to check every hand visually, but you'll get the results for all.
Differences in Paytable and Variance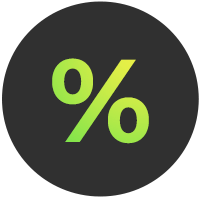 Even though it might seem that the odds improve the more hands you play, it's entirely untrue. The odds are pretty much the same in most cases, especially if the paytable is the same. This means you must stick to the same strategy regardless of the number of hands.
However, you should still consider the paytables. They depend on the actual game, not the format, so we can't give you specific examples. In general, though, paytables in single-hand video poker games are typically better than on multi-hand releases, as it's not uncommon for the same combinations to pay more.
In most cases, smaller hands like pairs, two pairs, three-of-a-kind, straight, and flush usually have the same prices. However, higher hands, including full house, four-of-a-kind, straight flush, and especially royal flush, usually feature better payouts in single-hand games.
Even though this is often the case, checking the paytable in the specific game you're playing is still crucial, as its payouts can be completely unique.
As for the variance, it's substantially different between the two formats. It's typically high in single-hand video poker games, while it gets even higher with multi-hand titles. If you were to play 100 single hands separately, the variance would be lower, but as the starting hands in 100-hand video poker are the same, the variance is incredibly high. 
Which Version Should You Play?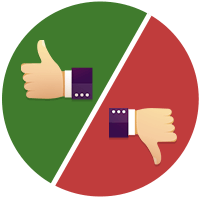 As usual, no format is objectively better, depending on your preferences and what kind of play you're looking for.
If you want to bet smaller amounts and don't have a large bankroll, it's better to choose single-hand games. They are perfect for beginners, while you can still choose single-hand releases with higher stakes if you want to bet larger amounts.
However, if this is your main interest and you have a big enough bankroll to support it, then multi-hand games are the better choice. You'll have many more chances to win big here, but you'll also have to be ready to risk it all, making multi-hand video poker titles better suited for true risk-takers.
Conclusion
Single and multi-hand are the two main video poker formats. The leading differences come in the number of hands being played simultaneously, with multi-hand games having anywhere from 2 to 100 and even more hands. 
The games largely remain the same, but there are significant differences in volatility and paytables to consider. Weigh in these differences carefully to decide which version is better suited to your play style and preferences.
FAQ
What is the difference between single and multi-hand video poker?
The main difference is the number of hands you play with simultaneously. As the names suggest, single-hand allows only one hand, while you can use more than multi-hand video poker.
Which version needs a bigger bankroll?
Multi-hand video poker requires a bigger bankroll to get started. You can lose a lot quicker due to the high volatility, especially when playing 100-hand video poker games.
How many decks are in play in multi-hand video poker?
The number of hands is irrelevant as each hand has its own deck in a multi-hand video poker title. For instance, if you're playing a 100-hand game, there will be 100 separate decks, one per each hand.
About the Author