Active filters:
Casino Games:
Video Poker
Clear all filters

Wild Casino
Bonus Offer:
$5,000 Welcome Bonus
More Info
Available Games
Slots
Blackjack
Roulette
Live Dealer
Baccarat
Features
Great selection of slots
High-quality live dealer games
Excellent welcome bonus
Crypto-friendly

Ignition Casino
Bonus Offer:
$3,000 Welcome Bonus
More Info
Available Games
Slots
Blackjack
Roulette
Live Dealer
Baccarat
Features
300+ games
Crypto-friendly casino
Live dealer jackpot
Bonus galore for different verticals

Cafe Casino
Bonus Offer:
350% up to $2500
More Info
Available Games
Slots
Blackjack
Roulette
Live Dealer
Baccarat
Features
Accepts cryptocurrencies
Generous welcome bonus
Loyalty program
Kahnawake Licence
37

casinos found based on your search.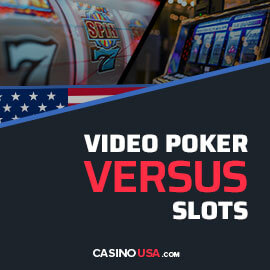 Differences Between Video Poker and Slots
First, let's check all elements that make video poker distinct from video slots.
Video Poker is a Game of Skill; Slots Are Chance-Based
All casino games include the element of chance up to an extent. However, players can use all sorts of strategies to lower the impact of luck and improve their chances of winning. In this case, video poker is much different from slots, as there are different methods to lower the house edge and improve the payout.
On the other hand, video slots are entirely luck-based. Once you hit that spin button, you can only hope to get a high-paying combination on the grid.
Slots Come in a Much Larger Variety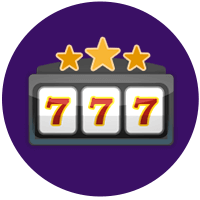 Many online casinos feature dozens of video poker options, but the number of slots is often counted in hundreds — if not thousands. The global industry features 100+ professional game development studios, all of which mainly focus on creating video slots. Some slot machines might have similar gameplay and features but completely different themes. Despite that, they will be considered two different games.
On the other hand, the concept of themes does not (still) exist in video poker. Jacks or Better might come in a couple of variations, but it will always have poker and cards as the central theme. There might be some visual differences between different games, but they will still be considered a different version of Jacks or Better.
Video Poker Has a Higher Payout
Full-pay Jacks or Better has a payout percentage of 99.54%. Even the types of poker with lower payout will still have a high return-to-player rate.
Unfortunately, the payout for slots is a bit lower. On average, online slots have an RTP of 92% – 97%. Games with a payout higher than 97% are scarce.
Slots Are Easier to Learn and Master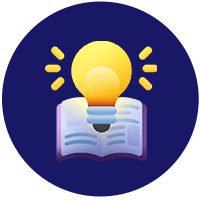 Slots have different grid structures, features, bonuses, symbols, and more, but it all comes down to spinning the reels. Basically, your only job is to make a bet and start the round, with everything else played out automatically.
In video poker, you also have the option to swap cards after getting the initial five-card hand. Professional players have come up with an optimal playing strategy, which requires researching video poker strategies and even doing some math. It's not rocket science, but it's much more than endlessly clicking the spin button.
Similarities Between Video Poker and Slots
Despite being fundamentally different, video poker and slots share some similar traits.
Both Games Are Based on a Random Number Generator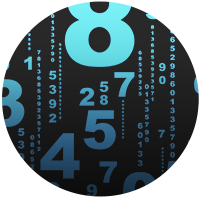 Unlike other types of poker played with real cards, video poker uses virtual cards. Therefore, there is an algorithm ensuring the outcome in video poker is not rigged, and it's called Random Number Generator (RNG).
The same technology is used in slots, as it ensures the reels don't follow any patterns and stop entirely randomly.
Both Are Available in All Casinos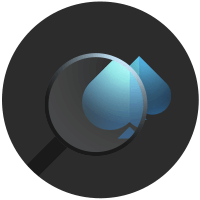 Video slots and video poker are very popular, and there aren't many casinos that don't feature both.
This is especially true for online casinos that usually feature hundreds of slots and dozens of video poker options.
Both Games Allow Similar Betting Options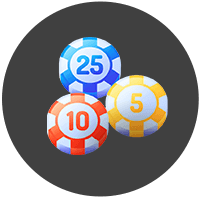 Slots and video poker have a coin-based betting structure, as you can choose the number of coins you want to wager before clicking the spin button or dealing cards.
It's worth mentioning that some new slots do not use the coin betting structure.
Both Are a Great Alternative to Standard Table Games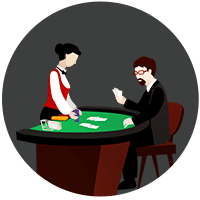 If you're used to playing table games with a lot of people around you, slots and video poker offer the best casino alternative.
Both are technically one-player games and are much more relaxing, as you get to play at your own pace.
Conclusion
Although very different, video poker and slots share a few similarities. But which one should you choose if you have no experience with playing either? In short, video poker is a better option if you're an analytical person who likes being actively involved when playing a game. However, if you're looking for a game to sit back, relax, and enjoy without getting engaged too much, you should pick slots.
Of course, we advise experimenting with both for free to see which option works better for you. Most online casinos will allow playing slots and video poker using fake money for as long as you want, which is a great way to try various titles before making a real-money deposit.
FAQ
Does video poker have a better payout than slots?
In general, yes, video poker games' RTP is higher compared to the average RTP of video slots. Video poker's payout percentage is usually 99%+, but you'll have to stick to the optimal strategy to keep it that high. On the other hand, slots have a fixed RTP, which is rarely above 97%, and there's no need to learn anything.
Is video poker better than slots?
It's a matter of personal preference. Some people prefer slots as they are easy to play and fast-paced, while others who want to invest themselves more in a game usually pick video poker.
Are slots and video poker similar games?
Not so much in terms of gameplay. However, both use RNG for determining the outcome and are single-player games that offer a great alternative to the standard table and card games. More importantly, both slots and video poker games are widespread, and you'll find them in virtually any casino.
About the Author