Stake.us
Bonus Offer:
$25 Stake Cash
More Info
Available Games
Slots
Blackjack
Roulette
Live Dealer
Baccarat
Features
Free gameplay available
Diverse selection of RNG and live casino games
Around 20 cryptocurrencies available
Daily reloads for Stake Cash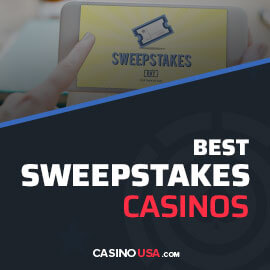 Sweepstakes casinos are super fun, legit, and entirely free to join — every casual gambler's dream. These gaming establishments are legal in 49 US states, making them an excellent alternative for casino players living in regions that haven't legalized online gambling yet.
Sweeps are almost identical to online casinos except for one distinct difference — they don't offer real-money play with fiat currencies. Instead, they use their own virtual currencies called Sweep and Gold coins.
Sweep coins can be redeemed for real cash
Gold coins do not have real value; you can only use it for free play.
On this page, you'll learn all about sweepstakes casinos, at least all the relevant stuff. We'll show you:
What Are Sweepstakes in Casinos?
Sweepstakes refers to a promotional drawing in which the prizes are awarded to the winner (or winners) at no charge to the participants. This type of gambling appeared in the US around 2005, but the model originated in 18th century England.
Online casino operators adopted the system and refined it a bit while keeping the underlying concept, offering free-to-play games with no cash required. Since they don't abide by the existing gambling laws, sweepstakes casinos must not encourage any type of real money gambling. They offer it indirectly but are not permitted to advertise it.
The players are given the option of playing the games and even participating in promotional offers for free. But in these promos, they can win sweeps coins, which are redeemable and can be swapped for real money. Put differently; sweepstakes casinos give you the chance to win cash prizes without depositing a dime.
How Do Casino Sweepstakes Work?
In a sweepstakes casino, you don't play with real money that you've deposited on your account as you do in a traditional online casino. Instead, you are given free virtual coins or chips called gold coins, which don't have any monetary value — they can only be used for free play gaming. But there's a catch; you won't be given an infinite amount of gold coins upon registration. You'll only receive a small supply, just enough to try out the platform and see how the system works.
When you run out of gold coins, you can purchase them for real cash, using classic payment methods, like credit cards.
However, as part of the purchase, you'll also get sweep coins that can be used for real-money play at specific SC tables. And therein lies the biggest appeal of sweepstakes casinos — the chance to redeem some of that virtual currency and earn real money for a small deposit.
The key thing to understand here is that you can't purchase sweep coins directly. You can only obtain them via the gold coin package. Basically, you buy one of the currencies directly and get the other one as a bonus. There are some additional ways you can earn sweep coins, but we'll get to that a bit later.
Best Sweepstakes Casinos in the US
Now that you've come to grips with how sweepstakes casinos operate, it's time to put that knowledge into practice.
We did our homework and sifted out the best sweepstakes casinos available for US residents. If you're living in a gambling-unfriendly area of the country, these are the go-to places to play your favorite casino games.

Chumba Casino
Chumba Casino is one of the leaders in the sweepstakes casino scene. The site utilizes the sweepstakes model, which makes it legal for all US players, except those in Washington. After registration, you'll be greeted with a hefty welcome package that consists of both sweep and gold coins. Chumba has the edge over its competitors in terms of game variety, offering over 70 slots, blackjack, and video poker games. Most popular payment methods are supported, including Visa, MasterCard, ACH, and Skrill.

Luckyland Slots
Luckyland Slots is one of Virtual Gaming Worlds' latest products. This is the same company that is behind Chumba Casino. Like its sister site, Luckyland offers a great introductory bonus of 7,777 gold coins and ten sweep coins. The platform is accessible via a downloadable client and browser-based site; both iOS and Android mobile phones are compatible. In terms of gaming action, Luckyland is second to none in its area. You'll find 3D slots, roulette and blackjack games, and a few video poker varieties within the diverse portfolio of games. If you need assistance, feel free to contact Luckyland's support staff via live chat or directly through the website.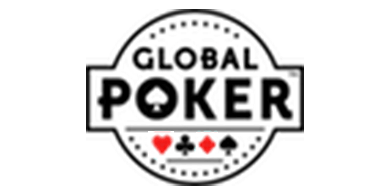 Global Poker
Another VGW's gaming platform, Global Poker is one of the finest poker sweepstake rooms in the US. The site employs a sweepstakes model, offering free-to-play games with gold coins. Sweep coins are in stock and can be purchased via the coin bundle and used for many real-money NL Hold'em and PLO ring games, S&Gs, and MTTs.
Different Types of Sweepstakes
There are fundamentally two types of sweepstakes or virtual currencies used in sweepstakes casinos — gold coins and sweep coins.
Below, we've provided a rundown of both categories, highlighting the key differences among them and showing you how to use them.
Gold Coins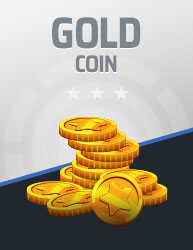 Gold coins are the backbone and the main commodity of sweepstakes casinos. These coins have no actual monetary value, serving as demo credits. Most sweep casinos offer them as part of the sign-up package, with some operators even giving them away for free in their no deposit bonus offers.
Once you sign up with the casino and get settled in, you can use your gold coins as currency for free-play games – such as free slots. All the titles in a casino's library can be played with gold coins, and this is a significant advantage over playing games in demo mode in normal casinos. Namely, traditional casinos don't offer demo play mode for all their games, and some don't even have this feature.
With gold coins, you can play whatever game is listed in the sweepstakes' gaming program. However, any winnings derived from such play can't be cashed out. You're allowed to use the gold coins to have fun, and that's it.
Keep in mind that the gold coin supplies you get for joining a casino are not inexhaustible. That said, when your gold coin bulk runs dry, you can purchase more at the cashier.
Sweep Coins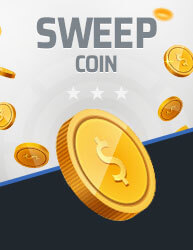 Sweep coins keep players hooked as this type of virtual currency is the equivalent of real cash. Players can't obtain sweep coins directly; however, when you buy gold coins, the casino will throw in small amounts of sweep coins as a gift in proportion to your purchase.
Then, you can use sweep coins to play SC games for a chance to win real-money prizes. Any winnings in SC games are paid in sweep coins, but you can exchange them for cash later on.
To incentivize players, sweepstakes casinos will dish out sweep coins via all kinds of promotions, emails, daily logins, and other methods, which we'll discuss in the following paragraph.
How to Get Sweep Coins for Free?
There are numerous ways you can earn sweep coins without having to spend a single cent.
Opening an Account
Some casinos hand out a small portion of sweep coins in their no deposit bonus package. To get them, you only need to sign up on the site and verify your account. You may get anywhere from two to ten SC just for registering.
Social Media Contests
Another way to get free SC is to participate in social media contests organized by sweepstake casinos. By answering a couple of straightforward questions on the casino's Facebook or Twitter page, you'll qualify for the draw. Each social media contest boasts a prize pool of around 5,000 sweep coins distributed between ten or so winners.
Sweep Coins Via Mail
The other standard option of getting free SC involves sending the casino an email and demanding your portion of sweepstake cash or gold. As per the US sweepstakes law, all casinos operating under the sweepstakes model must provide their players with sweep coins via mail, if they ask. The sum you'll be getting via the mail-in method is usually small but still beats playing with your own cash.
Lastly, you can earn sweep coins via:
Free-to-enter tournaments
Leaderboard contests
Refer-a-friend promos
How to Buy and Redeem Coins at a Sweepstake Casino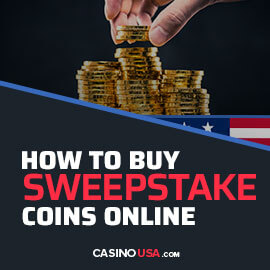 Players can purchase coins in sweepstake casinos the same way they would in a traditional casino — using one of the payment methods listed in the cashier.
The exact list of available payment solutions varies between different casinos, but the most common ones include:
The coin package value will also vary from one site to the next. Usually, you'll get tons of gold coins (over a million) and a couple of sweep coins for ten bucks only.
All sweepstake casinos allow players to redeem sweep coins and swap them for real cash. On most sites, you can trade SCs at an exchange rate of one sweep coin for 1$.
Those looking to convert their sweep coin winnings will find an additional layer of security. Namely, you'll have to go through a verification process and submit proof of your identity and whereabouts. You'll be asked to provide:
Government ID (or some other government-issued document, like a passport)
Proof of residence: bank statement, utility bill, or notarized lease agreement
You'll have to go through this process only once, during your first withdrawal. Once verified, the casino will transfer your winnings pretty quickly — within five to ten days, tops.
Some sweepstake casinos might have play-through requirements. Typically, you'll need to amass $50-100 worth of coins before the operator allows you to cash them out.
Sweepstakes Casinos vs. Real-Money Gambling Sites: How Do They Differ?
There are several significant differences between sweepstakes and real-money online casinos. Here are the most obvious ones:
In real-money casinos, you have the ability to win real cash — The gambling process at real-money platforms is straightforward — make a deposit, place a few bets, and cash out your winnings. Sweepstakes sites look like gambling platforms on the outside, as they will let you play some of the popular slots and table games. However, they won't allow you to win real money directly. It is possible to receive some cash eventually, but the process is much longer than on real-money sites.
Sweepstake casinos are legal in nearly every US state — Sweepstake casinos are 100% legal and regulated in 49 US states, as opposed to their real-money counterparts, which are legalized in only 6 states.
Real-money gambling sites have more extensive game catalogs — Compared to real-money casinos, which offer several thousand games on average, sweepstakes sites' portfolios are not that diverse — they usually contain 50 to 100 games.
What Games Can You Play in Sweepstake Casinos?
In terms of game variety, sweepstakes casinos rival real-money gambling sites. On top of the standard gaming package, sweep operators usually offer in-house titles — unique games that can't be played elsewhere.
Here's a brief overview of the most popular categories of games you can find in social casinos:
Mobile Experience: Access a Sweepstakes Site From Anywhere
A dedicated gaming app is highly convenient, but don't worry if there isn't one. Most sweepstake sites are easy to access via your mobile browser. The games are optimized for Android and iOS devices, created to fit small screens, offering smooth gameplay on the go.
Tips for Choosing the Best Sweepstakes Casino in the US
When choosing the best sweepstakes gambling site, keep the following factors in mind:
Although sweepstakes are regulated in 49 US states, double check whether a platform is legal in your area.
When it comes to withdrawing money, make sure to pay attention to the redemption limits, as some sites won't allow you to cash out your sweeps coins until they are worth $50 or $100.
Make sure the site supports the sweepstake mode, as this is the only way you can exchange your sweep coins for cash. If the platform only allows you to play with gold coins, it qualifies as a social casino.
Be sure to check if your go-to banking method is available since different platforms support different payment options.
Don't forget to take a site's game selection into account. Most brands offer only slots and a limited number of table games (if any). Therefore, focus on the number of games and their quality.
Check the sites' welcome bonuses and daily offers, as well as their terms and conditions.
Ensure that the platform offers 24/7 customer support and employs state-of-the-art security protocols.
Find out if your preferred sweepstake site offers a native app, as this will allow you to quickly access the platform on the go.
Final Thoughts
Sweepstakes casinos have emerged as the best gaming alternative for those residing in states that haven't still formed a legal gambling framework. There are not many qualitative differences between these platforms and real-money casinos except for the emphasis on freebies and casual gambling, with no deposits required.
That's not to say that sweepstakes casinos don't offer cash prizes — far from it. Real-money prizes are offered, just not to the same extent as in traditional online casinos.
Since these types of casinos are completely legal in almost all of the US, you're allowed to make transfers using credit cards, and this trait alone gives sweepstakes casinos the edge over offshore gambling sites.
The prospect of winning cool prizes without having to deposit any money is appealing to gamblers of all tastes and skill levels. With so many great prizes to claim, we dare to ask — what are you waiting for?
You know where to go and what to do, so there should be nothing stopping you from grabbing your coin bundle.
FAQ
Are sweepstakes casinos legal in the US?
Yes, they are, in 49 states, with Washington being the only state whose residents are not permitted to join a sweepstake casino. Because the sweepstakes model doesn't officially count as gambling, the US lawmakers have been permissive of these types of gaming platforms.
What's the minimum age to play in a sweepstakes casino?
You have to be at least 18 years old to play in US sweepstakes casinos. Furthermore, you'll be required to provide proof of identity during registration and verification.
What kind of games can I play in a sweepstakes casino?
Depending on the casino, you can choose between a wide range of games, including classic slots, video slots, progressives, blackjack, roulette, baccarat, craps, keno, bingo, poker, and all sorts of in-house varieties. The only category that seems to be missing is live dealer games. For now, these are not available in any US-facing sweepstake casino.
How many sweepstakes casinos are there?
Not much, to be quite frank. The ones that stand out are Funzpoint, Luckyslots, and Chumba Casino. These brands are considered to be the leaders in the sweepstakes casino industry.
Can I buy sweep coins with real money?
No, you can't, at least not directly. But what you can do is buy gold coins, and you'll get a substantial portion of sweep coins in the package. If you're lucky enough and manage to boost your sweep coin supplies, you can exchange them for real money.
Are sweepstakes casinos safe?
Absolutely. These sites use the same cutting-edge security protocols as traditional online casinos, including SSL encryption, impenetrable firewalls, and similar tools.
About the Author