Active filters:
Clear all filters
25

casinos found based on your search.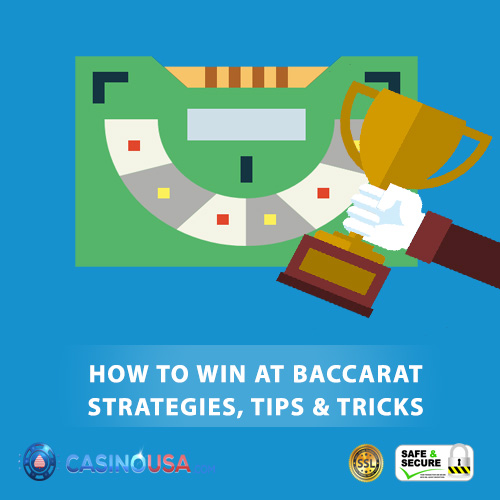 Baccarat — an elegant casino game often played by the highest echelon of high rollers. That's how I would describe this immensely popular gambling classic card game. It's fast-paced, exciting, and super easy to learn with players of all experience levels.
Another reason baccarat is one of the most sought after casino games among all kinds of gamblers is that it has the smallest house edge per play. In other words, baccarat gives you a higher theoretical chance of winning money compared to other casino variants.
Like roulette, baccarat is a game completely based on chance, so there is no foolproof strategy you could employ to guarantee you wins.
Anyone claiming otherwise either works as a casino representative or is a self-proclaimed "expert" who wants to boost traffic on their pages.
Talking about some fancy betting systems in Baccarat would be pointless and a waste of time. Usually, a little bit of luck and some common sense will get the job done. However, there are some rules that could help you set your mind in the right direction and ensure an enjoyable time at the Baccarat table.
Before we proceed with our guide on how to maximize your odds at the baccarat table, you should read our how to play baccarat guide which covers all the rules and shows you what are the best places to play this incredibly exciting game online.
Baccarat Winning Strategy: Basic Rules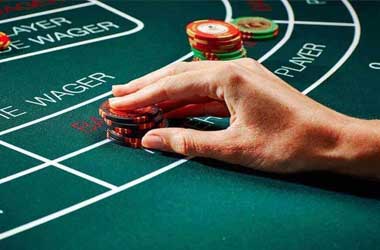 If you're new to the game, you should first learn the fundamentals. Get familiarized with the rules, how cards are dealt, and the betting process. Baccarat is extremely easy to understand, even for a casino newbie.
Despite all the prestige that surrounds baccarat, it is one of the most straightforward games you can play in a real money casino. It all comes down to how lucky you are, so once you learn the basic terms and bets, you're good to go.
Baccarat is played on a large kidney-shaped table that can host up to 12 players and two dealers. Each player has two fields in front of him — the bank (banker) and the player. Before the cards are dealt, they must choose whether their bet goes to the player hand or the banker's hand.
There's also a third possibility — a tie — when the player's and the banker's hand have the same value.
After all the bets have been settled, both the player and the banker are dealt two cards. Whichever hand totals closest to nine wins. If, for example, the player's hand is a 6 and the banker's hand is a 4, all bettors who have placed wagers on the player win.
In case of a tie, it's a loss for everyone except those that have bet on a Tie.
How Can I Beat the Odds in Baccarat?
To answer this question, first we have to consider the house edge associated with different bets.
Banker bets — house edge of 1.06%
Player bets — house edge of 1.24%
Tie bets — house edge of 14.4%
As you can see, banker bets are the most reasonable choice. If you want to play it safe, this should be your go-to Baccarat strategy. Some experts believe that betting on the banker would allow you to win over 50% of the time.
There is a catch, however. Namely, banker bets come with a 5% commission on the total cash won from a particular round. Nevertheless, it's still a preferred choice by both amateurs and seasoned pros.
The player bet is a better option for those who use a betting system strategy, like Martingale — doubling your stake after every loss.
With a house edge of 14.4%, the tie bet defies all logic and critical thinking, which is why you should avoid it. You should act as if it doesn't exist.
Baccarat Tips
Generally, a baccarat strategy isn't complicated. Sticking to some key principles will get the job done more often than not. Below, I've listed some playing tips that would teach you how to avoid making amateur mistakes that make it easy for the house to take your bankroll.
Pay Attention to the Banker's Cut
Earlier, we mentioned how banker's bets come with a 5% commission from every round. There are some casinos that take as much as 20% cut for banker bets.
Casinos add commission because a banker bet wins more than 50% of the time. If there was no commission, they would quickly go out of business.
So, the banker's cut is the equivalent of the house edge. It's inevitable, and there is nothing you can do about it. But what you can do is play at casinos that offer the lowest commission.
Usually, you can read about this stuff in the game's terms and conditions. If it's not mentioned there, you should ask the customer support agents what the banker cut is.
Put Your Strategy on Paper
Casinos will often provide players with a scoreboard to keep track of their wins. But if not, you should write everything down on paper. Since you're probably going to play a lot of hands, it would be easier to keep tabs on your betting strategy if you have it all written down.
Also, if you have everything written down, you can spot a pattern and switch your strategy accordingly. This is a good way to win in the long run.
Bet on the Banker
The safest and best course of action is to go with the lowest house odds and bet on the banker. Looking purely at house odds, there is a slight numbers advantage that could work in your favor if you bet on the banker, even with the casino taking a portion of your winnings.
Manage your Bankroll
Estimate how much money you are willing to lose. The situation can go out of hand quickly in baccarat, and you may be tempted to start betting with money that you didn't plan to lose. Decide on a set amount and stick to it. If you're on a cold streak, you should call it a night and come back another time.
Try the Game in Demo Mode
Most online casinos nowadays allow players to play the games for free, in demo mode. This way, you can learn the mechanics of baccarat — rules, bet limits, and so on.
Demo mode can serve as a training session — you can try out some strategies, betting systems, and move on from theory to practice. Once you get the grip of the game, you can start playing it for real money.
What Is the Best Baccarat Strategy?
Although baccarat is purely a game of chance, there are some strategies you can utilize that could help you maximize your odds. These betting systems are generally used for roulette and some other casino games, but can also be applied in baccarat.
The Martingale Betting System
The Martingale betting system is well-known and widely used in roulette, as well as a few other casino games. This is a negative progression system, which means that you increase (double) your bets when you lose and, if you win, you'll make the same-size bet again.
This system only works for even money bets, hence it's particularly popular for "black and red betting" in roulette. Since banker and player bets are close to even money, they are the perfect fit for the Martingale betting system.
Here's how it works:
You wager $1 on the Player and lose;
In the next round, you double your stake ($2) and lose again;
In the third round, you bet $4 on the player and win $8.
So, in total, you wagered $7 and won $8. The $1 is a pure profit. Of course, these are arbitrary numbers — you can start with a $100 bet, or even more. But I would advise caution because, despite it being the less risky betting system, it can eat up your bankroll if you don't win by the 10th round.
The video below explains how the Martingale betting system works — feel free to check it out!
The 1324 Strategy
1324 baccarat strategy is quite self-explanatory. It can be used in multiple casino games by all players, no matter how experienced they are.
This strategy falls into the category of positive progression betting systems because you have to increase wager in a specific order. Which order is that? Well, it's all written in the name of this baccarat technique.
Here are the key rules for using the 1324 strategy:
If you win, you progress to the next bet in the sequence
If you win, you start over from the beginning
If you win all four bets, you must go back to the beginning and start again.
To get a clearer idea of how this system works, take a look at the example below:
We'll start playing with $1 (1 unit) — this is our first bet. If we lose, we're down $1.
Since we now have to go back to the beginning, we'll bet $1 again. If we lose again, we're down $2. If we win the round, we're back to the square one (no losses, no gains).
Since we won the first bet, we move on to the second bet — $3. If the second bet wins, then we're up $6 ($3 pure profit).
We place the next bet in the sequence ($2). If we win, we're up $5 in pure profit.
Lastly, we place the fourth bet ($4). If the fourth bet wins, we turned the full circle and scored a pure profit of $10.
As you can see, this tactic depends on hot streaks. It's statistically impossible to lose all the time so, if you have enough budget, this baccarat system might work.
It's All About Luck
No matter how effective your baccarat strategy is or how well thought out, it all comes down to how lucky you are. Any casino expert will confirm this. All these baccarat tips might help you slightly increase your winning odds, but ultimately, lady luck will always be in charge.
It's always better to walk away while you're on a hot streak. No one has ever managed to beat the house in the long run, and trust me — neither will you. You have to be realistic and know when to stop.
Best US Real Money Baccarat Sites
Are you ready to test your newly founded knowledge and start making real money on baccarat? I know just the place. I and my team of casino experts have compiled a list of the best real money baccarat sites for US-based players.
Finding the right baccarat tables to enjoy some good games online can be challenging. You have to consider a variety of factors like safety, reputation, customer support, and many others. We've done the leg work for you — you just have to pick an operator that suits your preferences from the list at the top of this page — that's it!
Conclusion
Baccarat winning strategies don't revolve around complex looking equations, numbers systems, or endless tables. Winning at a baccarat table is just as same as winning in any other casino game of chance. The tips above might help you win more often than you would by playing at random, but at the end of the day, all you need is luck.
If there's anything else that needs further clarification and is related to this article or any other casino game, don't hesitate to leave a comment in the section below.
FAQ
Is card counting an option in baccarat?
Trying to count cards in baccarat is futile. Baccarat is usually played with eight decks, which makes card counting a science fiction.
How are baccarat hands paid out?
Banker and player bets are paid even money. However, the house takes around 5% commission on all banker bets.
Is progressive betting a good strategy in baccarat?
It depends on the casino you choose to play in. There are plenty of rogue casinos out there and, if you're not cautious enough, you can get ripped off. On the other hand, sites from the list above are 100% legitimate and provide a variety of baccarat variants in both RNG and live dealer format.
Are these sites legal in the US?
All these sites are based outside the US, and it's a known fact that the authorities in the US don't go after casino players who gamble on offshore sites. Therefore, you can play baccarat at these gambling venues without suffering any legal consequences.
About the Author