Active filters:
Clear all filters
41

casinos found based on your search.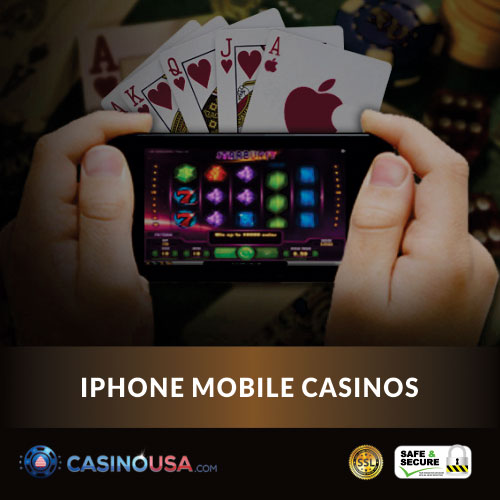 iPhones are the most popular type of mobile devices in the world, and it's only natural that there are many people looking for online casinos for their phones. If you're an iPhone owner, you've landed on the right page, as I'll cover some of the most important aspects of casino gaming on iPhones.
Apart from providing a list of best casinos for iPhones, I'll also discuss the process of choosing these platforms. Moreover, the article will tell you more about maximizing your phone gaming experience once you choose a casino. Finally, I'll discuss some of the best games you can play in casinos on your iPhone.
Let's take a short overview of what you're going to learn by reading this article.
If you're interested in learning more about mobile casinos, read the entire article. It will help you set up properly for an iPhone casino journey. It's an exciting adventure you should not miss if you love playing casino games. Read on!
Top US iPhone Mobile Casinos
As an iPhone user, I have been exploring all the available casinos for US players. After long and thorough research, I've made a list of casinos that tick all the boxes when it comes to quality. Therefore, make sure to check out the list below, as it contains iPhone casinos that offer the best games and excel at every other aspect.
For all the iPhone users in the US, online gambling has reached a whole new level in 2021. You won't need to glue yourself to your desktop computer anymore as every game you can think of will be available on your iPhone.
Now, you have probably tried to find a real money online casino on your iPhone in the Apple Store but to no avail.
After facing this problem, many bettors entirely give up mobile gambling and stuck to their laptop or desktop computer. There is still a widespread belief going around that the whole online casino experience cannot be as good on your iPhone as it is on the big screen.
This is a common misconception and, as we already mentioned, all the iPhone mobile casinos you can find here have been tested for different things.
How We Chose the Best US iPhone Mobile Casinos?
We must admit that it can be quite difficult to pick the right iPhone mobile casino once you dive in the sea of offers available for US punters. If you are struggling with this too, we are happy to inform you that you've come to the right place. Our team of professionals handpicked the finest iOS mobile casino and graded them by key components Welcome bonus comparisons, customer support, payment methods, accessibility, security and timely payouts..
All the iPhone mobile casinos you can find on our list must excel in not one or two, but all of the mentioned aspects. In the text below, you will find an in-depth explanation on what to expect from our top candidates.
Safety and Security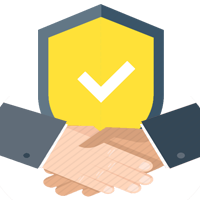 The most important point for every bettor is the safety and security of their actions and online transactions. When compared to real money online casinos designed for your desktop computer, the right iPhone mobile casino should be no different. It is the site itself that needs to be safe and protected for you to use it, regardless of the device you use to get to it.
The casinos we have tested for you proved to work in the same way on the iPhone as their desktop version. There are still all the necessary protection measures and systems used to save your personal data from any cyber theft. You can rest assured that no casino would launch an iPhone version and let players pay the price for poorly managed online gambling sites.
Therefore, if you decide to use your iPhone for playing online games, you can sleep tight afterward, knowing your personal details will be protected. You will still need to register and respect the minimum gambling age and all other online gambling rules that you would normally have to when gambling online on your desktop computer or laptop.
Money Transactions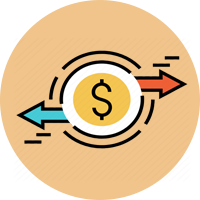 Online banking became a thing a long time ago and made all our lives much easier. Moreover, when they moved to the next level and created mobile banking, people couldn't be happier. It meant no more waiting in neverending lines for completing bank transactions since you could simply do it through your iPhone.
Knowing all this makes us wonder why people have a problem with using an iPhone for playing online casino games when they probably pay for everything else via it nowadays.
Nevertheless, the test was done to cover this aspect as well, and it appeared to be one of the advantages of iPhone mobile gambling.
Not only were those transactions completed properly, but there was also the benefit of having money at your disposal right away. Since the great majority of people use online banking nowadays, all the account details are probably already on your iPhone, regardless of your preferred payment method. In this way, the money you get in your iPhone mobile casino will be ready to use the moment it is sent to you.
Timely Payouts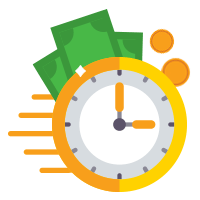 We are still talking about the money here, as this seems to be the hardest pill to swallow when it comes to online gambling. Bettors worry that something might go wrong with the money transaction once they win a particular sum via their iPhone mobile casino.
Luckily, we have covered this part as well to clear all the possible doubts you as a bettor might have. You have no reason to worry, as casinos do not base their payouts on the type of electronic device you use for online gambling. For them, the important thing is that you find their website, create an account, and deposit money. If you play with it and win, it is their duty to offer you several withdrawal methods and pay you everything you earned.
All the iPhone casinos you can find here have passed this test, and the payouts were received in a timely manner without any delays. The site itself is in charge of letting you know when you can expect the money to be on your account, and with iPhone casinos, everything was just as mentioned. The money will be sent to you in the shortest time-span possible, and you will have it all on your account that you probably already control with your iPhone.
Payment Methods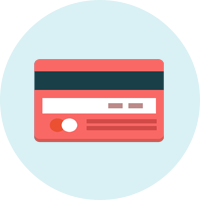 For US bettors, the payment method will probably be the most significant issue due to the fact that online gambling is not precisely regulated by US law. This is why iPhone mobile casinos needed some payment methods other than bank transactions to stay on the safe side.
Even though there are offshore online casinos that accept US players and their credit cards like Visa, MasterCard and American Express, most of them tend to go with e-wallets and cryptocurrencies. For this reason, you will often find Bitcoin or some other similar cryptocurrencies as a payment method in your iPhone mobile casino.
As the US gambling market is enormous, some online gambling operators gave their best to accommodate their needs and came up with different payment methods, including the new sweepstakes system. In other words, you don't need to worry about the payment method, as there must be at least one that will get along with your personal preference.
Bonuses and Promotions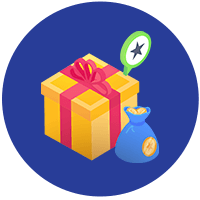 Online casinos put a lot of pride in their welcome bonus offers. Although the wagering requirements usually happen to be quite high, people still choose an online casino based on tempting bonuses and promotions.
The question that bothers many bettors concerns the availability of promotions and bonuses in iPhone mobile casinos. Somehow people got the impression that something must be different when you change the device.
This is definitely not something you need to worry about, as a casino offers bonuses despite the type of device you use. To be sure of it, you don't need to rely on online casino reviews or even this text. You can check it out by visiting the same online casino on your computer and your iPhone. You will notice that the welcome bonus covering the homepage will still be there on your iPhone.
What is more, these bonuses have various terms and conditions to be met, and sometimes, they might even be better for the iPhone online casino users. All in all, bonuses and promotions will be there for you, only make sure to carefully read the details.
Games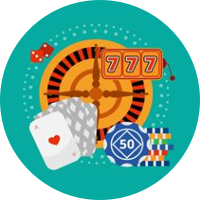 This might be the only aspect that is not 100% resembling the desktop version of online casinos. To start on a positive note — online casinos do try their best to adapt as many games as possible to their mobile version.
However, providers are the ones in charge of the game itself and its compatibility with your iPhone. Do not get us wrong, your iPhone mobile casino will still have a broad selection of games that will work flawlessly. Yet, if there is a particular game you usually play online on your desktop computer but you cannot seem to find it via your iPhone, don't get angry. Simply choose another one while your favorite is getting ready to join the iPhone community.
Accessibility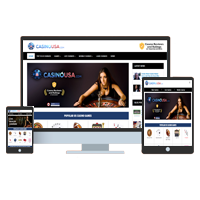 One of the best things with iPhone mobile casinos lies in the word mobile. The main reason to play online games using your iPhone is that you are able to do it anywhere. You only need a stable internet connection and a power bank to support your battery life.
Although you might not be able to find your preferred online casino in the Apple Store, you will most definitely be able to access it via your browser. When you find it, create an account or log into your existing one, and enjoy hours of online gambling on your iPhone from literally anywhere.
This comes in handy if you face a long commute to work every single day, when your friend is late for dinner, or when you don't feel like getting up from your couch to access the online casino from your desktop computer. All in all, it's convenient, and you will love your iPhone even more once you get used to the benefits of mobile casinos.
Customer Support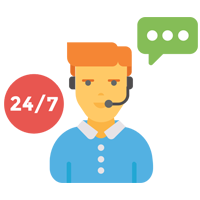 Finally, customer support will be there for you despite the fact that you are visiting a casino through your iPhone. Usually, you can contact them via email or a phone number, but nowadays, there is also a live chat option.
It works like any other app you use to talk to your friends, so we believe you will have no problems finding your way to contacting customer support with your iPhone. Chances are you can do it with your eyes closed, once we consider the time you spend on your phone daily.
Top 3 Mobile Casinos for iPhone
The three casinos below are working great on iPhone devices. Let's check them out.
Wild Casino is a popular US-facing platform that offers a wide variety of games, including
slots, roulette, blackjack, baccarat and more
. iPhone users will be able to access all the games via their mobile browsers.
Mobile Casino: Yes
iPhone App: No
Bonus: 100% up to $1,000
USA Players Accepted: Yes
Slots.lv is a popular platform for US online casino lovers that also happens to be available for iPhone users. Although its main focus are
slots
, you can also play a wide variety of other popular games. It's optimized to work via mobile browsers, meaning you don't need a mobile app to enjoy it on the go.
Mobile Casino: Yes
iPhone App: No
Bonus: $22 no-deposit and 200% up to $5,000 deposit
USA Players Accepted: Yes
BoVegas is a great online casino with cutting-edge security and great support. Apart from popular online slots, iPhone users can also play various table and card games, as well as video poker. The site doesn't offer a dedicated app but is accessible via a mobile browser.
Mobile Casino: Yes
iPhone App: No
Bonus: Up to $5,500 in Bonuses
USA Players Accepted: Yes
Why To Consider Playing On iPhone Casinos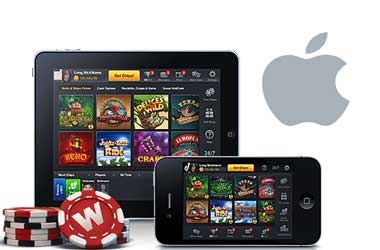 The iPhone is arguably one of the greatest products innovated by humankind and has revolutionized the smartphone market substantially by setting a benchmark which is gold standard.
Apple also take care to continuously and constantly upgrade their iOS software so that you have a smoother, bug – free experience which leaves you content every single time.
We at CasinoUSA.com have a list of all of the best online iPhone casinos which you can play from anywhere in the USA.
This is especially useful because the Apple App Store is not somewhere where you can easily find mobile casino applications for download (especially true if these mobile casinos happen to be real money mobile casinos).
Every casino mentioned on CasinoUSA.com has been tested by us and carefully handpicked to ensure that you are only getting the cream of the crop. Furthermore, we also have a blacklist which will help you avoid shady iPhone casinos which will likely defraud you.
The advantages of using the iPhone casinos listed on CasinoUSA.com are –
Payments are tested, secure, quick and easy to make and withdraw
The casinos have an excellent collection of games
The software on offer is top notch yet simple so you can get started playing in no time at all
Reasons why you should play real money casino games on your iPhone
Touch screen interface is sleek and smooth which makes playing online games enjoyable and effective
Graphics are as good if not better than on the PC
Lastly, the portability factor means you can play from anywhere and at any time so it is convenient and flexible
How To Play iPhone Casinos on your device
There are two ways to play casino games on your mobile phone. You can either download an app from the App Store or access the casino via your mobile browser.
Not all casinos offer mobile apps. As a matter of fact, many of them choose not to make an app, as they would need to make separate apps for Android and iPhone devices. However, the ones on the list that do offer an app definitely have iPhone apps available.
It's worth pointing out that even if casinos have a dedicated mobile app, most of them can still be reached via a mobile browser.
If the casino of your choice offers an iPhone app and you want to use it, all you have to do is find it in the App Store. Most of the time, you'll have to navigate to the site's mobile section where you'll be able to read further instructions on how to set up the app.
But why bother installing the app in the first place? Well, apps allow better customization, meaning online casinos can make a slightly better user experience. On the other hand, HTML5 technology is improving, meaning browser-based platforms do not trot behind apps nowadays.
This means that accessing the casino of your choice via iPhone's browser will probably offer you an equally thrilling experience. HTML5 technology enabled games to be responsive, meaning they can be scaled down to adapt to small screens of mobile phones.
Therefore, if you choose to use a casino via your mobile browser, all you have to do is open the browser and type in the address of the casino. Once there, just sign up (or log in if you already have an account), and you'll be ready to play casino games on your iPhone. The game you choose will automatically load once you click it, and your journey can begin.
Popular Casino Games for the iPhone
iPhone users don't differ that much from traditional casino players, meaning they basically enjoy playing the same group of games as those who visit land-based casinos. However, the only difference is that iPhone casino members can play games anytime they want — even on the go. In other words, their casinos are basically always with them in their pockets, and games are at the tip of their fingers.
iPhone Slots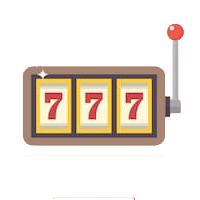 iPhone slots are basically games that you play by accessing them via your mobile device. They are the same online slots you can find in PC online casinos, but their interface is changed to fit a small screen.
All slots that are available in iPhone casinos are optimized for mobile devices to save your phone energy and spend as little mobile data as possible.
iPhone Roulette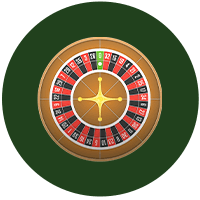 Roulette is one of the most popular casino games, and visitors of land-based casinos love watching the wheel spinning.
That's why many online casino game developers paid special attention to capturing that unique "feeling" when playing roulette and making it available to phone users. In order to play the iPhone roulette for real money, just navigate to the game via your casino app or mobile browser.
iPhone Blackjack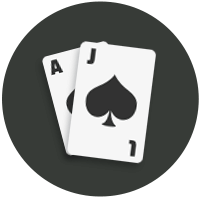 Some mobile casinos offer a wide variety of real money blackjack games and, if you're passionate about this card game, make sure to check out the ones with most options.
Playing the iPhone blackjack is identical to playing its real-life version, except that you can do it anytime you want.
iPhone Baccarat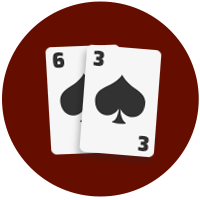 The game of baccarat is also considered one of the most popular choices among casino users. All iPhone baccarat players can enjoy the game in casinos listed on this page.
Real Money Baccarat also comes in various shapes and sizes, so make sure to choose the one that you prefer the most.
iPhone Live Casino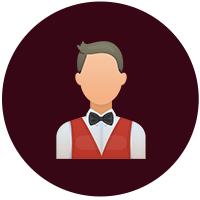 The concept of "live casinos" is not new. Essentially, live casinos are different from the ordinary online ones, as they feature a human dealer who is streamed live from a casino or a special studio.
Therefore, you can watch the dealer live on your iPhone and use your phone to place bets and choose actions.
Live casinos usually have a separate section on casino platforms that are dedicated to them. Once you go there, you'll probably have several different options to choose from, including live blackjack, live baccarat, live roulette and more.
Other Casino Games for iPhone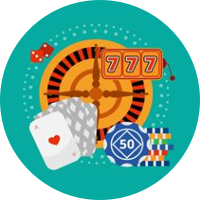 It's safe to say that the game variety on mobile casinos is much higher compared to the land-based ones. Simply put, online casino content developers have more freedom to experiment with games that are available in casinos and come up with new or alter the existing ones.
For example, now there are various versions of iPhone video poker, and the number of slots that are available in casinos is simply amazing. In fact, some casinos offer hundreds of different titles from the best developers in the world.
Playing iPhone Casino Games
In order to get the best possible iPhone casino experience, there are several things that you need to take into account.
First of all, you should know that iPhone casinos are actually online casinos, meaning you are required to have a stable Internet connection. Preferably, you'll connect to Wi-Fi in order to ensure that your connection is good. However, it's also possible to play games by using mobile data.
Playing live casino games on your phone can be data-consuming, as the video is being streamed in real-time. However, you can actually set the quality of live casino video streaming to minimize data consumption.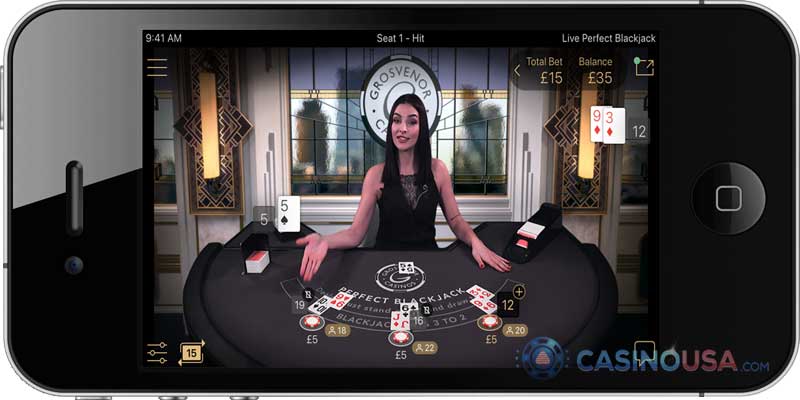 The second thing to pay attention to is your battery. Although the majority of online casino games are made to save your battery power as much as possible, they will still use more power when you play the games than when your phone is idle.
Ideally, you'll want to be near a charger if you play casino games on your iPhone. Even if there's no charger nearby, at least make sure not to use all your battery on playing games.
Best iPhone Casino App Deposit Methods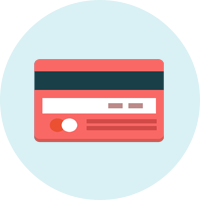 If you don't have experience playing casino games on your mobile device, you're probably wondering what the best possible way to deposit and withdraw money is.
The truth is — all casinos on this list support some of the payment methods that are the most popular in the US. Therefore, it's likely that you'll find credit cards, e-wallets and even cryptocurrencies such as Bitcoin as available banking options. It's up to you to choose a casino that includes the option you're currently using.
Depositing on a mobile casino is not that different from depositing in any other online casino. Just select your preferred payment method and follow instructions on how to successfully make a deposit.
iPhone Casino App Bonuses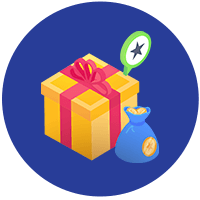 Almost all online casinos nowadays offer some kind of welcome bonus for new players. A welcome bonus usually awards newcomers with an additional sum of money that they can use for playing games on the platform.
We listed some of the best iPhone casino bonuses on this page, meaning that no matter which site you choose, you'll be able to receive a lucrative bonus. Make sure to read more about these bonuses in their respective T&C section to find out more about their wagering requirements, expiry dates, and more.
Apart from welcome bonuses, many iPhone casinos also offer a wide variety of promotions for regular players that will further help you with your mobile gaming adventure.
Final Thoughts
The online casino industry has been actively developing for several years now, and we can expect casinos to become even better on our mobile devices. However, things are already looking pretty good, especially for iPhone users who have plenty of options!
If you're an iPhone owner and like playing casino games, installing an iPhone casino is something that will bring countless hours of entertainment at the tip of your finger.
Therefore, feel free to choose some of the best US casinos for iPhone users and select the ones that suit you the most. Make sure not to forget to claim a welcome bonus before you start to play games.
FAQ
iPhone casinos bring the next level of convenience for fans of real money gambling, allowing users to enjoy the same quality experience wherever they go. But while iPhone casinos are a great evolutionary step in online gambling, they can also be confusing to the inexperienced mobile casino user.
Playing casino games on your mobile device is easy. However, if you're doing it for the first time, you probably have a couple of questions. Let's take a look at some of the questions related to iPhone casinos.
Can I also play these casinos on Android devices?
If the casino is available via a mobile browser, then yes. All you have to do is access the site from your Android browser and sign up. However, if the casino only offers an iPhone app, you wouldn't be able to access that site, unless there's an Android app for it, too. The good news is that most iPhone casinos are accessible via a browser.
Can I Deposit on My iPhone?
Yes and No. Whether a casino allows mobile deposits will be entirely up to the operator. Due to fear of security, some casinos will allow deposits only through a computer. There are also those who would ask you to first set up a payment method on your computer before using that method on your smartphone. The bottom line is that it all depends on the casino itself, although most iOS casinos allow mobile banking.
Are iPhone Casinos Safe to Play?
As you long as you stay away from unknown and unsecured Wi-Fi connections, you have nothing to worry about. SSL /TLS security certificates have been a standard within the online casino industry for quite some time now and you'll rarely find a casino that doesn't have them. SSL/TLS certificates are security protocols that ensure any information you enter will be encrypted before it is sent to the casino. This way no hacker intercepting your personal or banking information will be able to reveal it. The standard is to use a 128-bit encryption, but some casinos might even go for 256-bit versions.
Do I Have to Create a Separate Account?
No. You only need one account for each casino you join. Thus, if you already have a favourite online casino and want to play it on your mobile, all you have to do is visit their site on your device and log in, or download the app, if they offer one.
What Games Can I Play on my iPhone?
Slot games are usually the first games offered on mobile phones, as they are very easy to port. Touch versions of Blackjack and Roulette are also found at almost every iPhone casino, while other games like Poker or Live Dealer are less common. However, most reputed and popular online casinos should offer a variety of mobile casino games.
What is the best casino game to play on my iPhone?
Mobile casinos support all kinds of popular games that you can also find in land-based casinos. All of them work great, especially on the platforms we listed on this page. Therefore, it's up to you to choose your favorite casino game.
What iPhone should I use to play the games?
Mobile casinos are light in terms of system requirements, meaning any iPhone that is up to four or five years old should do just fine. In case you're using an older phone, you might experience slight lags.
Can I Get a Bonus for Playing on my iPhone?
Almost every online casino offers a welcome bonus to those who create an account. Some casinos even offer mobile bonuses that are specifically aimed at mobile players. Thus, you will be able to claim a bonus at whichever iPhone casino you join, often even more than one.
Do I need To Download an App?
This will depend on the casino itself. Some casinos still offer native apps and keep them regularly updated while others have completely stopped using them. The general trend, however, is to offer a fully functional mobile platform instead of a native app. To find out whether you need an app or don't just visit the casino's website and see if the page offers to redirect you to the App Store or not.
Can I Play Free Casino Games on my iPhone?
Yes you can. While not every casino does this, the majority of mobile friendly casinos offer game demos that you can try to see how the games work on your device. And although there's usually no sign up involved for trying game demos, there are some casinos that may ask you to create an account first.
Can I Play iPhone Casinos from Any Location?
This depends on how legal online gambling is in your location. The majority of iPhone casinos will restrict players from countries or states that prohibit online gambling. And even if they don't, you still might face penalties from the government if you are caught gambling illegally. In the UK, however, all you have to do is check whether the casino has a license from the UK Gambling Commission. If it does, you are good to go.
What Kind of Internet Connection I Need for Playing at Android Casinos?
A 3G connection is enough for the games to run smoothly on your iOS device. However, faster connections through 4G or Wi-Fi networks are preferred for a better overall experience.
Does Apple Restrict iPhone Gambling?
Yes it does, but only to ensure your safety. To be allowed in the App Store, an iPhone casino has to be granted permission from Apple. This is usually done after Apple ensures the casino has a license, doesn't charge for app installs, and restricts locations where online gambling isn't' legalized.
Are these casinos also available for PCs?
Yes, the majority of iPhone casinos were originally made as PC casinos and then re-designed to adapt to mobile devices. In other words, you can also access them from your computer and enjoy them as much as you want.
About the Author