Active filters:
Casino Games:
Pai Gow Poker
Clear all filters
18

casinos found based on your search.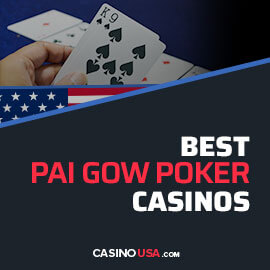 Poker is one of the most complex casino games. It comes in many variants, and all of them require a great dose of skill (and a little bit of luck) to win money. One of the most popular poker variants is Pai Gow, a relatively new form of poker inspired by the Chinese dominoes game.
This guide will tell you all you need to know about Pai Gow poker, including its rules and basic strategies. We will also list several safe and trusted casino sites where you can play Pai Gow poker and win real money.
What Is Pai Gow Poker?
Pai Gow is a relatively new poker game, invented in 1985 by the owner of Bell Card Club, Sam Torosian. It draws inspiration from the traditional Chinese dominoes game of the same name but is instead played with a standard 52-card deck plus the joker card.
The goal is to create the best possible 5-card (high or big) and 2-card (low, small, or minor) hand out of seven cards. The rank of the high hand must exceed that of the low one. The game can feature up to six players.
Pai Gow Poker Rules and Objectives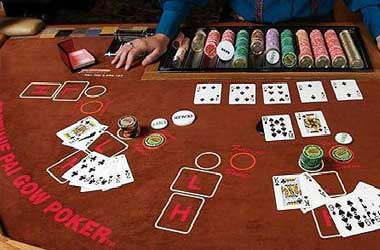 At the start of the game, the dealer deals seven cards to each player, including themselves. For any player to win, they must beat the dealer's (banker's) cards.
A player must make two poker hands out of the seven they were dealt — one 2-card and one 5-card hand.
Note: The 5-card hand combination must rank higher than the 2-card hand.
The dealer also creates two hands, but unlike the players who can set their hands anywhere they like (as long as the 5-card hand beats the 2-card hand), the dealer creates their hands according to specific house rules. To win, you need both hands to beat the banker's two hands, and to lose, your both hands need to lose to the banker.
Pai Gow Poker Hand Rankings
Learning this game will be a breeze if you know how typical poker hand rankings work. Here's a simple table explaining it for those unfamiliar with the rankings, from highest to lowest.
Pai Gow Hand Rankings
Royal Flush
10, J, Q, K, A, all of the same suit
Straight Flush
Five cards in sequence, all of the same suit
Four of a Kind
Four cards of the same value
Full House
Three cards of the same value plus a pair
Flush
FIve cards of the same suit
Straight
Five cards in sequence
Three of a Kind
Three cards of the same value
Two Pair
Two sets of two cards of the same value
Pair
Two cards of the same value
High Card
The highest-valued card is looked at in case no other combinations are in play
Example Round of Pai Gow Poker
The best way to show how a typical round of Pai Gow poker looks is to use an example. We'll keep things simple and imagine that only a single player is playing the banker.
Player: 8♠, 8♥, 10♥, J♥, 9♠, 3♥, 4♥
Banker: 4♣, 2♦, 7♣, 5♣, 8♦, 4♦, 4♠
From here, we can conclude that the best possible combination that a player can make is the following:
Player

High hand: 3♥, 4♥, 8♥, 10♥, J♥
Low hand: 8♠, 9♠
The banker is only allowed to make this hand:
Banker

High hand: 4♣, 4♦, 4♠, 2♦, 5♣
Low hand: 7♣, 8♦
So, the player has a flush on the high hand, which beats the dealer's three of a kind. There are no specific combinations in the low hand of either the banker or the player, but the player's 8♠, 9♠ outranks the dealer's 7♣, 8♦. This means that the player has won both hands and won the bet.
Remember that you need to win both hands to win the round. If you lose both hands, you lose the bet. If only one of your hands wins, the bet is considered a push, and you get your stake back.
Note: In case you foul your hand (your 2-card hand is better than your 5-card hand), you lose the stake.
Joker
As we mentioned earlier, a Pai Gow deck consists of 52 cards plus the joker. So, what's the role of the joker exactly?
Well, it serves as sort of a wild card. You can use it in a five-card hand to complete a straight or a flush. Otherwise, it will always count as an ace.
Payouts
The payouts in Pai Gow poker work a bit differently than in other variations of the game. There are also a few extra combinations a player can create, like a 7-card Straight Flush.
Note: The payouts are made according to the 5-card hand since the only combinations in a 2-card hand can be a pair and a high card.
Look at the table below to understand all winning combinations and their associated payouts.
| Pai Gow Poker Hand | Payout |
| --- | --- |
| 7-card Straight Flush | 8,000 to 1 |
| Royal Flush and Royal Match | 5,000 to 1 |
| 7-card Straight Flush with Joker | 1,000 to 1 |
| 5 Aces (4 Aces + Joker) | 400 to 1 |
| Royal Flush | 150 to 1 |
| Straight Flush | 50 to 1 |
| Four of a Kind | 25 to 1 |
| Full House | 5 to 1 |
| Flush | 4 to 1 |
| Three of a Kind | 3 to 1 |
| Straight | 2 to 1 |
You can also earn the Envy Bonus on all bets of $5 or more. This bonus allows you to get an extra payout on all combinations of Four of a Kind or higher and goes from $5 (Four of a Kind) to $5,000 (7-card Straight Flush).
Free vs. Real-Money Pai Gow Poker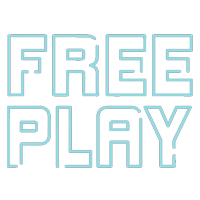 Another tip we didn't mention above: playing Pai Gow poker for free. Yes, it is possible to find this version of poker and play it online just for fun. This is rather useful if you're a beginner player and need more time to get familiar with the rules and pace of the game.
What's more, Pai Gow is fun even when played without money. It's a skill-based game, so you'll surely get joy from making the best possible hand combinations and beating the banker.
Of course, nothing beats the feeling of winning actual money, so once you're ready to showcase your skills on the big stage, you can do so. Pai Gow is a popular poker variant, so you'll have no trouble finding it in a land-based casino and online casinos.
Tips and Strategies for Playing Pai Gow Poker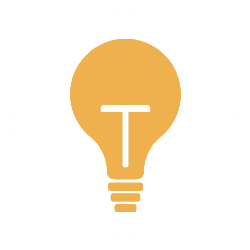 Pai Gow depends on luck more than other poker variants. You can only do so much with the cards you were dealt, and your chances of winning are always going to depend on what the dealer has.
Still, there are a few tips and strategies that can work to your advantage.
Be Familiar With All the Rules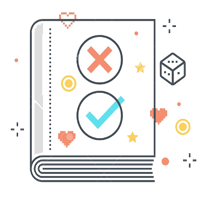 This should be a given, but beginner players often make costly mistakes when playing Pai Gow for the first time. If you foul your hand, you will lose your stake.
Also, if you don't know all the combinations, you might miss out on a good opportunity and put yourself at a disadvantage.
Balance Out Your Hands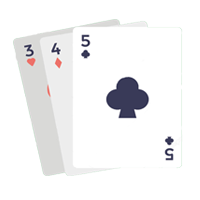 Unlike the banker, the player has the freedom to construct their two hands in any way possible, as long as their high hand outranks their low hand. This means that you'll always have a few ways in which to make a combination.
If you go all out on your high hand, your low hand will likely lose, and the best you can hope for is a push.
Try to make it so that both of your hands are strong enough to have a chance of beating the banker.
Go for the Envy Bonus Only if Your Bankroll Allows It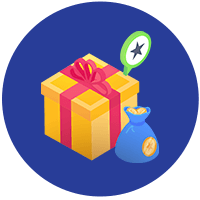 The envy bonus can be pretty attractive but requires that your base bet is $5 or more. However, you can only win this bonus if you get Four of a Kind of higher, which is not a common occurrence.
In other words, don't chase after this unlikely bonus, and bet $5 or more only if you have sufficient funds.
Online Pai Gow Poker FAQ
Whether you are an experienced Pai Gow poker player either in traditional casinos or taking the first steps into playing Pai Gow poker online, it is clear that learning the basics and critical differences with the online version is essential. Here are the answers to the most frequently asked questions about Pai Gow poker in online casinos.
How do you win at Pai Gow poker?
To win in Pai Gow, both your 2-card and 5-card hands must beat the dealer's hands. If only one of your hands wins, the round will end in a push.
Where can I play Pai Gow poker online?
Pai Gow poker is available at many online casinos, but we suggest you stick only to casino sites approved by our team of experts, as you can be sure they are safe, legal, and fair.
What is the RTP of Pai Gow poker?
The RTP of Pai Gow poker ranges between 92.23% and 97.47%. These figures are not exceptionally high, but you can lower the house edge to a minimum if you play perfectly.
Is Pai Gow poker based on skill or luck?
Pai Gow combines skill and luck. Since you can't discard your cards or choose your moves once the cards are dealt, luck is a significant factor. Still, you can rearrange your hands in multiple ways, which means that skill comes into play as well.
What's the best possible hand combination in Pai Gow poker?
The best hand in Pai Gow poker is the 7-card Straight Flush. More precisely, it's the same-suited combination of 8-9-10-J-Q-K-A. Winning with this combination considers a payout of 8,000 to 1. The odds of getting this combination are 5,000,000 to 1.
What's the best strategy for playing Pai Gow poker?
There's no single strategy to help you win at Pai Gow poker. Just make sure to follow the rules, balance your hands, and manage your bankroll.
Can I use casino bonuses to play Pai Gow poker?
Yes, many online casinos will offer bonuses that you can use on their range of games. Pai Gow poker might sometimes be excluded from these bonuses or come with additional limitations, so it's always worth checking the bonus terms and conditions.
Can I play Pai Gow poker for free?
Yes, you can find free versions of Pai Gow poker online. This is a great way to practice before switching to real-money Pai Gow.
Is it legal to play Pai Gow poker for real money?
Whether it is legal to play Pai Gow (or any other gambling game) for real money depends on the laws of your country, state, or province. Even if your local laws are not gambling-friendly, you'll likely be allowed to play on offshore casinos, but always get some professional legal advice before doing so.
Can I play Pai Gow poker on mobile?
Many software developers made their Pai Gow games compatible with the latest mobile devices. Simply log in to an online casino site on your mobile browser or through an app and load the Pai Gow game. You will see that it looks almost identical to the desktop version.
About the Author