Active filters:
Casino Games:
Video Poker
Clear all filters

Wild Casino
Bonus Offer:
$5,000 Welcome Bonus
More Info
Available Games
Slots
Blackjack
Roulette
Live Dealer
Baccarat
Features
Great selection of slots
High-quality live dealer games
Excellent welcome bonus
Crypto-friendly

Ignition Casino
Bonus Offer:
$3,000 Welcome Bonus
More Info
Available Games
Slots
Blackjack
Roulette
Live Dealer
Baccarat
Features
300+ games
Crypto-friendly casino
Live dealer jackpot
Bonus galore for different verticals

Cafe Casino
Bonus Offer:
350% up to $2500
More Info
Available Games
Slots
Blackjack
Roulette
Live Dealer
Baccarat
Features
Accepts cryptocurrencies
Generous welcome bonus
Loyalty program
Kahnawake Licence
37

casinos found based on your search.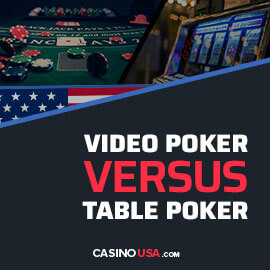 Thus, we will examine the nuances of each poker version, see how dissimilar they are, and help you decide which might suit you best. Read on.
Basics of Video Poker
With a low house edge and the possibility of big wins, video poker emerged on the scene in the 1970s as one of the most popular casino games.
Video poker rules are straightforward — make a bet using one to five coins while the machine deals you five cards.
Most video poker variations are played with a standard 52-card deck. You need to choose which cards you want to keep and which to discard. Discarded cards will be replaced with randomly selected ones (up to five) from the remaining deck, and you will be paid according to your hand value.
Video Poker Pay Tables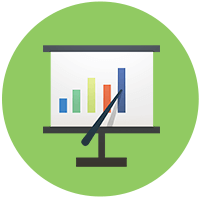 Players can check the financial return of video poker titles by checking the listing of the payouts for every hand combination and coin on the particular machine. However, casinos tend to affect the payout odds, making them looser or tighter, primarily by manipulating how many coins one can win on specific pay categories.
This mainly refers to four-of-a-kinds, full houses, and flushes. Straights and three-of-a-kinds also differ from game to game. Generally, the full house/flush numbers are the key to figuring out the machine's payback percentage and whether you can profit by playing it.
Since each video poker has a different pay table, you must understand and learn how to compare them. Video poker pros only exploit the machines that offer no less than a 99% return. Even if you are new to the game, you shouldn't waste your money on anything that provides less than 97%. For example, Jacks or Better pays nine coins for a full house and six for a flush, so look for the machine that offers that ratio.
Video Poker Jackpots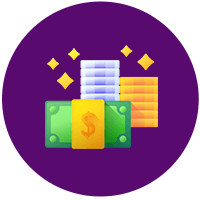 Video poker machines often come with progressive jackpots, allowing players to win big, even on relatively small wagers.
Jacks or Better video poker games have some of the best progressive jackpots around, but you will only have a chance at winning if you utilize the right strategy. The only problem is that those machines usually feature unfavorable pay tables. Thus, you should first find those that offer competitive ones.
Remember to always play maximum coins for the royal flush to qualify for the progressive jackpot. This is the top hand in most video poker variations, typically paying off 800x for five coins. If you wager anything less than that, the payout will always be 250x. Thus, the royal flush jumps from the $1,000 payout for four coins to $4,000 for five.
However, one must know that the chances of winning a video poker jackpot (royal flush) are astronomically high — 1:649,740.
House Edge in Video Poker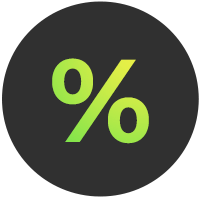 House edge illustrates how much money the house keeps over time.
Most games are purposefully designed to give the casino an advantage. However, the house isn't always the only one to benefit from video poker.
For instance, in a casino game with a 99.54% payback, the house edge will be 0.46%, which is one of the lowest.
Generally, video poker has a house advantage that ranges from 5% to almost 0.5%. And it is even negative in some games, such as Deuces Wild, the house edge is -0.76% based on its RTP of 100.76%.
Basics of Table Poker
Table poker has different rules than video poker but uses the same hands (e.g., royal flush, straight flush, straight, full house, etc.). Each session starts with a predetermined bet, and every player must make a blind before any cards are dealt. Once the game commences, players have a set of actions they can take — check, call, bet, fold, and raise.
The most popular table poker variations, among which are Texas Hold'em and Omaha, feature four rounds:
Preflop — When you receive hole cards
Flop — When you receive the third card
Turn — Upon receiving the fourth card
River — Once you receive the fifth card
To determine who wins, everyone must show their cards in the last stage of the game. Naturally, the one with the best hand scoops the prize pot.
Skill Is Essential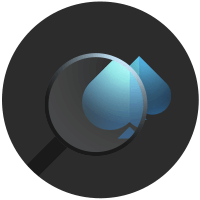 Compared to video poker, table poker requires skill. Poker pros invest years into studying game strategies, and this is because it is a game of skill in the long run. For instance, a good player will eventually win against weaker players.
Thus, the more you train yourself, use the tested strategies, learn how to read and understand people, and make the most out of hand, your skills will pay off over time. There are always high-stake decisions to make in table poker, such as buffing, raising, and calling. So, before making each move, you get to consider multiple scenarios and outcomes in your head to make the best possible decision.
Table Positions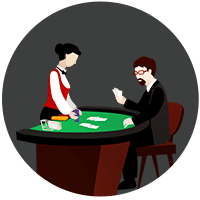 Your table position heavily influences your poker strategy. There are four sections at the poker table, each with its own pros and cons. They are the blinds, early, middle, and late positions.
Early positions, including the small blind, big blind, and under the gun, are the most unfavorable ones, as players have a very tight opening range and little informational advantage.
The middle position allows players to open a wider range of hands, but it must be controlled because more players are left to act.
Late positions (hijack, cutoff, and button) are the most profitable. The cutoff and button are favorable as they also offer a steal opportunity (to open extremely weak hands with the chance of winning the blinds).
Betting Structure/Limit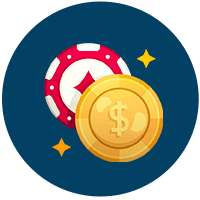 Table poker betting can be structured in a variety of ways. The most common are the following three structures:
No limit — Players may bet all their chips when it's their turn.
Pot limit — Players can bet or raise to the total pot size.
Fixed limit — Betting and raising require fixed amounts.
Similarities and Differences Between Video and Table Poker
Although video and table poker share the term poker in their names and have similar basic rules and hand rankings, this is where the similarities between them stop. Let's discuss a few significant differences between the two games.
Different format — Regular poker is a card game you play at the table against other players, while video poker is more of a poker-themed slot machine.

Skill vs. luck — In video poker, your win partially depends on your luck and decisions. Playing it is much simpler than regular poker, but you cannot significantly affect the result. Meanwhile, table poker requires skill and mental ability for success. Even if you have a weak starting hand, you can manage to win if you are tactical and competent.

Social aspect — Video poker doesn't have a human aspect, while popular table poker variations, such as Texas Hold'em, are sociable as they allow direct interaction with fellow players.

Progressive jackpots — Built-in progressive jackpots are a reward feature integral to video poker games that build over time. They can reach sky-high amounts and be triggered anytime. However, they do not exist in table poker.

Betting limits — In video poker, you make your wagers in betting coins. The number of coins you bet directly reflects how much money you'll win since the pre-set paytable multiplies your stake with the winning combination. However, this is not the case in regular poker, where limits vary considerably depending on the variation you play.
Which Game Should You Choose?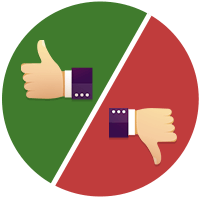 It's impossible to give a definitive answer to this question. You can choose the version that appeals to you more based on how much time you are willing to devote to the game, your skills, the number of stakes you are comfortable with, and your current bankroll.
If you are a novice player, start with video poker due to its simplicity. Video poker is also your best bet if you don't have too much time to spare and want to unwind without strategizing.
However, if you want to test your skills, knowledge, and mental endurance, then regular poker is the real deal, as it will pay out in the long run.
Conclusion
As we have seen, rules and combinations of video and table poker may be the same, but their complexity and skill levels differ tremendously.
Despite the advantages of live-action games, online games are accessible anytime and anywhere. Therefore, you can try out new strategies and test your luck whenever you want. On the other hand, if you are a sucker for live action, you should opt for its table counterpart.
FAQ
Is video poker the same as table poker?
No, it isn't. Video poker is a computerized poker version where you play against the machine. On the other hand, table poker puts you up against other individuals and requires much more serious knowledge and strategic play.
Is video poker a table game?
No, it isn't. Instead of a table, video poker is played on a screen, so you can play it anywhere as long as you have an internet connection.
Does video poker rely on luck, or is there some strategy involved?
Although you must make certain decisions while playing video poker, it also relies on randomness and luck. Thus, your bluffing and mathematical skills are useless in this case.
About the Author