Active filters:
Casino Games:
Video Poker
Clear all filters

Wild Casino
Bonus Offer:
$5,000 Welcome Bonus
More Info
Available Games
Slots
Blackjack
Roulette
Live Dealer
Baccarat
Features
Great selection of slots
High-quality live dealer games
Excellent welcome bonus
Crypto-friendly

Cafe Casino
Bonus Offer:
350% up to $2500
More Info
Available Games
Slots
Blackjack
Roulette
Live Dealer
Baccarat
Features
Accepts cryptocurrencies
Generous welcome bonus
Loyalty program
Kahnawake Licence

BetUS Casino
Bonus Offer:
150% up to $3,000
More Info
Available Games
Slots
Blackjack
Roulette
Live Dealer
Baccarat
Features
Reputable online casino with 26+ years' experience
Wide range of deposit bonuses for sports bettors and casino players
Outstanding customer support
Several different cryptocurrencies accepted for deposits and withdrawals
34

casinos found based on your search.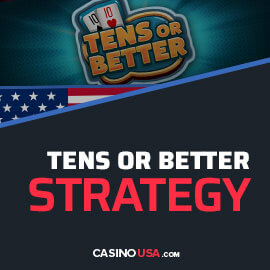 The difference is that Tens or Better also pays for a pair of tens, whereas the minimum paying hand in Jacks or Better contains a pair of Jacks.
Does that mean your chances of winning are higher? It does. But you should remember that whenever a video poker variation comes with a marketed advantage, there must also be a drawback, usually visible in the paytable.
This is where things get interesting, so bear with us as we take another deep dive into video poker variations to help you find the best one for you.
Basics of Tens or Better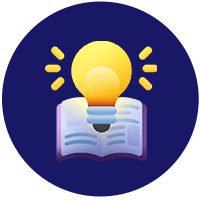 Tens or Better isn't different from any other video poker variation in terms of gameplay, which can be summed up in the following steps.
Make a bet — Choose 1 to 5 coins.
Get five cards from the deck.
Discard and replace up to five cards.
Get paid according to the paytable.
Now, imagine your hand is 10, 10, 5, J, K. If they aren't all of the same suit, all you have is a pair of tens. If you bet one coin, you'll get it back as a payout. It's not much, but it wouldn't be possible in Jacks or Better, for example.
Full Pay vs. Short Pay Tens or Better
To understand the drawback of Tens or Better, we have to compare it to Jacks or Better and explain the terms "full pay" and "short pay".
Full pay video poker has the maximum possible payout structure, whereas short pay options are simply lower-paying games. This difference is determined based on the single-coin payout for full house and flush. Full pay Jacks or Better is also known as Jacks or Better 9/6, meaning the payout for a full house is 9, and for a flush, it is 6 (if you bet one coin).
However, there are several short pay options, the lowest being Jacks or Better 6/5.
But where does Tens or Better rank? There are several options, but we have to include the payout for four-of-a-kind and even straight flush to explore the available variations.
Full pay Tens or Better pays 25/6/5, meaning you'll get 25 coins for a four-of-a-kind hand, 6 for a full house, and 5 for a flush. There are no options with a higher payout than that, which is exactly where Tens or Better compensates for introducing a pair of tens as a paying hand.
If you compared 9/6 Jacks or Better's payout (99.54%) to 25/6/5 Tens or Better's (99.14%), you'd see that Tens or Better has a slightly lower return-to-player percentage.
Here's an overview of all available Tens or Better combinations.
| Type of Tens or Better | Payout percentage (when using the optimal strategy) |
| --- | --- |
| Full Pay Tens or Better (25/6/5) | 99.14% |
| 25/6/4 Tens or Better (extremely rare) | 98.10% |
| 25/5/5 Tens or Better (extremely rare) | 97.99% |
| 20/6/5 Tens or Better | 97.96% |
| 40/20/6/5 Tens or Better (extremely rare) | 97.86% |
Optimal Tens or Better Strategy
To maximize your success at Tens or Better, it's important to stick to the optimal strategy, so make sure to research it further. Let us get you started with some essential tips.
Low pairs aren't worth it, as a pair of tens is the minimum paying hand. Therefore, make sure to discard low pairs if there's a possibility for a straight or a flush.

If you don't have anything in your starting hand, you can think about keeping cards with a value of ten or higher to hope for a pair and your money back.

Always go for the bigger payouts whenever possible instead of settling for a pair or two pairs.

Always bet five coins to maximize the payout percentage.
Conclusion
Tens or Better may not be as popular as Jacks or Better, but it's still one of the most played versions of video poker, offering players a chance to get paid even for a pair of tens. There are several variations of this game, each with a different payout structure, and we recommend sticking to 25/6/5 for the best experience.
FAQ
What is full pay Tens or Better?
It's a type of Tens or Better that has the highest payout with 25/6/5 and 99.14% RTP if played at optimal strategy.
How to win at Tens of Better?
The lowest winning hand is a pair of tens, and the round is yours as long as you get any of the paying hands.
Does Tens or Better have an increased payout compared to Jacks or Better?
Unfortunately, Tens or Better has a slightly lower payout than Jacks or Better (99.14% compared to 99.54%).
What is the best Tens or Better strategy?
Just like with Jacks or Better, explore the optimal strategy chart and understand which cards to swap based on your starting five-card hand.
About the Author