40

casinos found based on your search.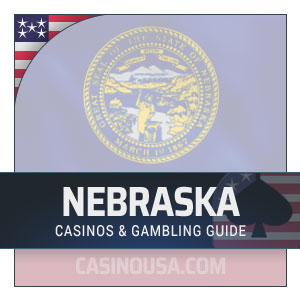 There aren't too many gambling options for those in the state of Nebraska to enjoy.
This leads to residents looking for legal ways to enjoy gambling, whether it be travelling to other states or taking the more cost effective and convenient route of joining an online casino.
Luckily, players will be fine playing at one of the offshore online poker sites or online casinos.
It's good that these offshore gambling sites are an option since it doesn't look like online gambling is going to be made legal in the state at least in the very near future.
Casinos in Nebraska
Casinos do come in many different shapes and sizes these days and you will find that in addition to there being land based casinos you will also have access to online and mobile casino sites, no matter where you live in the world or where you intend to visit on any up and coming trip or vacation.
We have spent quite a bit of time recently compiling a set of guides that are dedicated to casino gambling in every single US State and this one a you may have already worked out is dedicated Nebraska casinos and what you will find on offer if you fancy playing casino games in that US States.
We are also going to enlighten you on facts and figures about Nebraska below and will also let you know what agencies oversee, license and regulated casinos in Nebraska too. Please do read on for when it comes to you having any enjoyable gambling experience when playing casino games in Nebraska you really do have plenty of choice in regards to where you can play and just which game you will have full access too when visiting Nebraska now or in the future.
Nebraska State Stats
Nebraska is in regards to size the 16th largest US State and is a total of 77,358 total square miles in size and if you wish to gamble at a casino either an online or in a land based casino in any US State and you are from Nebraska then you have to be over the age of 21 to be able to legally do so.
Nebraska is known by the abbreviation of NE the current capital city is Lincoln which became the capital city in the year 1867 it has a municipal population of 258,379 people. There are land based casinos in this US State and you will also be able to play online casino games at one of many different online casino sites too.
Gambling Laws in Nebraska
The gambling laws in Nebraska are just as strict as in any other US State, and one thing that you will need to be aware of if you do intend to gamble in any casino when visiting Nebraska is that you have to be over the age of 21 to do so.
All casino games offered to players in Nebraska have to be fair and completely random, and there is of course a complaints procedure that you can go through if you experience any problems with any licensed casinos in Nebraska. Also be aware that online casinos that you can access in Nebraska will be licensed in offshore jurisdictions, the gambling jurisdiction that licenses each different casino site will be indicated on each casino website.
Top Bricks and Mortar Casinos in Nebraska
Lucky 77 Casino – The first casino we think you may wish to visit is this one and the address and phone number is as follows: Address: 200 Main St, Walthill, NE 68067, USA Phone: +1 402-846-5545
Native Star Casino – Another casino worth visiting is this one and the contact details are as follows: 1501 Industrial Parkway, 77 & 75 Hwy, Winnebago, NE 68071, USA Phone: +1 402-878-2901
Ohiya Casino and Resort – One additional casino that you may wish to visit when in this US State or the local area is this one and the contact and address of this casino is: Address: Address: 53142 NE-12, Niobrara, NE 68760, USA Phone: +1 402-857-3860.
Nebraska State Gambling Resources
In Nebraska there are two different agencies that oversee and regulate gambling activities in that US State and those agencies are the Nebraska Charitable Gaming Division and the Nebraska Lottery for more information on how they do regulate, license and oversee gambling activities in this State please check out their respective websites for more details.
If you live in Nebraska and you feel that you may have a gambling problem or are not in control of your gambling activities then you will be best advised to seek help and support from Nebraska Gamblers Anonymous who offer free and confidential advice and support to anyone with or who is affected by any type of gambling addiction problem.
Advice for Casino Gambling in Nebraska
One word of advice if you are thinking of spending any amount of time playing casino games in Nebraska is that you should always try and play the casino games that offer you the best winning payouts such as the game which come with the highest payout percentages and the lowest house edges.
It really will pay dividends for you to track down and make use of that information as some casino games can and will pay back much more than other casino games and you will only ever want to play the highest paying games when playing with your own hard money in Nebraska!
FAQ
If you are now thinking of spending some time visiting one of the many casinos that are based in Nebraska then you are of course free to do so at any time, however if you have any questions about doing so then please read on for we think the following section will be also of interest to you too.
Below we will answer some of the most commonly asked questions related to both land based bricks and mortar and online casinos that will be available and on offer or you if you ever choose to visit Nebraska!
What happens when I first join a casino comp club?
It's not really very exciting. You stand in line, ID in check, you are given a card, asked to choose a PIN number, and get some free slot play. However, your name is then on the system for eternity, meaning should you return after 20+ years, your comps and credits are remembered. Ideal for those that aren't really big gamblers or those of us that travel to do it!
Does my Comp Card expire?
To maintain the security of your account, a bit like banks, your card does expire. However, unlike banks where you wait for days for a new card, casinos issue new ones instantly. Also the process is easier than riding a bike! Simply take your old card and passport to the desk and they'll issue you a new one! Piece of cake!
What should I be wary of?
Casino life is a very interesting thing. You see the best of the worst, but the worst of the best. Paupers become Princes, while Princes become Paupers. Simply put, trust no one. The high roller in Manolo Cuban heels and draped in the finest fur coat and hat, is more than likely as broke as the rest of us. Yet the lady wearing a strange combination of charity shop and thrift store stuff is more than likely loaded! The former will offer you a 'loan', complete with interest and the risk of being taken to court. The latter will buy you a coffee and decent conversation.
If I live Nebraska can I play volatile slot machines?
Volatile slots are famed for being fast playing slot machines that we just know players in Nebraska will enjoy playing however there are a huge number of them available so you may not know just which Volatile slots to play first or the ones that you will enjoy playing the most. With that in mind the above Aftershock slot video which is of course a Volatile slot will allow you to watch that slot being played and you can then judge for yourself if you wish to add it onto your list of slots to play soon when you are next in a slot playing frame of mind! We do think however you will enjoy playing the Aftershock slot!
Can I play video poker at home in Nebraska?
Being a Nebraska based video poker player does mean you have lots of different casino sites you can play at and lots of different video poker games you can access and play too. However, savvy Nebraska based players will also be looking for the variants offering them the best paying pay tables. Pick'em Poker is a popular video poker game variant and one that has a payout percentage of 98.74% when you play it at a Real Time Gaming casino site, so make sure if you do ever get the urge to play video poker from home anywhere in Nebraska then that is a game worth tacking down and playing!
Land Based Casinos By States
About the Author