Active filters:
Clear all filters

Wild Casino
Bonus Offer:
$5,000 Welcome Bonus
More Info
Available Games
Slots
Blackjack
Roulette
Live Dealer
Baccarat
Features
Great selection of slots
High-quality live dealer games
Excellent welcome bonus
Crypto-friendly

Ignition Casino
Bonus Offer:
$3,000 Welcome Bonus
More Info
Available Games
Slots
Blackjack
Roulette
Live Dealer
Baccarat
Features
300+ games
Crypto-friendly casino
Live dealer jackpot
Bonus galore for different verticals

Cafe Casino
Bonus Offer:
350% up to $2500
More Info
Available Games
Slots
Blackjack
Roulette
Live Dealer
Baccarat
Features
Accepts cryptocurrencies
Generous welcome bonus
Loyalty program
Kahnawake Licence
39

casinos found based on your search.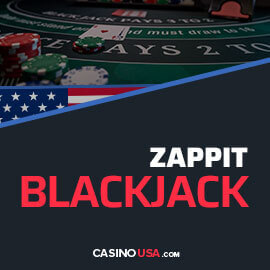 In this article, we'll quickly cover the basics of Zappit Blackjack and teach you how to play it in online casinos. Moreover, we'll briefly overview the game's odds and house edge and answer some of the frequently asked questions.
Zappit Blackjack Basics
The main difference between the standard and Zappit Blackjack is that players can "zap" their hand if it's 15, 16, 17, or even 18 in some land-based casinos.
So, what does it entail to zap a hand?
It simply means you can get another two cards instead of the pair you received from the dealer during the initial dealing phase. In other words, you're getting a second chance to win, so take advantage of it.
In Zappit Blackjack, as in many similar games, every advantage comes with a few drawbacks. For instance, the dealer doesn't bust if they reach 22. Instead, it's a push in that case. All players who had a blackjack initially will get to keep their wins, while those who busted before the dealer reached 22 still lose.
How to Play Zappit Blackjack
In any blackjack game in online casinos, the first step is to place a bet in the betting circle. In a live game, players use chips to wager.
Next, the dealer gives out two face-down cards to all players. They, on the other hand, get one card facing up and one facing down, just like in the standard blackjack option. Zappit Blackjack also offers insurance bets if the face-up card is an ace.
The round starts as usual, with all players with a blackjack immediately winning the game. The participants have all the options at their disposal, including hit, stand, double down, split, or surrender. Of course, if they get the sum of 15–18, they can hit the zap button and change cards entirely.
Once all players sitting at the table have declared their actions, it is time for the dealer to reveal the second card. In this case, there are several scenarios.
If the dealer has 18 or higher, they must stand. If they have 16 or lower, they must hit.
The dealer will hit if they have a soft 17 (a hand with an ace) or stand if it's a hard 17.
If the dealer goes over 22, they bust and lose, meaning the house loses. If they have 22, it's a push, but those with a natural blackjack win.
In case the player has more points than the dealer without going above 21, the dealer matches the bets on the table as a win.
If the player has fewer points, it's a loss. If both the dealer and the player have the same number of points, it's a push.
Odds and House Edge of Zappit Blackjack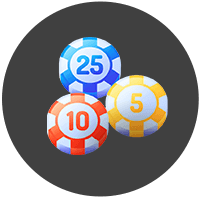 The slight changes added to the rules of Zappit Blackjack also affected the game's house edge, which is a bit higher than the standard version, as there's a 1.36% difference.
The payout for the game is slightly different depending on whether you decide to play in an online or land-based casino. Online, the payout is 3:2, whereas the land-based offer is 6:5 on winning hands. Therefore, it's safe to say that the return-to-player percentage is much worse for the brick-and-mortar variant of Zappit Blackjack.
Conclusion
Zappit Blackjack offers a new level of excitement for blackjack players. Even though the standard variant is pretty fun and engaging, long-time players often seek new thrills, and the option to zap cards and get new ones is definitely something that can spark interest. Even if you're new to the world of blackjack, trying Zappit is an exhilarating experience.
Zappit Blackjack is available in a wide range of online casinos, and some of the best options are featured on this page, so feel free to check them out and try Zappit for free or for real money.
Of course, these operators offer hundreds of other games, including other exciting forms of 21, either as RNG or live dealer titles. Besides blackjack, you can find baccarat, roulette, craps, slots, jackpot games, and more.
FAQ
Is there a good Zappit Blackjack strategy?
Yes, there are great strategy charts that will tell you exactly what to do in every possible situation. In general, whenever you have a chance to zap your cards (while on 15, 16, and 17), you need to do it. It's usually advised to stand on 18, but if you have 9, 10, or an ace, it's better to zap (if possible).
Can I play Zappit Blackjack for free?
Yes, you can. Many online casinos offer the free version of Zappit Blackjack, which is essentially the same game, but you can use the fake credits provided by the casino to play it. Even though this is a great way to test various features, you won't receive real-money payouts. Nevertheless, playing for free is almost as fun as playing for real money, and you can explore the zap feature without spending a dime before switching to real money play.
What is a zap in Zappit Blackjack?
A zap is technically a change of cards. Namely, if players have 15, 16 or 17 (or even 18 in some cases), they can use the zap feature and get two new cards. This is a helpful feature, but it's also a gamble. However, many Zappit Blackjack strategies agree that 15, 16, and 17 should be zapped whenever possible.
Who created Zappit Blackjack?
Zappit Blackjack was created by Geoff Hall, who is currently considered one of the leading inventors in the world of casino gaming. In addition to Zappit Blackjack, he designed several other forms of this game, including Blackjack Switch, Free Bet Blackjack, and Zombie Blackjack.
About the Author