Active filters:
Clear all filters

Wild Casino
Bonus Offer:
$5,000 Welcome Bonus
More Info
Available Games
Slots
Blackjack
Roulette
Live Dealer
Baccarat
Features
Great selection of slots
High-quality live dealer games
Excellent welcome bonus
Crypto-friendly

Cafe Casino
Bonus Offer:
350% up to $2500
More Info
Available Games
Slots
Blackjack
Roulette
Live Dealer
Baccarat
Features
Accepts cryptocurrencies
Generous welcome bonus
Loyalty program
Kahnawake Licence

BetUS Casino
Bonus Offer:
150% up to $3,000
More Info
Available Games
Slots
Blackjack
Roulette
Live Dealer
Baccarat
Features
Reputable online casino with 26+ years' experience
Wide range of deposit bonuses for sports bettors and casino players
Outstanding customer support
Several different cryptocurrencies accepted for deposits and withdrawals
35

casinos found based on your search.
So, in this quick but comprehensive guide, we'll tell you everything you need to know about surrendering in blackjack. Let's begin.
What is Surrender in Blackjack?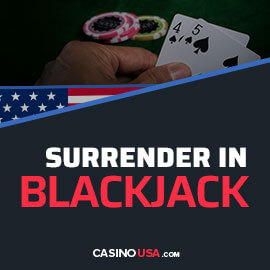 The surrender rule in blackjack is an option that lets you surrender the bet you've already placed. It's an option you can use after placing your bet, receiving your two cards, seeing the dealer's up card, and before the dealer draws new cards.
In other words, you get to surrender instead of hitting, standing, splitting, or doubling. It's one of these main actions you get to make in a typical blackjack game.
Once you've chosen the option, you receive half of your bet back and wait until the hand ends. Your hand is effectively dead, and the house gets the other half of your stake. Even if the dealer busts, you'll still lose as you've surrendered your stake in the game.
It's an optional rule you can take advantage of when you believe you'll lose the hand. If a loss is almost a certainty, it's better to get half your money back than to lose all of it.
In general, there are two types of surrender in blackjack:
Early surrender — You get to use the option before the dealer sees the hole card and if they have blackjack.
Late surrender — You get to use the option after the dealer checks their hand to see if they have blackjack.
In both cases, you lose half and keep the other half of your bet while simultaneously surrendering the whole hand.
When to Surrender in Blackjack
Besides respecting the rules for when the surrender option is available, you still need to consider if surrendering is the right course of action in your current predicament.
In essence, you should surrender when the odds are fully and clearly against you.
What's more, there are two specific situations in blackjack when surrendering is 100% the best option:
You have a 15, and the dealer has a 10.
You have a 16, and the dealer has a 9, 10, or an ace.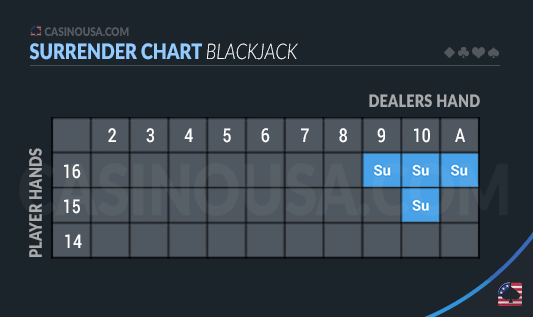 In the second case, you shouldn't surrender if the 16 comes from two 8s. If you have two 8s, it's better to split them and continue playing instead of surrendering.
Naturally, many other hands exist where the surrender option might be the best course of action. However, the general rule is that you should surrender if your hand has less than a 50% chance of winning.
How Does It Affect the Betting Strategy?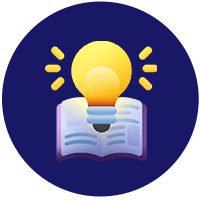 The effect of the surrender option is quite evident in a basic blackjack strategy — it reduces the house edge by 0.7% to 0.9%.
The exact percentage depends on the game rules and what blackjack variant you're playing.
It effectively leads to a tiny improvement, but since blackjack is partly a game of skill, not just chance, every slight improvement is good for you.
For example, if you're a typical $10 bettor, surrendering at proper times will likely get you around $0.50 for every hour you play. It's not much, but it's certainly better than nothing.
Pros and Cons of Blackjack Surrender
Let's take a quick look at the pros and cons of surrendering in blackjack.
It reduces the house edge in specific situations
It is profitable for card counters
It allows you to get out of a losing hand partly
You only lose 50% instead of the entire bet
Card counting is not possible in online blackjack games with the surrender rule
It is not always easy to determine whether you should surrender or continue playing
Conclusion
The surrender option is interesting and very useful in specific blackjack situations. If you're a good blackjack player who employs various playing strategies, the surrender option will be incredibly useful in certain situations, especially when you know you'll lose.
Getting half your bet back is always better than losing all of it, and that's precisely what makes surrender an option you should consider using.
FAQ
About the Author