Active filters:
Clear all filters

Wild Casino
Bonus Offer:
$5,000 Welcome Bonus
More Info
Available Games
Slots
Blackjack
Roulette
Live Dealer
Baccarat
Features
Great selection of slots
High-quality live dealer games
Excellent welcome bonus
Crypto-friendly

Ignition Casino
Bonus Offer:
$3,000 Welcome Bonus
More Info
Available Games
Slots
Blackjack
Roulette
Live Dealer
Baccarat
Features
300+ games
Crypto-friendly casino
Live dealer jackpot
Bonus galore for different verticals

Cafe Casino
Bonus Offer:
350% up to $2500
More Info
Available Games
Slots
Blackjack
Roulette
Live Dealer
Baccarat
Features
Accepts cryptocurrencies
Generous welcome bonus
Loyalty program
Kahnawake Licence
40

casinos found based on your search.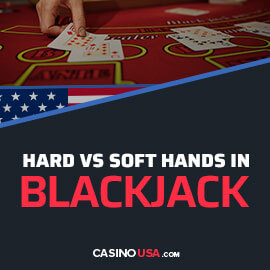 Hence, you need to understand the concept of hard and soft hands to maximize your blackjack sessions.
The purpose of this article is to explain what hard hands and soft hands are, and how they affect the basic strategy.
The Meaning of Hard and Soft Hands
The phrase soft and hard hands basically refers to the hand composition.
A soft hand is a hand that contains an ace. This type of hand is considered more player-favorable due to its flexibility. Namely, when you're holding an Ace, you can adjust your hand total, depending on the situation. It can count as one or ten, depending on what favors your total more.
When you have a soft hand, you can't go bust when hitting because you can change the value of the ace at any time. So, even if you draw a ten-card, you can't bust with a one-card hit when you receive the third card. For instance:
Let's say you're dealt with an ace and an 8.
The value of your hand would be 19 or 9, depending on which total is more favorable to you.
If your third card is a nine, the ace in your hand will count as one so the total of your 3-card hand would be 18.
Conversely, hard hands are initial hands that lack an ace. Therefore, they provide less liquidity and fewer choices for the player. For example, if you hold a 5 and a 7, you'd have a hard 12.
Hands that have an ace that counts as one are also classed as 'hard.' For example, if you have a 10, a 4 and an ace, that would be 'a hard 15.'
The Dealer Rules with Hard and Soft Hand Totals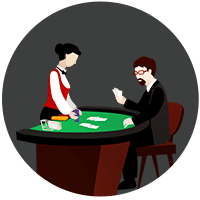 As we discussed earlier, soft hands are advantageous to whoever receives them. Obviously, that applies both ways. It is also possible for dealers to land soft hands.
This is where the S17 vs H17 rule comes in. Some casinos require dealers to hit on soft 17 while in others dealers stand on soft 17.
Tables with H17 are generally considered bad for the player. This is because the dealer will inevitably improve their soft 17 hand with a better total. More specifically, the house edge with H17 tables is 0.22% higher than in those with S17.
How Does Betting Strategy Change for Soft and Hard Hands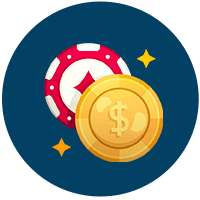 The only way to reach the optimal 0.5% edge in blackjack is by utilizing the basic blackjack strategy correctly. The basic strategy chart outlines the mathematically correct way to play each hand, taking into account both your and the dealer's total.
Only a small percentage of players can correctly apply basic strategy. It's mostly because they don't know about it or they aren't patient enough to see it through. In any case, most players are prone to making misplays, which can increase the house edge by up to 4% or even more.
There are a few variables within the basic strategy, including number of decks played and the S17 rule.
Depending on whether the S17 rule is in effect, you should adjust your basic strategy accordingly. The changes are mainly regarding doubling down in certain situations. For example, you should double down on 11 if the dealer shows an ace and hits a soft 17. Also you should double down if you're holding a soft 18 and the dealer has 2, and double down on a soft 19 if the dealer has 6.
In games with four decks or more, you'll also double down on soft 17 when the dealer's up card is a 2.
Conclusion
One of the most important concepts in blackjack is soft and hard hands as it directly impacts your basic strategy configuration and therefore, your chances of winning. Hence, you should always check the rules for blackjack in your chosen casino in relation to S17 vs. H17.
You should choose tables that use the S17 rule, as it is more player-friendly in the long run.
FAQ
What are soft hands in blackjack?
A soft hand in blackjack is a hand comprising an ace that's valued 11 which implies that it won't go bust if an extra card is drawn.
What are hard hands in blackjack?
Hard hands are either hands that don't comprise an ace or hands that have an ace that's valued as one.
How does the dealer H17/S17 rule affect the house edge?
Blackjack games where the dealer hits on soft 17 have a .22% higher house edge than games with S17 rule in effect.
Does hand composition affect basic strategy?
Yes, soft and hard hands directly impact certain betting decisions highlighted in the basic strategy sheet.
About the Author