Active filters:
Clear all filters

Wild Casino
Bonus Offer:
$5,000 Welcome Bonus
More Info
Available Games
Slots
Blackjack
Roulette
Live Dealer
Baccarat
Features
Great selection of slots
High-quality live dealer games
Excellent welcome bonus
Crypto-friendly

Ignition Casino
Bonus Offer:
$3,000 Welcome Bonus
More Info
Available Games
Slots
Blackjack
Roulette
Live Dealer
Baccarat
Features
300+ games
Crypto-friendly casino
Live dealer jackpot
Bonus galore for different verticals

Cafe Casino
Bonus Offer:
350% up to $2500
More Info
Available Games
Slots
Blackjack
Roulette
Live Dealer
Baccarat
Features
Accepts cryptocurrencies
Generous welcome bonus
Loyalty program
Kahnawake Licence
40

casinos found based on your search.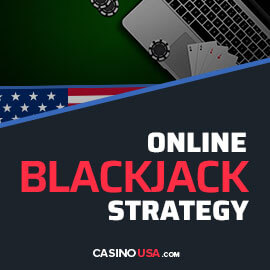 When the basic strategy is applied correctly, it can reduce the house edge in blackjack to 0.5% — one of the lowest of all casino games.
Getting your head around the basic strategy at first can be tricky, but you'll quickly become accustomed to it. Our guide will teach you the ropes and show you how to maximize your profits the next time you hit the blackjack tables. It includes the basic strategy rules, charts, odds, and anything else you need to know to get the best bang for your buck.
What Is Basic Online Blackjack Strategy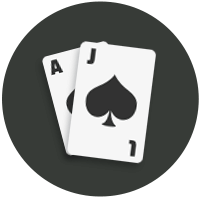 Blackjack is a game of mathematics and statistics. Therefore, increasing your chances of winning is possible with a mathematical formula.
Enter basic blackjack strategy — a method devised in the 50s by four engineers in Maryland. They constructed it while serving in the army, a time long before modern computers existed, making the achievement all the more impressive.
So what is a basic blackjack strategy?
It's a mathematically-proven system that tells you the best way to play each hand and what decisions to make regarding the five main actions in blackjack: hit, stand, double down, split, and surrender.
This strategy takes into account your two initial cards and the dealer's community card, and it tells you which mathematically correct decisions are applicable in each scenario. It won't guarantee a win every time but will drastically reduce the house edge.
Today, this method is widely used in online and land-based casinos worldwide.
Odds When Using Basic Blackjack Strategy
The house edge reduction caused by applying the basic blackjack strategy is determined primarily by deck count and the rules used in the variation.
With the optimal blackjack strategy, you can reduce the house edge in blackjack to 0.5%. The game would otherwise have a steadily growing house edge of about 2%. While these few percentage points may seem insignificant, they can add up.
Players sometimes doubt the effectiveness of the basic strategy, but that's because they haven't played long enough to see its full potential. One must play thousands of hands before this system shows any real benefit, making it suitable for high-volume players.
Strategy Charts — What Moves to Make?
The basic strategy is outlined in a color-coded sheet for easier interpretation. On the grid, each field displays a mathematically correct decision based on your total and the dealer's upcard.
System characteristics vary considerably depending on house rules regarding drawing and standing, the number of decks used, and variation-specific rules (such as the availability of late surrender).
Here are two charts summarizing the basic strategy for 4–8 deck blackjack (the most common number of decks used) when the dealer hits on soft 17 and stands on soft 17, respectively.
Dealer Hits on Soft 17

Dealer Stands on Soft 17

While the strategy charts may seem overwhelming initially, you'll find them quite easy to read once you get the hang of them.
The dealer's upcards are shown horizontally, whereas the player's totals are listed vertically. The optimal move is found in the boxes where the two values intersect.
For example, if you have an ace and a two and the dealer reveals a seven, the correct play would be to hit, as per the chart.
Conversely, the chart indicates that you should stand if you're dealt an ace and a seven, and the dealer shows a seven.
Final Thoughts
The basic online blackjack strategy is a great way to maximize your return on investment while minimizing losses. Consistency is key to success. Make sure you follow the method from start to finish. Be patient, and don't stray off course even if you hit a dry spell.
This method has repeatedly proven efficient, and thousands of blackjack players across the globe use it daily.
It is important to remember that regardless of whether you implement the basic strategy, the house will always win. Over a large number of hands, it will keep approximately 0.5% of your total wagers. Despite this, blackjack is one of the highest-paying casino games.
Using our blackjack tips and tricks page, you can reduce the house edge further. We also have dedicated pages for different varieties of blackjack, so be sure to check them out before you get in on the action.
FAQ
Is basic strategy the best way to play online blackjack?
According to the general consensus among professional players, the basic strategy is the best option based on the game's rules and patterns.
Is there an advanced strategy in blackjack?
After you master the basic strategy in blackjack, you should learn a few other techniques to take your game to the next level, including counting cards and applying betting systems.
Is there a basic strategy for single-hand blackjack?
Yes, there is. The kicker here is that very few casinos offer this blackjack variant. Applying the basic blackjack strategy in single-deck versions could bring down the house edge to a mere 0.17%.
Does basic blackjack strategy take into account side bets?
No, it only factors in the main-hand wagers. Side bets pay out separately from them and are not featured in the basic blackjack strategy charts.
Does the "dealer hit on soft 17" rule affect basic strategy?
Yes, the "hit on S17" rule significantly impacts the basic strategy. Before you begin playing, check the paytable and see the casino's position on this rule.
About the Author