Active filters:
Clear all filters

Wild Casino
Bonus Offer:
$5,000 Welcome Bonus
More Info
Available Games
Slots
Blackjack
Roulette
Live Dealer
Baccarat
Features
Great selection of slots
High-quality live dealer games
Excellent welcome bonus
Crypto-friendly

Ignition Casino
Bonus Offer:
$3,000 Welcome Bonus
More Info
Available Games
Slots
Blackjack
Roulette
Live Dealer
Baccarat
Features
300+ games
Crypto-friendly casino
Live dealer jackpot
Bonus galore for different verticals

Cafe Casino
Bonus Offer:
350% up to $2500
More Info
Available Games
Slots
Blackjack
Roulette
Live Dealer
Baccarat
Features
Accepts cryptocurrencies
Generous welcome bonus
Loyalty program
Kahnawake Licence
40

casinos found based on your search.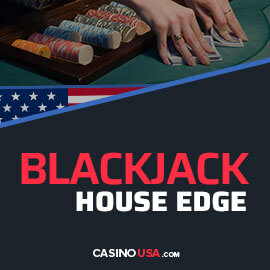 You probably stumbled upon the term house edge if you have at least some experience playing casino games. This article will discuss house edge and how it works in blackjack.
Most importantly, we'll cover how to decrease the house edge in the popular card game, as blackjack is one of the few casino games where your skills can actually affect the element of chance. Without further ado, let's jump right in.
What Is House Edge?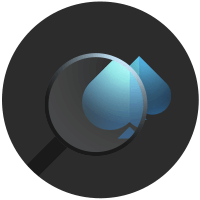 Whenever you play a casino game, a small percentage of the money will go to the casino.
Simply put, every casino game is created in such a way to give a slight advantage to the casino (the house).
For example, if the house edge is 2%, the casino will, on average, earn $2 for every $100 that players wager. Of course, the remaining $98 will return to players via prizes. Naturally, some players are luckier than others, so they will earn more while others might not win anything.
How Does House Edge Work in Blackjack?
The overall house edge in blackjack is around 2%. However, this only applies to inexperienced players who do not use sophisticated blackjack strategies. In other words, if you play blackjack for the first time, you can expect the house edge to be about 2% (the percentage of the wagered money the casino will win).
But how does it get to this?
Several factors contribute to the house edge in blackjack, including the fact that the player needs to act first and sometimes even bust without the dealer doing anything. Even if the player decides to stand, the dealer can still win.
It takes a knowledgeable mathematician to consider everything and determine the overall house edge, and we're definitely not going to deal with math here. Instead, we'll just have to trust that the rules of the games will leave the dealer with a slight edge over the player.
Of course, blackjack has many variations, and some even allow you to double down and split your bet, which can further affect your house edge. Some blackjack games will permit you to surrender and get 50% of your stake back, which can also be part of a strategy. Some forms even have additional rules on when the dealer has to stand or take another card.
Because there are several actions you can do, using them the right way can help you reduce the house edge.
How to Decrease the House Edge?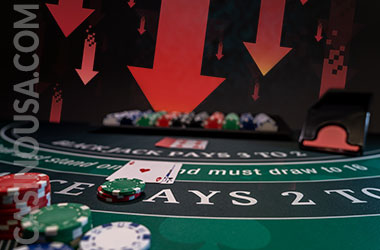 With only around 2% house edge, blackjack is already one of the games with the highest return-to-player percentage in casinos. However, did you know you can lower the house edge even more?
Every type of blackjack has a corresponding strategy that can further decrease the house edge. If you use it right, the house edge can get as low as 0.5%.
The strategy mainly revolves around doing the right thing with every card combination. Professional blackjack players came with an exact chart on when to hit, stand, or do other actions if possible, such as splitting and doubling down. The chart also considers the dealer's card and other rules, which is why you need to find an adequate chart for the type of blackjack you decide to play.
Another strategy used by blackjack players is called card counting. Some even claim that it can give players an edge over the house, but that has never been officially confirmed. One thing is certain — casinos frown upon card counting, and they reserve the right to ask you to stop playing if they suspect you of counting cards.
So, what exactly is card counting?
It's a simple technique where players keep a count of all the played cards by assigning them positive and negative numbers. Essentially, they are keeping a count of all the high and low cards played in previous rounds to learn whether they have an advantage in the remaining hands, in which case they want to make bigger bets.
Conclusion
To sum up, playing blackjack is an exciting experience, and you can further improve it by using the right strategy, which will decrease the house edge. Therefore, if you're interested in playing blackjack online, we suggest checking out the strategy charts and how they affect the gameplay.
FAQ
What's the house edge in blackjack?
The house edge in blackjack is around 2%. However, some blackjack options may have a slightly different percentage due to different rules.
Can I decrease the house edge in blackjack?
Yes, with the right strategy, you can decrease it to as low as 0.5%.
Which casino game has the lowest house edge?
Blackjack has the lowest house edge among casino games, especially when using the right blackjack strategy.
Which blackjack game has the lowest house edge?
Single-deck blackjack's house edge starts at 1.5% and can get lower with applying the right strategy.
About the Author