Active filters:
Clear all filters

Wild Casino
Bonus Offer:
$5,000 Welcome Bonus
More Info
Available Games
Slots
Blackjack
Roulette
Live Dealer
Baccarat
Features
Great selection of slots
High-quality live dealer games
Excellent welcome bonus
Crypto-friendly

Ignition Casino
Bonus Offer:
$3,000 Welcome Bonus
More Info
Available Games
Slots
Blackjack
Roulette
Live Dealer
Baccarat
Features
300+ games
Crypto-friendly casino
Live dealer jackpot
Bonus galore for different verticals

Cafe Casino
Bonus Offer:
350% up to $2500
More Info
Available Games
Slots
Blackjack
Roulette
Live Dealer
Baccarat
Features
Accepts cryptocurrencies
Generous welcome bonus
Loyalty program
Kahnawake Licence
40

casinos found based on your search.
This thrilling blackjack variant uses 48-card decks since all four 10s are removed and pays even money on a blackjack. A few other changes make this game fun to play. To find out what they are, read this guide that provides you with all the information you need about the Double Attack blackjack.
What Is Double Attack Blackjack?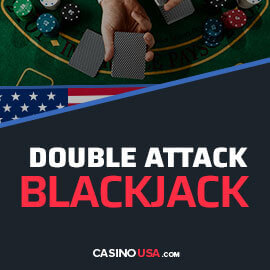 Double Attack mimics the namesake of this game and refers to doubling your bet. This blackjack game is an offshoot of traditional blackjack, and it kept many of its rules. However, this game also introduces some new ones.
The significant difference is that this variation uses a Spanish deck — all the 10s are eliminated from the deck, while all other cards are still in use.
Cards from two to nine are valued at their numerical rank, while face cards (J, Q, K) are valued at 10. Aces can hold a value of either one or 11, depending on the situation.
Another crucial thing that sets this variation apart from the standard one is that players can double down once they see the dealer's up card.
Double Attack Blackjack Rules and Gameplay
Before you embark on a Double Attack Blackjack adventure, you should acquaint yourself with the rules and basic gameplay.
Since this game is a variation of traditional blackjack, it starts with all the players placing an ante bet. The objective is to form a hand value of 21, or as close to it as possible, without busting.
The dealer must stand on any 17s, hard or soft and not drawing any additional cards at this point is a common element in many blackjack variations and slightly benefits the player's probability in the long run.
Before commencing each hand, players must place the ante bet, and then the dealer will deal a single up card to themselves, which is also the first card from the deck. Once players see it, they can decide whether they want to double their original bet or not. This way, players get an approximate idea of the dealer's hand strength. This is how Double Attack Blackjack earned its name.
Players who double their ante bet must include the newly sized wager in any subsequent split and/or double-down decisions. For instance, if you make an ante bet of $10 and double it to $20 when you see the dealer's up card, doubling down or splitting your hand after that will require an additional $20 bet.
The dealer must check their cards after receiving their second card, which is turned face down, to see if an ace or a face card has formed blackjack. The old-fashioned way of doing this is by simply squeezing the down card and looking at it. Nowadays, cards are scanned by devices designed to detect face cards and aces. If the dealer holds a blackjack, the house takes all players' bets, except for players who have formed a blackjack themselves.
You'll be considered an automatic winner whenever your first two cards form a blackjack. Double Attack Blackjack pays out even money for blackjacks, and it does not offer the generous payouts of 3:2 or 6:5 that you might find in traditional formats. If the dealer scores a blackjack, all players will still receive their payouts.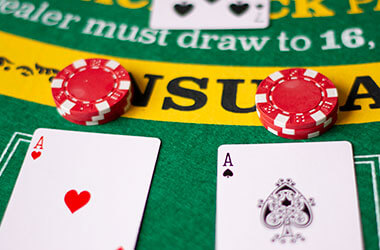 If you have two identical cards in your two-card starting hand, including an ace, you can choose to split the pair. As a result of this move, you will need to place an additional wager equal to your current ante bet plus your Double Attack bet. The dealer will then provide a single card for each new hand.
You cannot re-split aces if you land another pair of aces following a split, but you can re-split cards up to four times when you land any other pair after a split.
When you split an ace, the dealer will distribute only one card to each new hand, and you cannot hit after that. This is similar to the double-down rule, which states that players receive only one card to complete their hands after doubling down.
You can double down or add twice the amount of your ante and Double Attack bets. Basically, players are allowed to double down when they split or hold three or more cards. Doubling down can only be done once on one individual hand, so no redoubling is allowed.
Surrendering your hand is always an option when your cards and the dealer's up card are unfavorable. When you surrender, you forfeit all current hands and get one-half of your original ante and one-half of your Double Attack wager returned. It is possible to surrender after splitting or doubling down; in either case, you will receive half of your bet back.
Double Attack Blackjack Odds and Payouts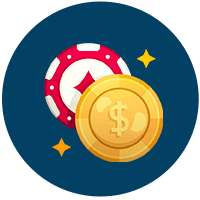 Every blackjack player should be familiar with the house edge concept as the first element of casino game strategy. Compared to an already low house edge of 1.50% the standard variation offers, Double Attack Blackjack is even lower, 0.62%.
On the flip side, the Bust It side bet carries a higher house edge — 8.01%. Adding 12.27% house edge of the insurance bet to the mix means it is a combination you should stay away from.
By placing a Bust It side bet, the player will win if the dealer busts with three cards. Otherwise, this bet loses. The dealer's third (bust) card determines most of the winnings. But as mentioned above, the house edge is high, and your chances are low for this to happen.
The payouts for a winning Bust It side bet are the following:
Three suited eights pay 200:1
Three colored eights pay 50:1
Dealer busts with six pay 15:1
Dealers busts with seven pay 10:1
Dealer busts with eight pay 8:1
Dealer busts with nine pay 6:1
Dealer busts with a face card pay 3:1
If you are interested in learning the types of side bets you can use in a blackjack game, check out our in-depth guide here.
Blackjack Double Attack Strategy Chart For Betting

Tips and Hints for Playing Double Attack Blackjack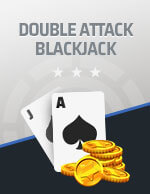 Since the dealer stands on all 17s, players may double down on any number of cards, including after splitting and surrendering at any time. However, they should know that this variation uses a Spanish deck and pays 1:1 instead of the standard 3:2.
A few simple rules can help you decide whether to Double Attack or increase your wager when you see the dealer's up card.
Players are advised to raise their bets (double down) if the dealer's up card is between two and eight. It is estimated that players will raise 53.8% of the time and put additional money into doubling and splitting. This way, the expected player loss for the money wagered is 0.35%.
The other part of the strategy is to learn what to do when you have a hard and soft hand or a pair of cards. Fortunately, you can download this cheat sheet on the internet and practice different scenarios until they become your second nature.
Conclusion
It may be difficult at first to learn the ropes of Double Attack Blackjack, but it becomes second nature with practice. A relatively low house edge, the ability to double your bet once you receive only one card, and many other rules in favor of the player make this game worth trying.
However, card counters will not like it because removing 10-spot cards complicates things. Also, the fact that you are paid even money on blackjack may put off some players.
FAQ
Who invented Double Attack Blackjack?
Joe Centrone from Xcite Gaming designed this game. Once he filed for a trademark application in 2005, the game hit the brick-and-mortar casinos in Atlantic City and Las Vegas.
Where can I play this variant?
Land-based casinos such as Bally's in Las Vegas and Harrah's in Atlantic City offer this blackjack variant. But if you are more into playing from the comfort of your home, you can find it at any Playtech online platform. Furthermore, it offers a generous RTP of 99.99%.
Is card counting an effective strategy in Double Attack Blackjack?
With 10s gone, the game becomes challenging for card counters. This variant doesn't make it impossible to count cards, although you must make some serious adjustments to your preferred counting technique.
Does making a Bust It side bet pay off?
This side bet has a high house edge of 8.01%, and many experienced players will probably avoid it.
About the Author