Active filters:
Clear all filters

Wild Casino
Bonus Offer:
$5,000 Welcome Bonus
More Info
Available Games
Slots
Blackjack
Roulette
Live Dealer
Baccarat
Features
Great selection of slots
High-quality live dealer games
Excellent welcome bonus
Crypto-friendly

Ignition Casino
Bonus Offer:
$3,000 Welcome Bonus
More Info
Available Games
Slots
Blackjack
Roulette
Live Dealer
Baccarat
Features
300+ games
Crypto-friendly casino
Live dealer jackpot
Bonus galore for different verticals

Cafe Casino
Bonus Offer:
350% up to $2500
More Info
Available Games
Slots
Blackjack
Roulette
Live Dealer
Baccarat
Features
Accepts cryptocurrencies
Generous welcome bonus
Loyalty program
Kahnawake Licence
40

casinos found based on your search.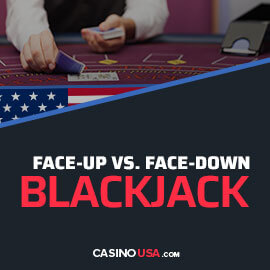 Blackjack became one of US casino players' favorite casino games as soon as it first appeared. It's a game with straightforward and memorable rules, fun, action-packed gameplay, and quite a few variations.
Blackjack variants differ in many ways to suit a wide variety of players. For instance, they might allow or prohibit side bets, use a varying number of decks, or feature different dealing rules.
This article will focus on the rules related to something blackjack players do not usually think about — card exposure.
Keep reading to learn more about face-up vs. face-down blackjack games and how this difference affects players.
Quick Summary of Blackjack Rules
Before we dive into the specifics, let's explain what blackjack is and how it's played to establish the foundation for our discussion.
Blackjack — also known as Twenty-One — is a game that dates back to World War I. It's extremely popular among gamblers and a staple in most, if not all, land-based and online US casinos.
Blackjack is played with one or more standard 52-card decks and involves 2–7 players. It's also one of the rare casino games played against the dealer.
The aim for players is to obtain a hand whose sum result is as close to 21 as possible without going over it.
The action starts with the player making a bet and the dealer shuffling and dealing the cards. Typically, each player receives two face-up cards they're not allowed to touch, and the dealer gets one face-up and one face-down card.
After that, the players and the dealer take turns betting. In the payout round, the remaining players' hands battle the dealer's. Whoever has a higher hand wins.
Impact of Card Dealing Rules in Blackjack
As you can see, the players receive two face-up cards in most blackjack games nowadays. However, that's not the case 100% of the time. There are blackjack variants and casinos with standard blackjack where players are dealt face-down cards.
Looking at how blackjack works, you may wonder whether this makes any difference. Blackjack is not poker, where you compete against other players.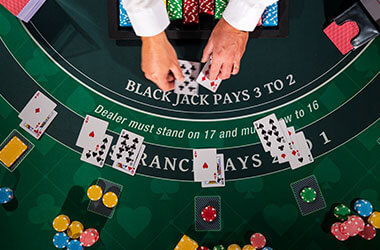 So, seeing others' cards would give you no advantage, right?
That's entirely true. However, the benefit you gain in this case is not one over other players but rather one over the house.
You can find proof for this theory in the history of how blackjack was played and the gameplay of its other variants.
Let's start from the former.
A long time ago, before the time of casinos, blackjack was a game commonly found in western saloons and bars. Its rules required the dealers to deal only face-down cards. In fact, only rare gambling games, like Faro, were played with face-up cards.
This rule changed once the house realized the dealer would have more control over the table without it. Plus, it would prevent cheaters from tampering with the cards.
A few blackjack variants kept this rule alive to balance out the advantage their rules and gameplay gave players. For instance, Pitch Blackjack plays with one to two instead of six to eight card decks. So, the house cuts the advantage down by dealing face-down cards and raising minimum bets.
Card Counting With Face-Up and Face-Down Blackjack Rules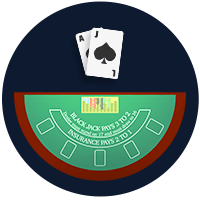 We've discussed the benefits of the card dealing rule to blackjack games, but not what those benefits comprise. The main advantage face-up cards give to the players is related to card counting.
Blackjack is one of the casino classics whose players developed numerous strategies over the years. One of the most famous ones is card counting. This strategy includes assigning values to cards and using those values to keep a mental record of the cards that have been dealt. When done right, it can provide you with enough information to help you make the right bet.
In blackjack versions played with face-up cards, keeping track of the cards that leave the decks works pretty well. You can see every card on the table and have enough time to assign values and get a correct count. However, the process is not as simple when cards are turned face-down.
In this case, a card counter might have less than a second to make a mental image of the cards and then count them all. Skilled and experienced players might be able to do this accurately, but amateurs would probably find it near impossible.
Conclusion
Blackjack is a well-known game that comes in different formats and sets of rules. Card exposure is one of the aspects that has a substantial impact on the game. Face-up cards can give card counters the benefit of using this popular strategy to bring down the house.
As a result, many casinos are now introducing face-down card dealing rules to cut this advantage down. Nevertheless, you can still find and try both versions in online casinos to see what works the best for you.
FAQ
What is face-down blackjack?
Face-down blackjack is a blackjack variant whose rules require the players to receive their cards face-down. In contrast to the standard blackjack games, these variants also allow the players to touch their cards.
What are popular face-down blackjack variants?
One of the most popular face-down blackjack variants is Pitch Blackjack. This game is played with 1–2 standard card decks and reduced payouts (usually 6:5).
Does dealing cards face-down make a difference in blackjack?
It does. The Face-down card counting rule makes it harder for players to count cards and raise their advantage against the house.
Is card counting worthwhile in blackjack?
It can be. Card counting requires skills, and it's not easy to master. If you're good at it, this strategy can give you an advantage over the house, ranging from 0.05% to 1%.
About the Author