Active filters:
Clear all filters

Wild Casino
Bonus Offer:
$5,000 Welcome Bonus
More Info
Available Games
Slots
Blackjack
Roulette
Live Dealer
Baccarat
Features
Great selection of slots
High-quality live dealer games
Excellent welcome bonus
Crypto-friendly

Ignition Casino
Bonus Offer:
$3,000 Welcome Bonus
More Info
Available Games
Slots
Blackjack
Roulette
Live Dealer
Baccarat
Features
300+ games
Crypto-friendly casino
Live dealer jackpot
Bonus galore for different verticals

Cafe Casino
Bonus Offer:
350% up to $2500
More Info
Available Games
Slots
Blackjack
Roulette
Live Dealer
Baccarat
Features
Accepts cryptocurrencies
Generous welcome bonus
Loyalty program
Kahnawake Licence
39

casinos found based on your search.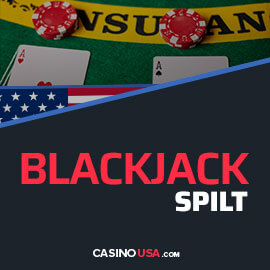 However, this move is only good in certain scenarios, and in this article, we'll give you a few tips on when exactly you should split pairs, regardless of whether they are aces or any other value.
What Does Splitting Mean in Blackjack?
Splitting in blackjack means playing your hole cards as two separate hands for the cost of doubling the initial bet.
In most variations of blackjack, only the cards with the same rank can be split, meaning a pair of 2s, 8s, aces, and others.
In some versions, you can even split different 10-value cards, like a jack and a queen. Furthermore, some blackjack variations allow you to re-split and continue making more hands after the initial split.
Value of Aces
An ace is the most special card in blackjack, as it can have two different values depending on the situation. Namely, an ace can have a value of 1 or 11. For instance, if you have a total of 16 and proceed to hit an ace, you won't bust, and your hand will instead be considered to have a total of 17.
More importantly, the only way to get a natural blackjack is by getting an ace and one of the 10-value cards. But what if you get two aces? Is that any good? Should you split them?
When to Split Aces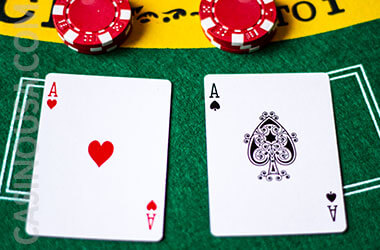 You should basically always split aces, and the reason is pretty obvious — there are multiple 10-value cards in the deck, so you will increase your chances of getting to 21.
If you were to play your pair of aces without splitting, one of them would have a value of 11, and the other would be equal to 1, bringing you to a total of 12. This only leaves 9 as the card that will get you to the optimal 21.
If you draw a 10 after not splitting, both your aces will count as 1, and you'll be back to a total of 12.
So, as mentioned, you should always split your aces, as it increases your chance of beating the dealer. However, don't forget that this comes at a cost.
Namely, most casinos will only allow you to draw one additional card for each of the aces you've drawn, so you could still end up with a bad hand if you get a low-value card.
Keep in mind that since you're now playing the aces as two separate hands, you must double your original bet.
Another thing to note is that if you get a 10 over your split ace, it won't count as a natural, so you won't get an increased payout.
When to Split Pairs
Aces are commonly mentioned in the context of blackjack splitting, but they are not the only pair you should always split. Namely, splitting 8s also creates a beneficial scenario for the player.
When you draw two 8s, you are left with a total of 16. This means that hitting anything above 5 will bust you, but standing will leave you with a relatively weak hand. By splitting the 8s, you give yourself a much higher chance of beating the dealer with either hand.
Just like you should always split aces and 8s, there are certain pairs that should never be split. This is the case with 10s, 4s, and 5s — and here's why.
Two 10s already give you a strong total of 20, which you are unlikely to improve if you split them.
With 4s, you get a total of 8, which means you can't bust with your next hit — instead, you may potentially improve to a very strong 19. If you split the 4s, there are only three cards that could improve your original hand (5, 6, and 7).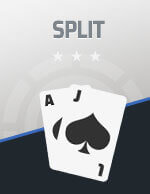 In case you get a pair of 5s, you should avoid splitting them. In addition, you should double down if the dealer isn't showing a 9, 10, or an ace. Two 5s equal 10, which is a great starting hand.
As you may have noticed, we haven't mentioned a few other pairs — specifically, 2s, 3s, 6s, 7s, and 9s. This is because deciding whether splitting these pairs is good or not depends on the dealer's up-card.
In general, you should only split 2s, 3s, and 7s if the dealer is showing anywhere between 2 and 7. Additionally, 9s should be split when the dealer is showing anything between 2 and 6, 8, or 9.
Finally, it's advisable to split 6s when the dealer has anything between 2 and 6.
Conclusion
We hope that you liked this intro to splitting aces and pairs in blackjack. We say "intro" because there's much more to discuss on this topic — specifically, all the different scenarios in which splitting can be beneficial, especially in relation to different blackjack variants.
Before starting to play any blackjack game, make sure to understand the rules related to splitting. Pay attention to 10-value cards and further splitting of hands in particular.
FAQ
How does splitting work in blackjack?
When you get two cards of the same rank (a pair), you are allowed to split and play them as two separate hands. This comes at the cost of doubling your bet, as you're now playing two hands instead of one.
Is it a good idea to split aces in blackjack?
Yes, it's always a good idea to split the aces, as each of the hands you're creating has a much better chance of beating the dealer than playing the aces as one hand.
What are other pairs that should be split?
A pair of 8s is the only other pair that you should always split. With 2s, 3s, 6s, 7s, and 9s, you should first consider the dealer's up-card.
Are there any pairs I should never split?
You should never split 4s, 5s, and 10s, as you are mathematically much better off playing them as a single hand.
Can I split my hand more than once?
This depends on the blackjack variant you are playing and the house rules. Some casinos may allow you to split a hand up to three times, resulting in a total of four hands.
About the Author