Active filters:
Clear all filters

Wild Casino
Bonus Offer:
$5,000 Welcome Bonus
More Info
Available Games
Slots
Blackjack
Roulette
Live Dealer
Baccarat
Features
Great selection of slots
High-quality live dealer games
Excellent welcome bonus
Crypto-friendly

Ignition Casino
Bonus Offer:
$3,000 Welcome Bonus
More Info
Available Games
Slots
Blackjack
Roulette
Live Dealer
Baccarat
Features
300+ games
Crypto-friendly casino
Live dealer jackpot
Bonus galore for different verticals

Cafe Casino
Bonus Offer:
350% up to $2500
More Info
Available Games
Slots
Blackjack
Roulette
Live Dealer
Baccarat
Features
Accepts cryptocurrencies
Generous welcome bonus
Loyalty program
Kahnawake Licence
40

casinos found based on your search.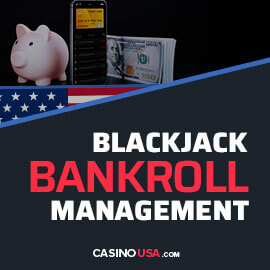 Bankroll management can be the key to your success at the blackjack table, and you need to make sure that you are using the proper techniques to make sure that it lasts.
In order to do that, it's important to follow some basic bankroll management tips.
In the following text, we'll reveal a few crucial pointers to help you spend your money wisely and increase your chances of winning.
What Is a Bankroll?
A bankroll is the total sum of money a person has set aside for gambling. It is vital to manage it carefully, as it can easily be depleted by losing streaks. Casino players, including those who enjoy blackjack games, make several common mistakes when placing their bets, which often put them in a difficult financial position.
Luckily, there are simple guidelines that can help you avoid going broke when playing blackjack. These tips took years to develop, but there's no reason for you to learn them the hard way. We'll share them in the rest of the text, so you can start implementing them in your next blackjack gaming session.
How to Control Your Blackjack Bankroll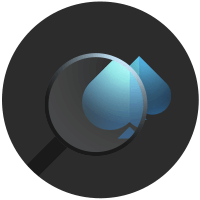 Bankroll management is a key skill for beginners and serious gamblers alike, one that can make all the difference between winning and losing. Yet, many players aren't familiar with this concept, which is why their blackjack sessions last much shorter.
Whether you have a problem with placing enormous bets or don't know when to quit, the solution for your issues is the same.
If you want to be a successful blackjack player, you need to learn how to manage your bankroll.
Blackjack Bankroll Management — Tips and Tricks
Blackjack is a game of skill, strategy, and luck. While there is no surefire way to win every hand, there are some things you can do to increase your chances of coming out on top. One of the most important aspects of blackjack is bankroll management. By carefully monitoring your money, you can minimize your losses and maximize your winnings.
Here are some tips to help you master this highly desirable skill.
Create a Separate Gambling Fund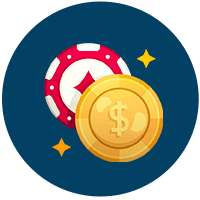 As soon as you start thinking about trying your luck at a blackjack table, take some extra time to go through your income and your expenses and create a separate gambling fund.
Whether you'll have a totally different account for blackjack sessions or simply set aside some money in cash is irrelevant.
The point is to know how much money you need for your monthly bills and to make sure you have that amount available at all times. Once the essentials are covered, you'll know how much money you can use for playing blackjack and avoid the classic mistake of betting the amount you can't afford to lose.
Set a Budget For Blackjack and Stick to It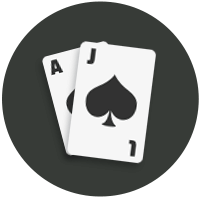 Now that you know it's crucial only to bet an amount you can comfortably recover, it's time to set an appropriate amount for your blackjack sessions.
A good idea might be to set a fixed limit you'll have at your disposal for each casino visit. This will help you avoid overspending and putting yourself in debt.
After you decide on your budget, it's important to stick to it at all times and resist the temptation to take more cash from your other accounts. Simply accept that some days just aren't meant for gambling and leave the table.
Use a Betting System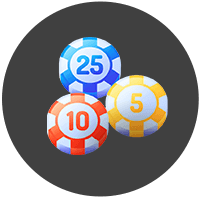 Instead of placing your bets randomly, do some research and use a betting strategy recommended by experienced players. Whether you decide to go for the Martingale betting system, positive-progression wagering, or something completely different, it's up to you.
Just make sure you're not throwing money around at random. Of course, you should use your common sense and avoid blindly following the betting strategies as well.
Ultimately, if you don't know which strategy to choose, place smaller or average bets instead, and don't increase them when you're in the lead.
Take Advantage of Bonuses and Promotions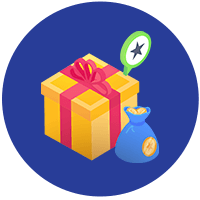 Many online casinos offer blackjack bonuses that can help you boost your bankroll. Usually, these promos target all table games, and they can come in different forms and shapes.
If you're new at online casino games, you'll surely benefit from the welcome deal. At the same time, registered users should look for casino reload bonuses, cashback offers, and other deals that can help them stretch their money further.
Also, remember that bonuses come with terms and conditions you must meet.
So, make sure to read them before claiming any deals, and pay attention to which blackjack titles you can play with the bonus funds, as some of them may be excluded from specific promotions.
Know When to Quit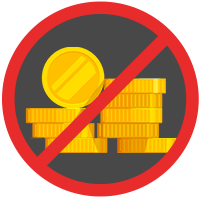 Last but certainly not least — know when to quit. If you're on a losing streak, it's time to walk away and come back another day.
After all, remember that blackjack is a game of chance, and even though it may be the most favorable, the house still has that edge, and you don't. Therefore, don't expect to win every time you play.
Moreover, you should never try to chase your losses by betting more or wasting the money you don't have. When you notice that you're obviously losing, don't be afraid to leave the table, literally or virtually.
Conclusion
Blackjack bankroll management is essential to playing the game correctly and minimizing your losses. By following these tips, you can ensure that your blackjack bankroll lasts longer and gives you a better chance of winning.
Consequently, you'll be well on your way to controlling your bankroll and becoming a successful blackjack player who comes out ahead in the long run.
FAQ
What is a bankroll?
A bankroll is the amount of money a player has set aside for spending on casino games, including blackjack.
Should I use a betting strategy or place bets as I see fit?
If you're able to stick to the bet size you initially chose, then you don't have to use a betting strategy. However, if you can't control your impulse to raise bets as the blackjack session unfolds, you can try using one of the betting strategies recommended by blackjack pros.
Is it a good idea to start betting more while on a losing streak?
Raising your bet on a losing streak is never a good idea. Once you see that the session isn't going well for you bankroll-wise, know that it's time to give up and try your luck some other day.
About the Author