Active filters:
Clear all filters

Wild Casino
Bonus Offer:
$5,000 Welcome Bonus
More Info
Available Games
Slots
Blackjack
Roulette
Live Dealer
Baccarat
Features
Great selection of slots
High-quality live dealer games
Excellent welcome bonus
Crypto-friendly

Cafe Casino
Bonus Offer:
350% up to $2500
More Info
Available Games
Slots
Blackjack
Roulette
Live Dealer
Baccarat
Features
Accepts cryptocurrencies
Generous welcome bonus
Loyalty program
Kahnawake Licence

BetUS Casino
Bonus Offer:
150% up to $3,000
More Info
Available Games
Slots
Blackjack
Roulette
Live Dealer
Baccarat
Features
Reputable online casino with 26+ years' experience
Wide range of deposit bonuses for sports bettors and casino players
Outstanding customer support
Several different cryptocurrencies accepted for deposits and withdrawals
35

casinos found based on your search.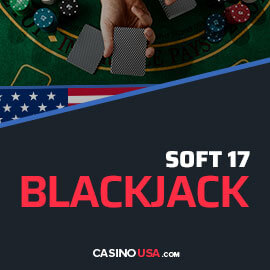 So, why 17? What's "soft" about it, and how is this special rule applied in the game of blackjack?
Let's find out!
What Is the Soft 17 Rule?
Soft 17 is a situation in which the blackjack hand contains a total of 17 with a single ace (6+A, 4+2+A, etc.).
When any hand contains an ace, it's called a soft hand since aces in blackjack can count as both 1 and 11. Another way to look at it is that you are guaranteed not to bust if you hit on your soft hand because the ace can always count as one instead of 11.
When you're a player, it doesn't matter whether you have a soft 17 or not, as you are free to choose your move whenever it suits you. However, things are different for the dealer.
Many blackjack variants implement the soft 17 rule, which forces the dealer to either stand or hit on this exact hand total. Written directly on the table alongside blackjack and insurance payouts, it should say something along the lines of — "dealer must hit soft 17" (H17 game) or "dealer stands on 17 and must draw to 16" (S17 game).
How Does It Affect the Betting Strategy?
Soft 17 is one of the most crucial blackjack rules. It has an effect on your chances and strategy, just like the number of decks or the blackjack payout.
If the dealer hits on soft 17, it increases their chances of busting, but it also increases their chances of improving the hand. However, those chances are not equal. The dealer has a higher chance of busting with this rule by about 0.4%. On the other hand, their chances of making a better total than 17 are around 0.8%.
In other words, the rule that the dealer must hit on soft 17 is more advantageous to the dealer, making the S17 game more beneficial to the player. The rule also affects the house edge by 0.2% and changes the player's strategic approach. Of course, one must also account for other flexible rules, like no/late surrender or DAS/NDAS.
There are three scenarios in which your moves will be different in an S17 vs. H17 game, plus three more if the variation you're playing allows surrender, as shown in the table below.
| Hand | S17 | H17 |
| --- | --- | --- |
| 11 v A | Hit | Double |
| Soft 19 v 6 | Hit | Double |
| A7 v 2 | Hit | Double |
| Eights v A | Split | Surrender |
| 15 v A | Hit | Surrender |
| 17 v A | Hit | Surrender |
Pros and Cons of the Soft 17 Rule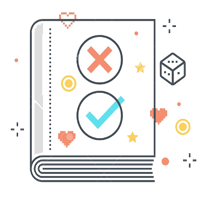 A blackjack game in which the dealer must hit on soft 17 (H17) is slightly less beneficial to the player. As mentioned, the dealer has a higher probability of busting but even greater chances of getting a better hand in the end.
Thus, instead, look for blackjack tables where the dealer is required to stand on 17 (S17), as it will grant you a more favorable house edge, but you should also consider other rules. Also, make sure to adjust your blackjack strategy chart depending on what version of the game you're playing.
Conclusion
Soft 17 is not that difficult of a rule to figure out. You don't even have to remember it since it only affects the dealer's play.
Still, if you're serious about improving your blackjack game, you should learn about the nuanced differences between S17 and H17 games, which have an impact on chances and strategy.
FAQ
What does a soft 17 mean in blackjack?
Soft 17 is a rule that tells the dealer what to do when getting a hand total of 17 with an ace. In certain blackjack variations, the dealer must stand in this scenario, and in others, they must hit.
Is it better for the player if the dealer stands or hits on soft 17?
The game in which the dealer stands when getting a 17 is generally more favorable to the player, as it has a lower house edge than when the dealer hits on a soft 17.
What are other important rules to look at apart from soft 17?
Apart from soft 17, you should look at whether double after splitting is allowed, if there's a late surrender or not, and how the game pays out on blackjack and insurance wins.
About the Author