Active filters:
Clear all filters

Wild Casino
Bonus Offer:
$5,000 Welcome Bonus
More Info
Available Games
Slots
Blackjack
Roulette
Live Dealer
Baccarat
Features
Great selection of slots
High-quality live dealer games
Excellent welcome bonus
Crypto-friendly

Ignition Casino
Bonus Offer:
$3,000 Welcome Bonus
More Info
Available Games
Slots
Blackjack
Roulette
Live Dealer
Baccarat
Features
300+ games
Crypto-friendly casino
Live dealer jackpot
Bonus galore for different verticals

Cafe Casino
Bonus Offer:
350% up to $2500
More Info
Available Games
Slots
Blackjack
Roulette
Live Dealer
Baccarat
Features
Accepts cryptocurrencies
Generous welcome bonus
Loyalty program
Kahnawake Licence
40

casinos found based on your search.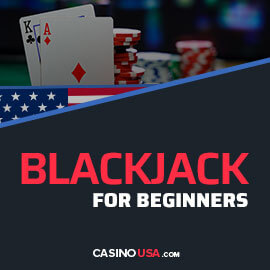 Welcome to our beginner's guide for playing online blackjack. The text and charts below will tell you all you need to know about blackjack, from the game's rules to the basic online strategies.
If you want to try blackjack at an online casino, we advise you to first browse through this page, as you will learn how to play the game correctly and increase your chances of winning.
Blackjack Rules For Beginners
Blackjack has some of the most straightforward rules of all card games found in a casino. Each player goes against the dealer in a race to reach or get closer to 21 points.
The game is played with one or several standard 52-card decks. Each card is assigned points, with cards 2 through 10 having their face value. Picture cards (jacks, queens, and kings) are worth 10 points, and aces can be both 1 and 11, depending on what's more advantageous for your hand in a given scenario.
If the first two cards you receive from the dealer have a total of 21 (ace + any picture card), that's called a natural blackjack, and you win automatically.
Otherwise, you need to have a higher total than the dealer but not exceed 21 points, which is called busting. The rule applies to the dealer as well. If they have a total higher than 21, they bust, and you win.
Unless you get a natural blackjack, you won't be able to get to 21 points from your first two cards, but you can always ask for more cards from the dealer.
That said, let's go over the gameplay.
Beginner's Guide to Blackjack Gameplay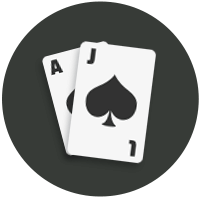 At the start of each blackjack round, the dealer will deal two cards to each player and themselves (the dealer deals one face-up card to themselves in European blackjack and one face-up and one face-down card in American blackjack).
You, as the player, then get to choose what to do next. You will have several options, including:
Hit — Ask for more cards to get to a higher total. You can draw any number of cards until you reach 21 or bust.
Stand — If you're content with your total and think that drawing another card might be risky, you can choose to stand and not receive any more cards.
Double down — This move will double your bet, and you'll receive only one more card from the dealer.
Split — If you have two cards of the same value, you can split and play them as two separate hands, but you'll also have to double your stake.
Insurance — If the dealer is showing an ace, you can place an insurance bet, which is a side bet that protects you from the dealer getting a blackjack. If the dealer gets a blackjack, you'll win the side bet with a payout of 2:1.
Surrender — Surrendering in blackjack means giving up on your current hand and receiving half of your stake back. This is done if you feel you have a significantly weaker hand than the dealer and would likely lose anyway.
The split, insurance, and surrender rules can differ depending on the blackjack variation you're playing.
Unlike players, the dealer doesn't have the freedom to decide what to do with their hand. They must hit until reaching a total of 17. In some versions, a dealer hits on a soft 17. A soft 17 is a total of 17 that contains an ace and can be both 7 and 17.
If the player busts or the dealer has a higher total, the entire sum goes to the house. If the player wins with a blackjack, they are paid 3:2 (some versions offer a 6:5 payout on blackjack). Insurance wins are paid 2:1, and all other player wins are paid 1:1.
Basic Blackjack Strategy For Beginners
Unlike roulette or baccarat, in which your success depends purely on luck, blackjack allows you to be the owner of your destiny, at least to an extent. You can make decisions in blackjack, ultimately affecting the game's house edge.
Over the years, game experts and mathematicians have figured out a way to play blackjack in the most optimal way possible, creating the basic blackjack strategy.
Below is a table containing optimal moves for every scenario in a blackjack game that features 4–8 decks and has the dealer standing on a soft 17.

MInd that using this chart won't guarantee a win, but it will increase your chances and lower the house edge to an absolute minimum.
Online Blackjack Beginner Tips and Tricks
Apart from the optimal strategy, there are several things you should be aware of when playing blackjack. Here are a few tips and tricks you should think of the next time you're playing online:
Never play a 6:5 game — Blackjack usually pays 3:2, but some tables feature a 6:5 payout. You should avoid the lower payout, as it raises the house edge.
Be careful when counting cards — Counting cards is another strategy you can use to lower the house edge. However, this is strictly forbidden, and the casino might block your account if they notice you doing it.
Don't play insurance — Insurance is a bet that never pays off in the long run. Unless you're doing it in specific scenarios when counting cards, you should not play the insurance bet.
Manage your bankroll — Regardless of your strategies, blackjack is still partially a luck-based game, so be careful at how much you're betting. It's generally accepted to bet around 3% of your blackjack bankroll.
Take advantage of online casino bonuses — If the casino site you're playing on offers a bonus that applies to its blackjack games, you should use it. This will allow you to play the game with some free credits and turn nothing into something.
Conclusion
As you can see, blackjack is a simple game to understand and play but a difficult one to master. You should practice until you get a complete hold of the game's rules, after which you can start learning and implementing various strategies, such as the basic strategy and card counting.
FAQ
What are the rules of online blackjack?
You and the dealer each get two cards and try to reach a total of 21 without going over. You have several options at your disposal, the main ones being hit, stand, split, and double down.
How to play blackjack online for real money?
To play blackjack online, you must find an online casino with real-money blackjack games. Go to the casino site, create an account, and complete a deposit. Once the money goes through, browse the casino's library of games until you find blackjack. Load the game and start playing.
What is insurance in online blackjack?
Insurance is a side bet you can place in certain blackjack games when the dealer's upcard is showing an ace. If the dealer gets a blackjack, you win the insurance bet with a payout of 2:1.
Can I play online blackjack for free?
You can play blackjack for free, even on real-money casino sites. Online casinos often have demo versions of their games, allowing players to practice. However, this is not an option with live dealer blackjack games.
About the Author