Active filters:
Clear all filters

Wild Casino
Bonus Offer:
$5,000 Welcome Bonus
More Info
Available Games
Slots
Blackjack
Roulette
Live Dealer
Baccarat
Features
Great selection of slots
High-quality live dealer games
Excellent welcome bonus
Crypto-friendly

Ignition Casino
Bonus Offer:
$3,000 Welcome Bonus
More Info
Available Games
Slots
Blackjack
Roulette
Live Dealer
Baccarat
Features
300+ games
Crypto-friendly casino
Live dealer jackpot
Bonus galore for different verticals

Cafe Casino
Bonus Offer:
350% up to $2500
More Info
Available Games
Slots
Blackjack
Roulette
Live Dealer
Baccarat
Features
Accepts cryptocurrencies
Generous welcome bonus
Loyalty program
Kahnawake Licence
40

casinos found based on your search.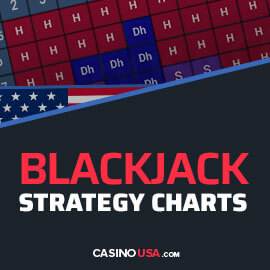 To implement this strategy, you must learn the right move for every possible scenario involving your starting two cards and the dealer's upcard. As you may imagine, there are many combinations, so players use so-called strategy charts to learn the strategy more quickly.
When you first see a strategy chart, it may look confusing, but it's simple to use, and this article will teach you how.
Let's get started.
Does Blackjack Basic Strategy Work?
The blackjack strategy works only if you know how to use it. You must stick to the system and perform every move according to it, regardless of your gut feeling or anything else.
However, just because you hit or stand when the strategy chart tells you to hit or stand doesn't mean you are guaranteed to win. Blackjack is still partially a game of chance, and the dealer can win even when you do everything to maximize your chances.
What Are Blackjack Strategy Charts?
Blackjack strategy charts are simple tables where you can see the value of your two cards on one side and the value of the dealer's upcard on the other. They cover every possible scenario for a given game and tell you which move to utilize for a particular situation.
For example, you should always hit if you have a total of 14 and the dealer is showing a 7. A good chart will have different moves shown in different colors so you can follow it more easily, like in the example below.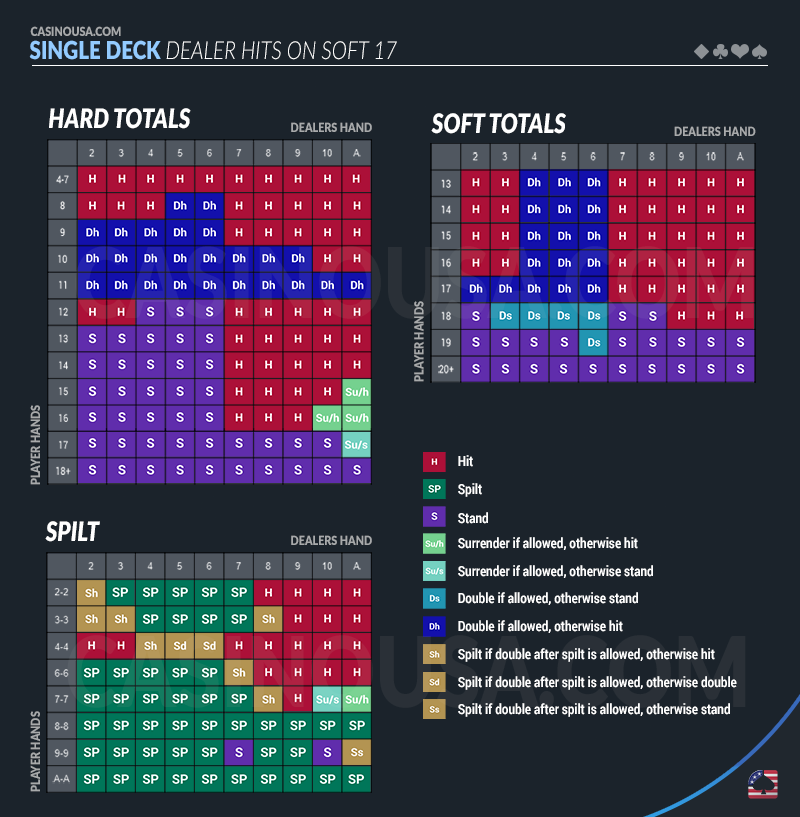 As you can see, you have four options once the cards are dealt, and each is represented with its own color in scenarios best suitable for it. There is even a side note that tells you what to do if the blackjack version you're playing doesn't allow doubling down after splitting.
A crucial thing to remember is that there's no universal blackjack strategy chart that you can use on all blackjack variants. Each variant with significant rule changes (like no nines and tens in Power Blackjack) must have its own strategy chart.
How to Memorize Them?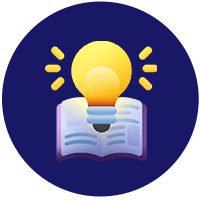 The best way to memorize a strategy chart is to practice playing with it. After a while, you will start learning certain repeating moves and rely less on the chart itself.
Of course, you won't be able to bring the chart with you to the casino and use it at a table, as this is strictly forbidden, but no one can see whether you're using the chart when playing online.
An excellent place to start is by memorizing moves for your totals where there are no exceptions. For instance, you should always split aces and eights, stand on double tens, and hit on totals 5, 6, 7, and 8.
If you have a total of 11, you should always double down unless the dealer is showing an ace, in which case you should hit.
But no matter what your memorizing strategy is, welding blackjack strategy charts into your brain takes lots of time and practice, so you better start practicing.
How to Successfully Use a Blackjack Strategy?
There's no special secret to successfully using blackjack strategy charts. You just need to apply the right move in the right scenario, and you're good to go.
Hit when it says H, stand when it says S, double down when you see D, and split when you see SP. Of course, always take into account the blackjack variation you're playing and make sure you can apply the strategy chart you have in front of you.
Even though it's advisable, you don't need to understand the math and logic behind each move in the strategy chart. Just follow it blindly, and you'll guarantee yourself the best potential return.
List of Strategy Charts For Different Variations
Looking for a strategy chart to a specific game? Use the links below to select your chart.
Conclusion
Blackjack strategy charts are the bridge all beginners must cross to become pros. If you are serious about your blackjack game and want to guarantee the best potential return, you should use these charts every time you play online blackjack.
Just make sure you're using a strategy chart compatible with the game version you're playing, as there are plenty of different ones out there.
FAQ
How to read a blackjack strategy chart?
Each blackjack strategy chart has a side with your hand total and a side with the dealer's upcard. The chart covers all possible scenarios for your two cards and the dealer upcard and tells you whether to hit (H), stand (S), double down (D), or split (SP).
Is there a universal blackjack strategy chart?
Unfortunately, there is no single strategy chart you can use on all blackjack games. Any significant rule changes will also change the optimal moves for specific scenarios.
Who came up with the basic blackjack strategy?
The invention of the first effective blackjack strategy is attributed to the so-called Four Horsemen of Aberdeen — mathematicians Herbert Maisel, James McDermott, Roger Baldwin, and Wilbert Cantey.
Am I allowed to use a blackjack strategy chart?
You can freely use a blackjack strategy chart while playing online, but using any chart in front of a real dealer in a land-based casino is forbidden.
About the Author