Active filters:
Clear all filters

Wild Casino
Bonus Offer:
$5,000 Welcome Bonus
More Info
Available Games
Slots
Blackjack
Roulette
Live Dealer
Baccarat
Features
Great selection of slots
High-quality live dealer games
Excellent welcome bonus
Crypto-friendly

Ignition Casino
Bonus Offer:
$3,000 Welcome Bonus
More Info
Available Games
Slots
Blackjack
Roulette
Live Dealer
Baccarat
Features
300+ games
Crypto-friendly casino
Live dealer jackpot
Bonus galore for different verticals

Cafe Casino
Bonus Offer:
350% up to $2500
More Info
Available Games
Slots
Blackjack
Roulette
Live Dealer
Baccarat
Features
Accepts cryptocurrencies
Generous welcome bonus
Loyalty program
Kahnawake Licence
40

casinos found based on your search.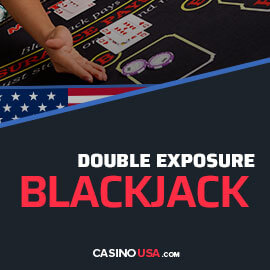 This guide will teach you the rules and tips for playing Double Exposure Blackjack and strategies you should use to improve your winning odds.
What Is Double Exposure Blackjack?
Double Exposure Blackjack is an extremely popular variation that garners players' attention worldwide. As the game's name implies, this blackjack version puts the dealer's cards on display, so players can see them. This huge advantage allows them to make more informed bets and moves.
The name of this popular blackjack variation comes from the German word Zweikartenspiel, meaning ''a two card game.'' Richard A.Epstein, a mathematician and theorist, developed this variation in his 1967 book Theory of Gambling and Statistical Logic.
In 1979, the Vegas World casino in Sin City welcomed this new game, and four more Vegas casinos did the same that month. This game quickly captivated the attention of various casual and professional players.
Today, you might encounter the game under the name Face Up Blackjack in many brick-and-mortar casinos. You can also play Double Exposure online for free or real money at numerous online gambling platforms powered by software vendors such as:
Double Exposure Blackjack Rules and Gameplay
A simple strategy change was all it took to create Double Exposure Blackjack — flipping both of the dealer's cards face up instead of just one. Players benefit from knowing the dealer's total, while additional rules help casinos compensate for the great advantage of the exposed dealer's cards.
However, the basic rules and the goal of Double Exposure and standard blackjack remain the same. So, players should acquaint themselves with the standard variation before moving on to Double Exposure Blackjack.
As opposed to that, several rules of Double Exposure Blackjack depend on the location since house rules differ from game to game.
In the Double Exposure game, the dealer can either stand or hit on the soft 17. Since the rule varies from house to house, players should choose casinos where the dealer stands since this move decreases the house edge.

In this variation, the house takes all ties. There is an exception to this rule when the dealer has a natural tie and the player has a blackjack. Here, the player's blackjack wins at even odds instead of pushing with the dealer. The house benefits greatly in games where the dealer wins tied blackjacks, so keep this information in mind when you pick your game.

Players are allowed to split only once, and the payout for the blackjack that applies is 1:1 instead of the standard 3:2. In most variants, resplitting and drawing on split aces is prohibited. Microgaming's version of Double Exposure is one exception, which allows players to resplit aces.

Casinos usually permit players to split when they hold a paired two-card hand. However, when they hold different 10-value cards, including K-J, K-Q, Q-10, Q-J, etc., some do, while some don't. Under the basic blackjack strategy, splitting a 20 is not recommended, but splitting 10-value cards may be advantageous in Double Exposure Blackjack in rare situations.

In addition, since players know the dealer's cards, surrendering and taking insurance is not an option. It's not a big deal if you rely on a basic strategy since insurance is a bad bet for basic strategists. Furthermore, most Double Exposure variants do not allow side bets, but this isn't a big issue since these wagers have a huge house edge.

Variations in the rule regarding doubling down after splitting depend on the venue. If they are allowed, this works to the player's advantage. Generally, brick-and-mortar and online variants of Double Exposure do not allow doubling after pair splitting, which adds 0.32% to their advantage.
Since Double Exposure Blackjack games come with many variables, smart players should look for games with the most favorable rules.
Double Exposure Blackjack Odds and Payouts
Double Exposure Blackjack has a slightly higher house edge than most standard blackjack variations, which makes sense since ties are lost, and naturals are paid even money. In this case, the rules of how ties are settled negatively impact the players' edge. As a result, seeing both cards from the dealer negates the advantage it gives to players.
A common problem in the game is that dealer and player hands that total 20 tend to tie most often. This tie often happens due to the 10-value cards outnumbering other card denominations. Due to this peculiarity of the rules, players hit totals they would never have reached otherwise. In other words, you are most likely to bust frequently in this blackjack variation.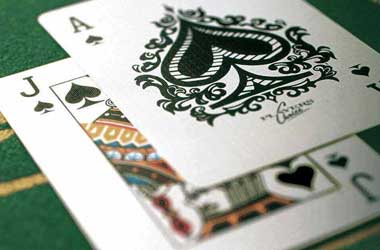 It is also worth noting that each rule in blackjack directly impacts the casino's advantage. The casino's edge increases by 0.40% when the dealer hits a soft 17. A prohibition on doubling down after a split increases the house edge by 0.32%. Consequently, the player's advantage is dramatically reduced by splitting and doubling down restrictions.
Regarding payouts, Double Exposure Blackjack pays out 1:1 on all winning hands, regardless of the combination. Bringing the dealer's opening cards to light is the main way casinos can give players such a big advantage.
Double Exposure Blackjack Strategy Chart
Not sure how to play a hand in double exposure? Check out our strategy chart below: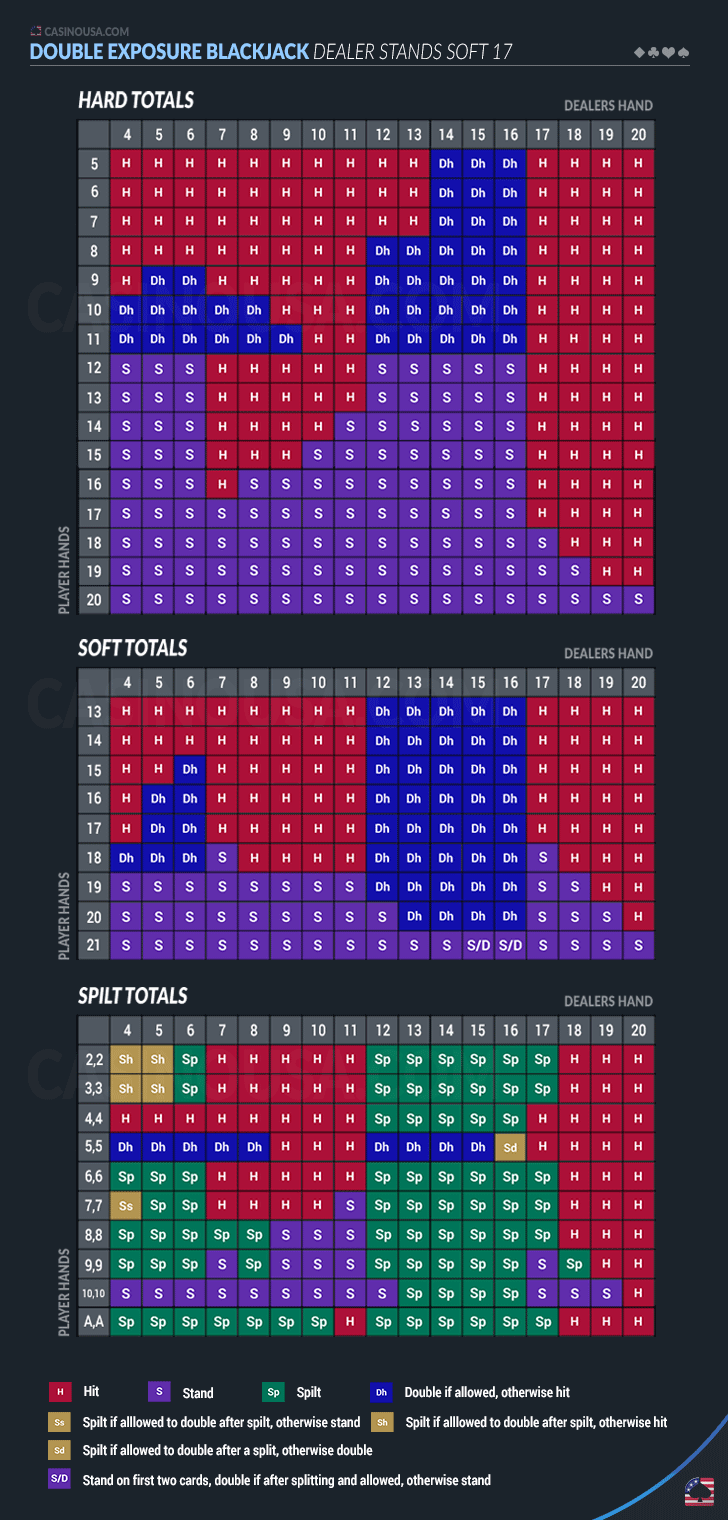 Tips and Hints for Playing Double Exposure Blackjack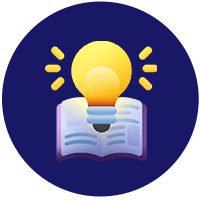 Before playing, all players should note the game's additional rules, as these were designed to increase the house edge and make the game more challenging. The rules also depend on the casino you play at and significantly affect the strategy a player intends to follow.
Moreover, Mr. Epstein explained in his book that there are three main factors to consider when playing this fascinating variation:
Deck number
The ability to double after splitting
The dealer's drawing rules.
Players need a different approach than the basic blackjack strategy when it comes to a strategy for this game. Some of the general tips include:
You should always hit it if your hand is 11 or lower.
You should always hit if the dealer has a hand of 20.
You should not split a 10-value hand unless the dealer has hard 13, 14, 15, or 16.
You should always stand on a 17 or higher unless the dealer has the same hand or higher.
You should always double down if your hand value is 11 or lower and the dealer has 14, 15, or 16.
You should always split aces until the dealer has 11, 17, or higher.
Conclusion
Double Exposure Blackjack offers a new way to play the game, with players being able to see the dealer's cards. These valuable insights directly affect their decisions regarding moves and bets since they can now understand how a particular situation will play out. However, few rules are imposed to minimize players' advantages.
Players can play and enjoy this blackjack variation in online and land-based gambling establishments on desktop computers and mobile devices. As each casino's rules and specifications vary, you should familiarize yourself with all of them before playing.
FAQ
How did Double Exposure Blackjack get its name?
Unlike standard blackjack, Double Exposure Blackjack shows dealer's cards face-up at the beginning of every round. Simply put, both cards are exposed, hence the name.
How does Double Exposure Blackjack differ from standard blackjack?
The dealer's cards are both revealed face-up from the beginning of the round in Double Exposure Blackjack. This is the main difference compared to standard blackjack, where players only see one card.
Which one is better in Double Exposure Blackjack, a soft hand or a hard hand?
Generally, a soft hand is better since it puts players in a more advantageous position. Aces are either worth 10 or 1, so it is easier to avoid a bust when players have more control over it.
Is it challenging to play Double Exposure Blackjack?
You can learn how to play Double Exposure Blackjack quite easily since it is one of the easiest casino card games.
About the Author